Our allergy bedding products are the first line of defense against dust mites, bed bugs and other allergens. Use our pillow covers, mattress covers, and duvet covers for complete protection. Increase your allergy bedding protection with pillows, blankets, comforters, mattress pads, and mattresses. BedCare™ protective covers are made in the USA. Find a variety of dust mite bed covers below.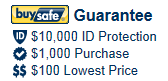 More Information On Allergy Bedding
Complete Allergy Bedding in Four Easy Steps
Are you are allergic to pet dander, dust mites or goose down? Do you wake up in the morning with a stuffy nose, itchy eyes, sore throat, or other allergy symptoms? Do you suffer from nighttime allergy and asthma attacks? You will be surprised how much allergy bedding products can help. Follow these four easy steps to set up your own allergy relief bedding with complete protection from pet dander, dust mites, and other allergens:
1. After ten years, the weight of the average mattress doubles due to dust mites and their waste particles. Yuck! You spend about a third of your life on your mattress, and if you have allergies, you definitely don't want to share your bed with millions of microscopic organisms. If your mattress is more than 10 years old, you should replace it with a hypoallergenic mattress and a mattress pad.
2. After only a year, the average pillow sees a 10% increase in weight due to dust mite infestation. Replace all of your old pillows with hypoallergenic pillows without all the allergens!
3. Dust mites are the most common cause of year-round allergy problems and asthma. Protect yourself from dust mites by covering all of your bedding with dust mite proof bed covers. Encase your pillows and mattress with BedCare™ allergy bedding. This tightly woven, breathable microfiber fabric acts a barrier between you and your mattress. It is impenetrable to dust mites and other allergens. Use dust mite proof mattress covers, box spring covers, and duvet covers as well for extra protection from dust mites, pet dander, and other allergens.
4. Top off your new dust mite allergy bedding with an allergy blanket or comforter. Having allergy bedding doesn't mean you have to sacrifice style! We carry a wide variety of textures, styles, and colors to delight even the most discriminating tastes.
Follow steps 1-4 to create your own complete allergy bedding barrier and get the good nights sleep you deserve.