BedCare™ All-Cotton Allergy Topper Covers
BedCare™ All-Cotton Allergy Topper Covers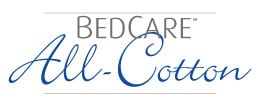 BedCare™ All-Cotton Topper Covers provides protection for your comforter from dust mites and their allergen, pet allergen, and even bed bugs. BedCare™ All-Cotton Allergen Bed Covers are made from a 100% cotton barrier fabric that is so tightly woven virtually allergens all particles can't pass through, even ones as small as cat dander. Encasing your bedding is the doctor recommended way to reduce dust mite allergen exposure and get protection from bed bugs.

Our BedCare All-Cotton Fabric is Certified Friendly™ by the Asthma & Allergy Foundation of America.
The 100% cotton zippered BedCare™ All-Cotton Topper Covers is 4 inches in depth and creates a breathable, sealed barrier to allergens in your topper cover. The lightweight cotton barrier fabric is woven so tightly that only air can get through. When you start sleeping in a bed encased with BedCare™ all-cotton allergen bed covers you will notice immediate allergy relief. You will sleep more deeply, breathe more freely and feel better when you wake up. BedCare™ All-Cotton fabric has mean pore size is just 2.6 microns, and since the comforter cover is made from 100% pure cotton, it does not store or radiate heat like other covers. The fabric breathes well, so it is comfortable all night long.
Plus, all BedCare™ covers add another barrier to allergens and bed bugs with the BugShield™ Zipper System. BugShield™ was designed to give you extra bed bug protection from an accidental opening once you've closed the zipper. This system provides added security should the comforter have been exposed to bed bugs.

BedCare™ All-Cotton barrier covers are carefully cut and sewn in the USA by true craftsmen who know that the care they take in making each cover is important to your health. They take their work very seriously and it shows - from the rust-proof zippers to a fabric that can withstand an almost unlimited number of wash and dry cycles without any loss of performance.
BedCare™ all-cotton allergen bed covers are made to last a lifetime.
BedCare™ All-Cotton fabric has 'Confidence in Textiles' certification in accordance with Standard 100 by OEKO-TEX®.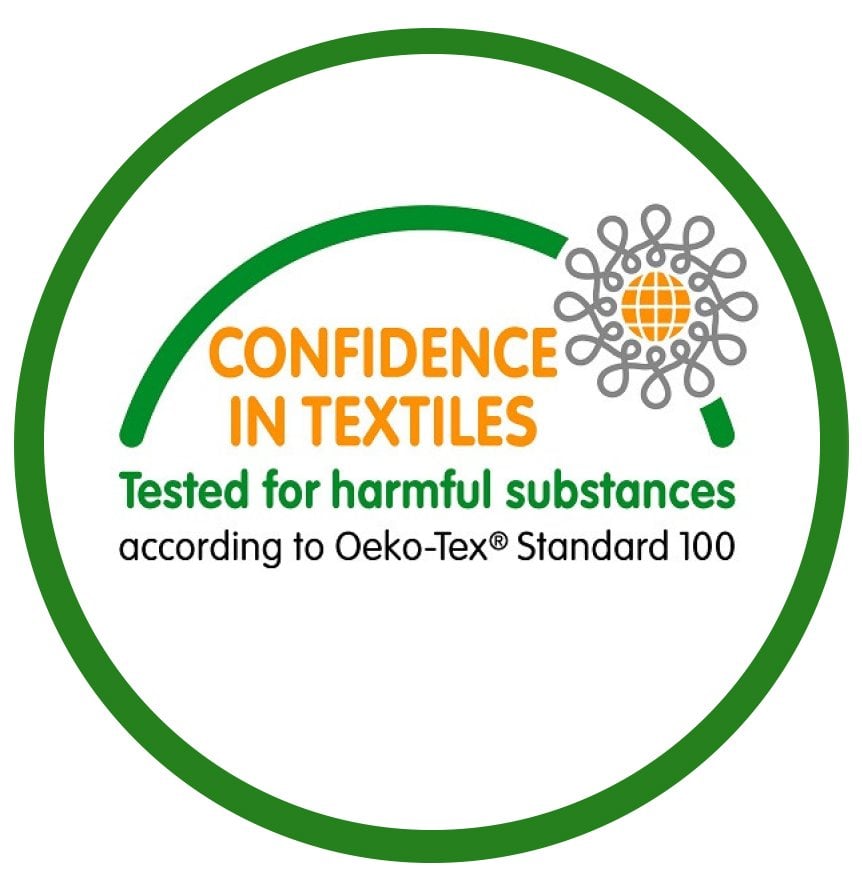 Features
Allergy Protection combined with 100% Cotton comfort
BedCare™ All Cotton protection against dust mites, pet dander, bed bugs and other harmful allergens with a mean pore size of 2.6 microns
BugShield® System Zipper-Lock and the Bug Blocker
Lifetime Warranty
Quality "Made in USA" Construction
BedCare™ All-Cotton Allergy Topper Covers - A Closer Look
The BugShield® Two-Part System
There are two parts to the BugShield® system: the Zipper-Lock and the Bug Blocker.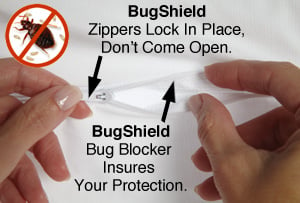 The BugShield® Zipper-Lock is an auto-locking zipper that locks the zipper slide in place so that it will NOT backtrack to leave small openings that bed bugs could sneak through. The zipper cannot accidentally open. To open the zipper, the zipper tab must be pulled.
The BugShield® Bug Blocker is an added barrier that closes the last inch or so of the zipper from below to create a fabric shield under the zipper closure to doubly ensure that bed bugs will not be able to get in or out of the encasing.
All of our BedCare encasing fabrics have been tested by an independent lab and the results show that bed bugs cannot pass through these fabrics or bite through these fabrics. Bed bug eggs cannot pass through the fabric or zipper either, so bed bugs outside the encasing cannot get through to your comforter to hide or lay eggs, and any bed bugs inside the encasing cannot get out to re-infest your home.
By covering your bedding with zippered bed bug-proof covers, you are protecting the investment you have made in your comfort and your mattress, box spring and pillows.
Care Instructions for BedCare™ All-Cotton Topper Cover:
Topper cover every 10 to 14 days to capture any allergens that may have settled on the surface. For best results, consider using a HEPA vacuum or allergen-proof vacuum bag.
When laundering, close the zipper and machine wash the Topper cover once or twice a year in WARM water, and consider using all-temperature AllerTech® Laundry Detergent especially formulated for allergy sufferers.
Tumble dry at the LOWEST setting.
Do not bleach or iron.
---
---
You may also be interested in the following product(s)
Product Questions
No questions yet. Be the first to ask the question!