BedCare™ Economy Allergy Mattress Cover
BedCare™ Economy Allergy Mattress Cover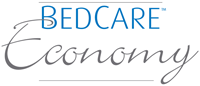 BedCare™ zippered covers are a must-have for people with allergies.
Looking for an affordable option for complete protection against dust mites and bed bugs? Then look no further than the BedCare™ Economy Zippered Box Spring Cover with the BugShield® 2-Part System.
Complete Protection Against Dust Mite Allergens and Bed Bugs… at Pleasingly Affordable Prices
BedCare™ Economy zippered Mattress Covers are perfect for kids' beds, dorm rooms, and large families with lots of box springs to cover.
BedCare™ Economy Zippered Mattress Covers will minimize exposure to dust mites, thereby reducing or eliminating any allergic symptoms you or your family members are currently experiencing. Plus, BedCare™ Economy zippered covers also protect against bed bugs and are comfortable and durable. 10-Year Warranty
Features
Eliminates exposure to dust mites and other allergens – a big plus for allergy sufferers! Sleep more deeply, breathe more freely, and feel better when you wake up.
Economy covers are made with a non-woven, tri-laminate fabric that is both durable and breathable.
BugShield® 2-Part System.
Tested by independent labs and proven to block bed bugs and their eggs from passing through the mattress cover.
Available in a variety of sizes from Crib to California King sizes.
10-Year Warranty.
BedCare™ Economy Allergy Mattress Cover - A Closer Look
Allergic to Dust Mites? Here's How to Tell…
Your mattress, pillows, and box spring are a breeding ground for dust mites. As they eat dead skin cells, they leave waste behind. You can't see it, but you can breathe it.
People are not actually allergic to dust mites… rather, they are allergic to the feces left behind by dust mites.
You and your family could be quite allergic to dust mite waste matter. Symptoms may include:
Night-time congestion
Waking up with a stuffed nose even when you're not sick
Wheezing and/or difficulty breathing
BedCare™ zippered protective covers with BugShield® are a must-have for people with allergies.
The BugShield® Two-Part System
There are two parts to the BugShield® system: the Zipper-Lock and the Bug Blocker.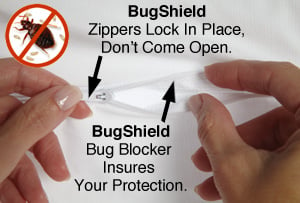 The BugShield® Zipper-Lock is an auto-locking zipper that locks the zipper slide in place so that it will NOT backtrack to leave small openings that bed bugs could sneak through. The zipper cannot accidentally open. To open the zipper, the zipper tab must be pulled.
The BugShield® Bug Blocker is an added barrier that closes the last inch or so of the zipper from below to create a fabric shield under the zipper closure to doubly ensure that bed bugs will not be able to get in or out of the encasing.
All of our BedCare™ encasing fabrics have been tested by an independent lab and the results show that bed bugs cannot pass through these fabrics or bite through these fabrics. Bed bug eggs cannot pass through the fabric or zipper either, so bed bugs outside the encasing cannot get through to your comforter to hide or lay eggs, and any bed bugs inside the encasing cannot get out to re-infest your home.
By covering your bedding with zippered bed bug-proof covers, you are protecting the investment you have made in your comfort and your mattress, box spring and pillows.
Care Instructions for BedCare Economy Mattress Encasings:
Surface may be vacuumed monthly to remove allergens and dust that may have settled out of the air or may be very lightly sprayed with an anti-allergen product. For best results, consider using a HEPA vacuum or allergen-proof vacuum bag.
Wash only if necessary. Close the zipper and machine wash separately in COLD water. If you are an allergy sufferer, we recommend using all-temperature AllerTech® Laundry Detergent
When laundering, close the zipper and machine wash the mattress encasing once or twice a year in HOT water, or consider using all-temperature AllerTech® Laundry Detergent especially formulated for allergy sufferers.
Line or hang dry (or air dry with NO heat if you must use a dryer).
Do not bleach, iron or dry clean.
---
---
You may also be interested in the following product(s)
Product Questions
No questions yet. Be the first to ask the question!