BedCare™ Elegance Allergen Barrier Comforter Covers
BedCare™ Elegance Allergen Barrier Comforter Covers
Premium-quality BedCare™ Elegance Allergen Barrier Protective Comforter Covers are for those who desire the very finest, most luxuriously soft and cool allergen comforter cover available anywhere. Tightly woven and zippered, BedCare™ Elegance provide an allergen barrier for protection from dust mite allergen and bed bugs.
The white BedCare™ Elegance Comforter Cover starts with our smallest pore-size fabric 2.1 microns to give you top-of-the-line protection against bed bugs and allergens as small as cat dander. Premium-quality, Elegance is a cool and breathable 100% polyester microfiber cover for first-rate allergen protection and finished look.
BedCare™ Elegance offers enhanced construction and first-rate sewing details, beginning with covered zippers and interior fabric flaps for added protection. BedCare™ Elegance is precisely cut, piece and sew these comforter covers using state-of-the-art machinery and the finest threads. We finish with bound, reinforced seams throughout, combining to give you a handsome look. You pay a little more for BedCare™ Elegance, but zipping your comforter into this encasement completely safeguards you with the best allergen protection anywhere, plus provides a touch of elegance and refinement to your bed. Machine wash and dry. Lifetime Warranty.

BedCare™ Elegance mattress allergen covers are proudly made in the USA. Skilled American craftsmen know that the care they take in making each luxury Elegance Allergen Mattress Cover is important to your health. They take their work very seriously and it shows - from the rust-proof zippers to a fabric that can withstand an almost unlimited number of wash and dry cycles without any loss of performance. Each encasing is also individually hand inspected throughout fabrication to maintain maximum quality. BedCare™ Elegance Allergen mattress covers are made to last a lifetime.
Features
Premium-quality, cool and breathable 100% polyester microfiber cover for first-rate allergen protection and finished look
Mean pore size of just 2.1 microns, ranking BedCare™ Elegance as tops in the industry for allergen protection
High-performing white fabric with added construction details for the best in beauty and function
Extra care in design and construction for a perfect fit, even after repeated washings
BugShield® Two-Part System
No Latex
Lifetime Warranty
Made in USA
BedCare™ Elegance Allergen Barrier Comforter Covers - A Closer Look
BedCare™ zippered protective covers with BugShield® are a must-have for people with allergies.
The BugShield® Two-Part System
There are two parts to the BugShield® system: the Zipper-Lock and the Bug Blocker.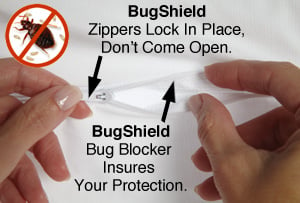 The BugShield® Zipper-Lock is an auto-locking zipper that locks the zipper slide in place so that it will NOT backtrack to leave small openings that bed bugs could sneak through. The zipper cannot accidentally open. To open the zipper, the zipper tab must be pulled.
The BugShield® Bug Blocker is an added barrier that closes the last inch or so of the zipper from below to create a fabric shield under the zipper closure to doubly ensure that bed bugs will not be able to get in or out of the encasing.
All of our BedCare™ encasing fabrics have been tested by an independent lab and the results show that bed bugs cannot pass through these fabrics or bite through these fabrics. Bed bug eggs cannot pass through the fabric or zipper either, so bed bugs outside the encasing cannot get through to your comforter to hide or lay eggs, and any bed bugs inside the encasing cannot get out to re-infest your home.
By covering your bedding with zippered bed bug-proof covers, you are protecting the investment you have made in your comfort and your mattress, box spring and pillows.
Care Instructions for BedCare™ Elegance Comforter Covers:
Vacuum the entire surface of the BedCare™ Elegance comforter cover every 10 to 14 days to capture any allergens that may have settled on the surface. For best results, consider using a HEPA vacuum or allergen-proof vacuum bag.
Close the zipper and machine wash the BedCare™ Elegance comforter cover when needed in HOT water or consider using all-temperature AllerTech® Laundry Detergent formulated especially for allergy sufferers.
Tumble dry at the LOWEST setting.
Do not bleach, iron or dry clean.
---
---
You may also be interested in the following product(s)
Product Questions
No questions yet. Be the first to ask the question!