BedCare™ Classic Allergy Pillow Covers
BedCare™ Classic Allergy Pillow Covers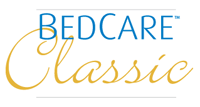 BedCare™ zippered pillow covers are a must-have for people with allergies.
BedCare™ Classic Pillow Covers are dust mite and mold-impermeable allergen covers for your pillows. BedCare™ Classic covers are made of a soft, satin-like polyester knit fabric that stretches as you move for supreme comfort, making this an excellent allergen pillow cover. The lightweight BedCare™ polyester knit fabric is joined to an ultra-thin, allergen-proof ComforTech™ polyurethane membrane making this pillow encasing waterproof as well.
BedCare™ Classic Pillow Covers are made of our most popular non-cotton fabric. Classic zippered bed bug pillow covers fit neatly under your pillow case to provide total protection on all sides with no gaps or openings. Due to its barrier membrane, Classic encasing cannot be measured in terms of mean pore size. BedCare™ Classic bed bug proof pillow covers are machine washable and dryable. Lifetime Warranty

BedCare™ Classic allergen covers are proudly made in the USA. Skilled American craftsmen know that the care they take in making each Classic Allergen Pillow Covers cover is important to your health. They take their work very seriously and it shows - from the rust-proof zippers to a fabric that can withstand an almost unlimited number of wash and dry cycles without any loss of performance. Each encasing is also individually hand inspected throughout fabrication to maintain top quality. BedCare™ Classic Allergen Pillow Covers are is made to give you a lifetime of service and satisfaction.
Features
High level of allergen and waterproof protection
100% stretch polyester joined allergen-proof ComforTech™ membrane
Circular poly knit fabric is soft and cool to the touch with the look and feel of satin
BugShield® system
No crinkling or noise while you sleep
No shrinkage, even in hot water wash
No Latex
Lifetime Warranty
Made in USA
BedCare™ Classic Allergy Pillow Covers - A Closer Look
The BugShield® Two-Part System
There are two parts to the BugShield® system: the Zipper-Lock and the Bug Blocker.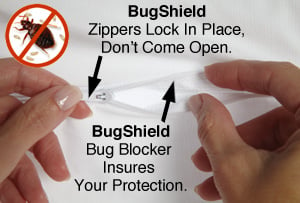 The BugShield® Zipper-Lock is an auto-locking zipper that locks the zipper slide in place so that it will NOT backtrack to leave small openings that bed bugs could sneak through. The zipper cannot accidentally open. To open the zipper, the zipper tab must be pulled.
The BugShield® Bug Blocker is an added barrier that closes the last inch or so of the zipper from below to create a fabric shield under the zipper closure to doubly ensure that bed bugs will not be able to get in or out of the encasing.
All of our BedCare™ encasing fabrics have been tested by an independent lab and the results show that bed bugs cannot pass through these fabrics or bite through these fabrics. Bed bug eggs cannot pass through the fabric or zipper either, so bed bugs outside the encasing cannot get through to your comforter to hide or lay eggs, and any bed bugs inside the encasing cannot get out to re-infest your home.
By covering your bedding with BedCare™ Classic zippered bed bug-proof covers, you are protecting the investment you have made in your mattress, box spring and pillows.
Care Instructions for BedCare™ Classic Pillow Covers:
Wash the zippered bed bug pillow covers when needed. When laundering, close the zipper and machine wash in HOT water, or consider using all-temperature AllerTech® Laundry Detergent especially formulated for allergy sufferers.
Tumble dry on LOW.
Do not bleach, iron or dry clean.
Note: Using bleach or drying at high temperatures will diminish the waterproof properties of this mattress encasing and cause the ComforTech™ polyurethane membrane to separate from the outer fabric.
Warning: To avoid danger of suffocation, do not allow babies or children to play with or in this encasing before it is installed on a mattress or pillow as the ComforTech™ Inner Lining is not breathable and could block nose and mouth and prevent breathing. This encasing is not a toy.
---
---
You may also be interested in the following product(s)
Product Questions
No questions yet. Be the first to ask the question!