From yard work and enjoying the outdoors, to commuting to work or traveling on vacation, you have to be wary of potential contact with allergens or other symptom causing agents. Wearing respirators or masks for allergies is one of the easiest ways to reduce or eliminate your exposure to dust, pollen, soot, chemical pollutants, and mold as well as bacteria and the influenza virus.
Filter Results
Category

Type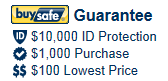 More Information On Allergy Masks
Why wear an allergy mask or respirator?
Allergy relief masks are great for people who:
Are allergic to dust, mold spores or pollen
Have sensitivities to airborne allergens
Are irritated by particulates when doing yard work or household chores
Have trouble breathing in polluted environments
Have general allergies or asthma related health problems
Are concerned with H1N1, the Avian Flu, enterovirus, or other types of flu viruses or bacteria
When worn properly, an allergy face mask or respirator can be your best friend. All of the pollen masks and respirators that we offer present a physical barrier between you and allergens, and most go further and actually filter submicron particles such as pollen, air pollutants like benzene, and microorganisms like bacteria or the flu virus. Whether you are concerned with mold spores while raking leaves, soot and hydrocarbon pollution while commuting to work or simply worried about contracting H1N1, Enterovirus D68, or other types of the flu, we have a respirator or mask to meet your needs.
---
What are NIOSH ratings?

In simple terms, it is easier to understand NIOSH ratings if you look at them like this. Respirators with "N" in their classification are NOT resistant to oil or oil based particles. Respirators with the "R" classification are somewhat resistant, and those with a "P" are considered highly efficient at filtering out oil or oil based particles. The second part of NIOSH classification is a number. All NIOSH masks and respirators we offer are rated N95 or better. The "95" means that 95% of the "most penetrating" particles (generally, .03 microns or greater in size) are effectively captured and filtered by these masks. A "100" rating would mean that 99.7% of these size particles are effectively filtered. This is also considered HEPA filtration or HEPA equivalent.
For most of us, a N95 respirator will effectively filter harmful particles that could cause allergic or asthmatic reactions. However some, like the 3M 6291 Respirator, feature a P100 filtration rating. With mask you would have some of the best personal filtration available today. Not only will this mask filter things like pollen, dust, mold spores, dander and soot, but it also exceeds the CDC's recommended N95 rating to help protect against spreading or contracting the varying strains of the flu virus.
This N95 category, also includes nearly all of the Vogmasks. These bright and colorful allergy masks and cold weather masks come in a wide range of patterns and four distinct styles: N99 CV, Microfiber, Classic Microfiber and Organic Cotton. Classic microfiber offers N95 filtration while the CV and new Microfiber offer N99 rated protection against particle allergens. The Organic Cotton Vogmask is suited for people with MCS or other sensitivities who are looking for a mask without plastics, polyesters, and other materials that can cause reactions.
---
What about masks without NIOSH ratings?
You may have noticed the Respro masks do not have a NIOSH rating. These masks are manufactured in the UK and do not fall under the NIOSH classification. However, they do have to meet similar European filtration standards. The European Standard EN149 FFP1 is the rough U.S. equivalent of the N95 NIOSH rating. There is some disconnect since changes to the EU filtration standard are no long based on a most penetrating particle size of 0.3 microns (as in the U.S.) but instead use the smaller 0.25 micron standard. The Respro Techno, Allergy, and Sportsta Masks feature a filter that meets the EN149 FFP1 filtration standard. So, with these masks you can receive the same filtration as you would find with N95 respirator or mask.
Our last type of masks are the I Can Breathe masks. While these are not respirators, they do offer some level of protection against particles. For most every day or household uses, these masks will effectively block particles and allergens. Of these, the Honeycomb Mask is the most effective. The carbon in the mask filters helps to reduce odors and particles that a filter media lacking carbon may otherwise miss.
And as always, you should consult your physician to help you determine what level of filtration or type of mask will best meet your needs.