Respro Techno Masks
The Respro Techno mask is an active-style air filtration mask featuring both a Dynamic ACC (Activated Charcoal Cloth) filter and HEPA filtration. These filters work together to remove the most pollutants from the air you breathe. This filter combination also provides increased ability to cover a broader spectrum of dusts and odors than the Aero Mask or many other particle filter masks on the market. Two Techno valves are designed specifically to improve airflow when you exhale, for low breathing resistance. This also helps to reduce heat around your face and allows the moisture you exhale to escape. Other features include Velcro fastening for a perfect fit, and neoprene construction for easy-care durability.
The Techno mask is a premium HEPA style air purifier mask with first-class filtration and great features. Whether walking, jogging, bicycling, or motorcycling, the Techno air filtration mask offers superior particle filtration in a comfortable and durable face mask. This mask comes in two sizes: Medium and Large.
The Techno mask filters out hydrocarbons including benzene and pyrene, nitrogen oxides, sulfur dioxides, lead oxide, and black smoke. Additionally, it filters out particulates in the air including pollen dust, irritant dusts, and clay dust. This mask is suitable for use in urban, rural, and work environments. If used in an outdoor environment one hour per day, the filter has been mathematically modeled and calculated to last approximately 30 days.
---
Features
Respro Allergy Mask Sizing Chart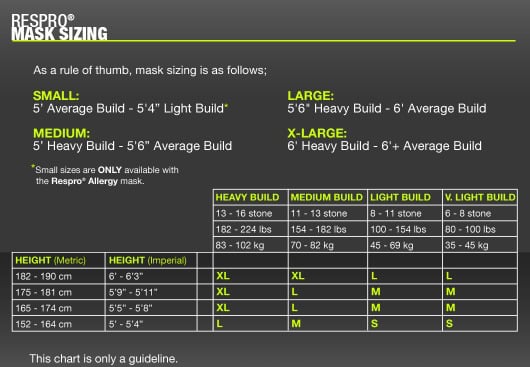 Generally speaking,
• Large Sportsta Mask, distance from top to bottom: 4.75". Fits people under 6' in height - most men.
• Medium Sportsta Mask, distance from top to bottom: 4.5". Fits people under 5' 6" in height - most women.
Just right!

The mask that we bought was for my son who likes to work metal on his forge. He has asthma, however, and could not work with the forge without having a severe asthma attack from the smoke. Wearing this mask allows him to do what he likes. It filters out the smoke well. We are so thankful to find this product at a reasonable price.

Sneezy got Dopey

Thanks to the Respro Techno Mask, breathing got a lot better during the spring allergy season and the mid-summer forest fire season. First-rate product.

Resort mask

I look to go bike rides but every time I did I was sick for days after now we can ride again and not be sick after. I love it.

Shawn

As a Cystic Fibrosis patient I purchased the Respro Techno Mask to use for a trip we took as a family to Disneyland. It was very comfortable to wear. I wore it for several days, 8 to 11 hours each day. I had no problems at all. Several people liked the style and asked where could they get one? I told them at AchooAllergy.com

great product

masks work really fantastic overseas with the air pollution, recommended to 2 of my friends who will be ordering soon. thank you

Great mask

I run every morning on the main roads of a busy city. Nothing like New york city but there are cars and trucks passing by all the time. This mask does the trick and keeps me from breathing in all those cars and diesel fumes that bothered me before, with this mask I cannot smell them and can keep going without holding my hand to my nose when a big truck passes by. I would recommend this mask to anyone for the purpose of avoiding pollution while cycling, walking or running. I cannot comment on the allergy side of it as I do not have allergies.

Blcak foam smelly

Great filter and valves unfortunately the black foam smells like gasoline to this sufferer of MCS.

Not for me

This mask was very uncomfortable for my face. The metal nose piece was very heavy on my nose. AchooAllergy was wonderful in allowing me to return it and get a full refund. I will definitely buy my next product from their incredible line of allergy products. Great company - just didn''t like the mask - but they have many others to choose from.

Respro Techno Mask and Asthma

By their very nature, masks make it harder to breathe. However, the Techno's valves allow air flow to be as easy as I think can be reasonably expected. This mask enabled me to be outdoors in conditions of elevated AQI's and in wildfire smoke without increasing my need for my albuterol or my steroid inhaler. In fact, I've been able to reduce those medications somewhat.

Great for perfume allergies

I am VERY intolerant to scented products, so working in an office full of women sucks! This mask filters out all of the perfume and scented lotion chemicals from the air! Yay!
---

Respro Techno Mask

The Respro Techno Mask is perfect for almost any type of mask application. The mask is comfortable and makes doing outdoor activities much more endurable and enjoyable for allergy and/or asthma sufferers. This mask is recommended for people with hay fever, MCS, and rhinitis. It works well in your work and outdoor environments, and can be useful at work, around the house or while enjoying most outdoor activities.
The Respro Techno mask is ideal primarily due to the level of filtration these masks offer. Being able to filter out pollutants commonly found in both urban and rural areas without the bulk of a traditional respirator is a serious advantage for the Respro Techno mask over other face masks available today.
What I like about the Respro Techno Mask
Neoprene construction for durability
Great protection from pollutants in an urban environment
HEPA like filtration
Activated Charcoal Cloth filter
Choice of two different sizes
Washable
What I do not like about the Respro Techno Mask
This mask is bulkier than the Aero, but the air filtration is better
In summary, I give the Respro Techno Mask 5 out of 5 stars. The great thing about this mask is that it is one of the few masks that gives you a combination of HEPA and charcoal filtration, all in a streamlined, adjustable mask. It does not have a slim design of the Aero Mask, but the Velcro strap fits well and you receive world class air filtration.
---
Product Questions
Why are there no small sizes for Respro Techno Mask?
Which mask filter s would best filter perfumes, household chemicls or other synthetic substances as well as air pollutants, viruses and chemicals in the air? Is there one filter or a combination of filters that would be helpful and not be to thick for me to breathe?
I need a mask that will filter out formaldehyde particles I encounter on fabric at work. Which one do you suggest? Thank you.
---