Aprilaire 1710A Dehumidifier
Item #: AE0001

OUT OF STOCK
Aprilaire 1710A Dehumidifier

The portable Aprilaire 1710A dehumidifier is a high-capacity, 90 pint whole basement unit. It is the latest, most reliable solution to relieve excessive humidity in your basement or larger areas throughout the home. This ultra-quiet, free standing dehumidifier provides 100% more capacity and 300% more efficiency than any leading portable dehumidifier. Best of all, the unit does not require expensive installation work into your HVAC system as compared to other larger dehumidifiers! The 1710 model operates down to 40 degrees F and effectively removes 90 pints of moisture per day for areas up to 2000 square feet with no messy buckets or tanks to empty. With the unique Aprilaire 1710A portable dehumidifier, you can now enjoy a comfortable and healthy home for years to come.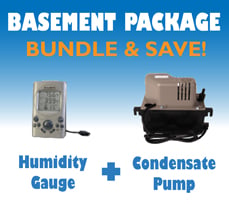 Aprilaire 1710A Dehumidifier Basement Package

Gravity not on your side? Pick up the Aprilaire Basement Package and save money and effort! The Aprilaire Basement Dehumidifier Package includes one Aprilaire 1710A Dehumidifier, 1 KT Condensate Pump (w/ 20 ft. of drain tubing), and 1 Acu-Rite Digital Humidity Gauge/Thermometer. When gravity doesn't allow condensate to drain away from the space you're trying to dry, simply port the Aprilaire into the condensate pump, and the pump does the rest! It's powerful enough to even pump vertically. The AcuRite can give you accurate readings on your current relative humidity, indoor and outdoor temperatures. (*Condensate Pump and Humidity Gauge shipped separately.)
Features
Removes

90 pints/11.25 gallons per day (@ 60%RH, 80° F)
Provides

three times the moisture removing capacity

compared to standard portable dehumidifiers

Easy to use

simply run the drain line, plug it in, set the humidity level and let the unit do all the work

Automatically senses moisture levels

and decides when to run in order to maintain optimum humidity levels in your home

Powerful

275 CFM fan

Quiet operation

considering the amount of air that is moving.

Quiet compressor

due to sturdy and well-built construction
No messy tanks to empty and clean.

Optional water drainage:

Includes 1 PVC condensate trap pipe which can be attached to a hose or condensate pump.  Unit can be gravity drained into a floor drain or sump pit

Includes MERV 8 filter

for air intake (can be washed or replaced annually depending on conditions)

Easy access to filter

able to access from both sides of the unit

Frost protection

shuts off compressor when area temperature is too low
Features a

test mode

which will make sure the unit is

operating properly

before put to use

Energy efficient

high performance removes more moisture per kilowatt/hour (up to 300% more than most leading portables)
Features

Auto Restart

in case of power outages

Cabinet insulation

1 foil faced EPS insulation

Inlet Air Operating Conditions

40° to 105° F

Ambient Air Operation Conditions

40° to 150° F
Made in the USA
Does what it''s supposed to do

I recently purchased one of these units. To date, I haven't had any problems with it, and our old basement is as dry as it's ever been in years. No more excessive moisture and no more smell! The lack of a hygrometer doesn't bother me. That was one of my initial concerns, but now it's not. The construction of this dehumidifier seems more "industrial" than other units I've had. I can honestly say it's done what it's supposed to do!

Outstanding Product - Maryville, TN

The quality and performance of this product is far superior to the dehumidifiers available in the local and box hardware stores. Installation was quick and simple--and the same is true for the "drying" process of our basement. I highly recommend this item. It's worth the money. Achoo Allergy was top notch as well.

1710A

I have only used this dehumidifier for a week, but it seems to work very well in my crawlspace. I have it set on 4 and it is keeping the humidity at about 50%. The only problem I had setting it up was initially I had it level. Even though I "primed" the drip pan and discharge with water which drained well, once the unit was operating all the condensate overflowed the drip pan instead of draining as it should. I had water everywhere! So I placed it on blocks and tilted it significantly toward the drain. Then it drained properly. The owners' manual did not say anything about placing it level or with a pitch. I also bought a pump to raise and move the condensate through the crawlspace wall to the outside.
---


Aprilaire 1710 Dehumidifier

The Aprilaire 1710A Dehumidifier is a high-capacity, 90 pint whole basement or crawlspace unit. It is the latest, most reliable solution to relieve excessive humidity in your basement or larger areas throughout the home. This ultra-quiet, free standing dehumidifier provides 100% more capacity and 300% more efficiency than any leading portable dehumidifier.

What I like about the Aprilaire 1710A

The best feature of this dehumidifier is that it is portable and powerful.Steel construction lends itself to greater durability and use in crawlspaces, but casters make it easy to move. The water removal of 90 pints per day is under AHAM conditions but while testing in more humid conditions, that extraction rate will surpass the stated AHAM measurement.

An internal humidistat will automatically sense moisture levels to maintain optimal humidity levels and and control dampness, mildew, mold, fungi, dust mites and odors. The Aprilaire 1710 model operates down to 40° F and also features a replaceable air filter that provides some filtration of dirt, dust, and other large particles.

This model is actually fairly quiet while operating, and does NOT significantly add to your monthly power bill. It doesn't quite reach Energy Star qualifications but uses less power than many comparable models.

Something that makes the Aprilaire 1710 dehumidifier unique is that like all Aprilaire models, it is one of the very few dehumidifiers that is still made domestically.

Lastly, the 5 year warranty surpasses that offered by most other dehumidifier manufacturers.

What I did not like about the Aprilaire 1710A

As with all Aprilaire dehumidifiers, I wish it had a hygrometer on board rather than just a 15 position turn knob. The other drawback to this model is you must have a condensate drain line or floor drain nearby since the 1710A uses not bucket or condensate pump (just a simple P-trap with drain hose).

Overall, the Aprilaire 1710 A dehumidifier is a great buy for removing large amounts of moisture from your basement or crawlspace. The moisture extraction, usability, construction, and durability are all key features that set the Aprilaire 1710 well above other portable dehumidifiers.
---
Product Questions
My house is approx. 3000 sq. ft. I am installing this unit in the crawlspace which is approx. 4 ft in height. Is this unit big enough to do the job? I live in Tennessee.
Just an FYI....I purchased an Aprilaire 1710A from you for my unheated cinderblock basemant, your website lits the operating conditions as from 40 to 105F, the owners manual of the 1710A list the operating conditions as from 50 to 105F. Because the basement is unheated, I could possibly fall below the 50F operating recommendation. My unit is running great, but I think your spec. page should reflect the 50F rather than the 40F you have listed. I appreciate your fast and courteous service. Sincerely, Craig Wuennecke
Aprilaire 1710A Dehumidifier Specifications
| | |
| --- | --- |
| Recommended For: | Basement / Crawlspace |
| Model Number: | 1710A |
| Dimensions: | 20 3/4" W x 24 L x 22 3/16 H |
| Weight: | 93 lbs. |
| Power Supply: | 115v, 8 amps includes 8 grounded power cord |
| Water Removal: | 90 Pints per day @ 60%, 80F |
| CFM Rating: | 275 |
| Defrost Type: | Auto defrost control - compressor will turn off in extremely cold conditions; fan will operate automatically until the coils are defrosted |
| Auto Restart: | Yes |
| Operating Range: | From 40° F - 105° F |
| Water Pump-Out: | No |
| Drain: | Includes 1" PVC condensate P-trap with ≈ 5.5' Hose |
| Wheels: | Casters |
| Warranty: | 5 Year (Parts Only) |
---
Aprilaire 1710A Dehumidifier Additional Resources
Aprilaire 1710A Dehumidifier Installation / Owner's Manual


Aprilaire Dehumidifier Brochure

---