Cosmetic Allergy & Makeup Allergy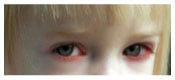 Allergist Dr. Daniel More, M.D., of
About.com
explains that cosmetic allergy is usually contact dermatitis rather than a true allergy: "Contact dermatitis is not due to a true allergy, and no allergic antibodies are involved. Instead, the reaction is caused by various cells of the immune system. The diagnosis is made using patch testing, a procedure very different from skin testing."
Dr. More points out that it's often difficult to differentiate between contact dermatitis and allergic dermatitis, but it's usually not important to make that distinction. Contact dermatitis is an itchy skin rash caused by direct contact with a substance.
Cosmetic products and makeup often cause contact dermatitis, with fragrances and preservatives being the most common causes. Hair products and fingernail polishes may cause contact dermatitis, too.
If you have sensitive skin, see our
personal care products
.
Other common causes of contact dermatitis include latex allergy, nickel allergy, and plants from the
Toxicodendron
family (poison ivy, poison oak, and poison sumac), which contain irritating chemicals called urushiols. Some topical medications may also cause contact dermatitis.