Pillows assist you during one of your most important activities - sleep. For about eight hours a day, your pillow rests close to your face affecting not only your body's comfort but also the air that you breathe. While your pillow can have a big impact on how refreshed you feel when you wake up in the morning, choosing the right pillow isn't as easy as it sounds. The Allergy Pillow Buying Guide helps you sort through the clutter.
However, many people don't pay adequate attention to their pillows. Often, people hold on to pillows that are too old (most sources recommend changing pillows every couple of years) and too dirty. Old pillows are hotbeds of dust mites and mold, and over time the material inside pillows can clump and become uncomfortable. The good news is that the right pillow can actually do a lot to protect you from dust mite allergen WHILE ensuring a restful night's sleep.
Our pillows cater to the special needs of allergy and asthma sufferers. This allergy pillow buying guide will help you evaluate your options. We think you'll be pleasantly surprised at how much your sleep will improve when you select the right pillow. Waking up well-rested and allergy-free begins right here.
---
---
Choosing the Right Firmness for Your New Pillow
One of the most important differentiating factor among pillows is firmness. A soft and fluffy pillow looks supremely inviting, but with its lack of support, it may not be the right kind of pillow for you. People sleep differently, back, side, stomach, which means that they need different types of support.
Here is a quick guide to help you choose the right level of firmness for your pillow:
You should consider a soft pillow if you are a stomach sleeper or back sleeper. A soft pillow provides just the right amount of support for stomach sleepers while cradling the head without forcing it out of alignment. You may also benefit from a soft pillow if you are petite. If you like to scrunch up your pillow, then a soft pillow is also the best option for you.
You should consider a medium pillow if you sleep mainly on your back or sides. Medium pillows are best for back sleepers, and they offer a little more support to keep the head aligned properly with the spine. Medium pillows are also ideal for people who prefer pillows that are supportive yet still soft and plush.
Firm pillows are best for people who sleep primarily on their sides. A firm pillow will adequately fill the large space between your shoulder and neck providing proper spinal alignment and a healthy sleep posture. Firm pillows are also recommended for taller or larger people because they provide more support.
Which of these best describes you? After you've narrowed your choices -- you are ready to select your perfect pillow!
Allergy Pillow Buying Guide - Our Top Selling Pillows
Here is a short description of each of our favorite pillows. With a variety of options in style, firmness, fill, and price, we have a pillow for everyone.
---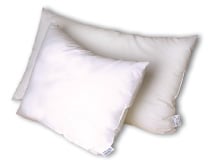 Allergen Free Pillows - If you are dealing with allergies or asthma, our BedCareâ"¢ pillows are made just for you. BedCareâ"¢ pillows are constructed of hypoallergenic synthetic down encased by our highest quality dust mite-proof fabric. Because of the fabric's extremely tight micro-weave, dust mites have no way of getting into these pillows. Eliminating the need for a separate dust mite encasing, BedCareâ"¢ pillows are a simple and highly effective solution for getting a good night's sleep!
---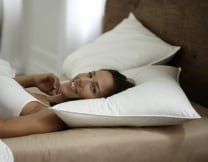 Primaloft Pillows - This soft and fluffy pillow is a very popular pillow. PrimaLoft is a luxury down alternative that many people prefer to actual down, because it's so deliciously fluffy. It's hypoallergenic and machine-washable making it clean and easy to care for. It's covered in a 270-thread count cambric cotton. Keep in mind, however, this is one of our softest pillows available. It's oh-so-soft to the touch, but it may not be the right pillow for everybody.
---
Hypodown Pearl White Pillow - For those who want luxury, this pillow offers just that and more. High-quality, hypoallergenic down is encased in a 353-thread count cotton. Hypodown is an innovative mix of white Hungarian goose down and all-natural Syriaca clusters which makes it more durable and absorbent. The Hypodown pillow is available in a variety of fill powers, so you can create a custom pillow according to your taste. However, as a down pillow, it will generally be softer than many other pillows. Hypodown pillows are not cheap, but you get what you pay for -- they are long-lasting and high-quality pillows.
---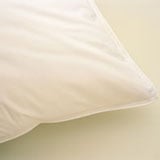 Hypodown Harvester Pillow - Much like the Pearl White, the Harvester is plumped full of high-quality, reaction-free down. In fact, Hypodown has been tested by allergy doctors and is guaranteed to be reaction-free. The Harvester is encased in an unbleached, un-dyed, chemical-free double shell with an outer layer of 312-thread count cotton. This makes it ideal for the chemically sensitive or those who simply want a pure and natural night's sleep. With the Harvester, you can customize the fill power and level of firmness.
---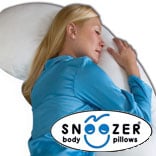 Snoozer Body Pillows - The ergonomic candy-cane shape of the Snoozer body pillow helps give your body support and mobility all night long. This is a great body pillow for men and women, designed to help relieve discomfort from arthritis, injuries, or sore muscles. Each of these three pillows are filled with a premium hypoallergenic synthetic down. The uniquely shaped Snoozer Upper Body Pillow specifically cradles and supports your head, neck and shoulders. The Snoozer Full Body Pillow offers full body support and makes and excellent maternity pillow by helping to relieve aches and pains, while the Snoozer Junior Body Pillow is designed especially for children.
---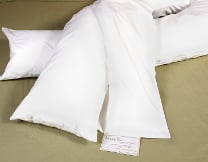 Comfort U Maternity Pillow - Expecting moms can finally sleep in comfort with the Comfort U Body pillow by Moonlight Slumber. Also known as the transitional pillow, it's designed in three parts for versatility and flexibility. The U-Shaped pillow helps expecting moms to attain a healthy and comfortable side sleep position recommended by gynecologists. Made from three pieces, it can also be disassembled to serve as comfortable support while baby nurses, plays, or sleeps. It's filled with a hypoallergenic synthetic down that is machine washable, so you and your little one can stay allergy free.
---
Allergy Pillow Buying Guide - Choosing an BedCareâ"¢ Protective Pillow Cover
Unless you choose an BedCareâ"¢ Pillow, which is already encased in a dust mite proof fabric, you'll need to cover your pillow with a special encasing to keep the mites out. A pillow cover is an easy and affordable addition to your pillow that can do a lot to relieve allergy symptoms and help you breathe better at night. For more information on why a pillow encasing is so important, read our article called How A Simple Pillow Encasing Can Improve Your Health.
We offer several different types of allergy pillow covers, and years of research and development went into the design, production and testing of our exclusive BedCareâ"¢ allergy bedding, and what we came up with is a variety of fabrics that meet varying allergy and asthma needs.
All BedCareâ"¢ fabrics are made from densely woven fabric, and they are very comfortable and breathable. Most people cannot notice them beneath regular decorative pillow cases. Because of the fabrics extremely tight micro-weave, dust mites and their allergenic feces cannot penetrate the encasing. Dust mites average around 250 microns in size, while their allergenic fecal pellets are 10 microns or larger. The average pore size for BedCareâ"¢ is smaller than 10 microns. (For reference, the period at the end of this sentence measures about 615 microns.) Cotton and Organic fabrics rely on this super tight weave and heat shrinking to make them virtually impenetrable, while Classic has an inner lining that blocks allergens.
Allergy Armor Ultra pillow covers are made with our highest-quality allergen barrier fabric. Women's Health magazine reported that our Ultra fabric is "better than anything else on the market at keeping mites out." Allergy Armor Ultra pillow covers feature a 2.8 micron pore size (the smallest in the industry), an antimicrobial finish, and a lifetime warranty. Cool to sleep on, they are the perfect compliment to any pillow.
Allergy Armor Cotton pillow covers feature a luxurious 246 thread-count fabric with the feel of cotton. With an average pore size of 3.9 microns, they zip up tightly to protect you from dust mite feces and other allergens. They come with a 5-year warranty.
Allergy Armor Organic pillow covers are made from the only non-dyed, non-treated, lab-tested organic cotton dust mite barrier fabric in the United States. If you suffer from allergies as well as chemical sensitivities, then Allergy Armor Organic is for you. It's completely free of polyester, urethanes, dyes, and other chemicals commonly found in bedding.
Allergy Armor Classic pillow covers have a urethane inner membrane backing that makes them water resistant. While this pillow cover is too warm for some sleepers, parents of children and those who suffer from incontinence appreciate the water resistant protection these covers provide while the price point is the best of all the fabrics in our line. A three year warranty applies to all of these covers, but the biggest upside to the inner lining - it's impermeable to dust mites and other allergens.
*All our pillow covers are fully machine wash and dry.
It's also worth noting that unlike other sellers of allergy bedding, we ARE THE MANUFACTURER. That's right, when you order, nearly all of your BedCareâ"¢ bedding products are made at our headquarters in GA. We strive to source, manufacture, and offer American made products first. This also means that if you have a custom cover that you want made, we can accommodate!
---
If you'd like to learn more about hypoallergenic and allergy bedding, we recommend the following in-depth resources available on our site:
✔ Allergy Bedding Buying Guide
✔ The Facts on Dust Mites
✔ Compare Allergy Pillows
✔ How a Simple Pillow Encasing Can Improve Your Health