If you have allergies or asthma, your vacuum cleaner can either be your best friend or your worst enemy. You're considering a Miele vacuum, but you're not sure which model is best for you. This where our Miele Vacuum Cleaner Buying Guide comes in. In it you'll find a comprehensive breakdown of features that allow you to match the things you want in a vacuum cleaner with the right set of Miele models to choose from. When you purchase a Miele vacuum cleaner from us, you can breathe easier knowing that you'll receive the most allergy-friendly vacuum cleaner available. As they say at Miele, anything else is a compromise.
Miele Vacuum Cleaner Buying Guide - The Different Series

There are four basic lines or series of Miele vacuums. Three are canisters, and one is the upright line. Here's a quick synopsis of each line.
In addition to this, there is the upright stick vacuum (the H1 Swing), and exclusive in-store Miele models, known as HomeCare. The HomeCare line has one representative model from each of the four primary lines of Miele vacuums. So, some are built for carpet, some for smooth floors; some have HEPA filters, some have AirClean filters. To view or learn more about these models, stop by our showroom or call.
Miele Filtration - Why They're the Best Allergy Vacuums

Studies have shown that vacuuming with a standard vacuum cleaner actually increases the number of allergens in the air. Instead of removing them, most vacuums take microscopic allergens that are in the carpet and on the flooring then redistribute them back into the air you breathe as you vacuum. What's more, most standard vacuums do not have the ability to capture allergens. A paper dust bag is woefully inadequate, and HEPA filters of poor quality can fool you into believing your home is cleaner than what your vacuum is actually delivering. Even those equipped with HEPA filters often fail miserably at this task. We do recommend vacuum cleaners with HEPA filters, but more than that, vacuums with a CERTIFIED HEPA filter AND a sealed system.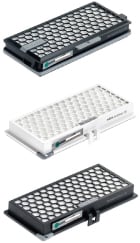 Miele canisters and Miele uprights take the HEPA filtration standard to the next level. Because of their sealed system engineering and high-quality construction, Miele H13 HEPA filters capture 99.95% of all particles as small as 0.1 microns in size, a rate that actually exceeds the HEPA standard. Common household allergens can often be as small as 1-10 microns in size. Miele removes them effectively and efficiently, and once they've been removed from the air passing through the vacuum, they are trapped and retained by either the HEPA filter or in the self-sealing filter bag.
All Miele vacuums feature hygienic self-sealing, AirClean or Intensive Clean dust bags to help you avoid exposure to allergens. The AirClean series use a spring-loaded flap to seal the filter bag as you change or remove it while the Intensive Clean series uses a slide to close the opening and trap allergens. Once removed you simply toss the bag in the garbage with no risk of allergens and dirt escaping - a decided advantage over bag less vacuums.
Ultimately, that is one of the biggest and most important differences between a Miele vacuum and other brands. With any other vacuum, you are simply cleaning for appearances. The floor appears to be clean when you are through; however, with a Miele, you clean not just for appearances but more importantly, you are cleaning for your health.
Miele Vacuum Cleaner Buying Guide

Since they are the best on the market, Miele vacuum cleaners tend to be more expensive than many standard vacuum cleaners but they are worth every penny. Miele vacuum cleaners are tested to last a minimum of 1,000 operating hours or an average of 20 years of residential use (based on 45 minutes at the highest setting once per week).
We understand that purchasing a Miele is no small investment, and so we want to make sure that you order the Miele that's right for you. Because Miele offers so many options, sometimes it is difficult to decide what's best for your needs. Before you invest in a Miele vacuum cleaner, read through our comprehensive Miele vacuum cleaner buying guide, and consider these important factors:
Do you need a HEPA filter?


As mentioned above, if you have allergies, asthma, or COPD, we recommend a vacuum cleaner with a HEPA filter. The Miele AirClean HEPA filtration system meets or exceeds US and European filtration standards and removes ultra fine particles that can aggravate respiratory conditions. Testing has shown that even vacuum cleaners with HEPA filter can take tens of thousands of particles that have settled on your floors and redistribute them back into the air you breathe. Miele is different. Independently tested and certified, their superior filtration will actually show a reading of ZERO when tested with a particle counter (samples air and provides particle count of all particulate 0.3 microns or larger).

The following Miele vacuum cleaners come standard with a HEPA filter:

Canister Models

Upright Models

Miele also offers a slightly less efficient air filter: the AirClean filter. The AirClean filter is guaranteed to trap 99.95% of particles down to 0.5 microns and 94% of particles down to 0.3 microns.

The following models come standard with a AirClean filter, but HEPA filtration is always optional with all of these models:

As a combination of the generally activated charcoal and the AirClean filter media, Miele also has what is called the Active AirClean filter. This filter has activated charcoal for odor control, ideal for homes where odors are an issue or where there are pets. The combination of it and the AirClean filter provides particle filtration of 99.5% down to 0.5 microns. This filter comes standard with the Miele Cat & Dog Upright Vacuum as well as the Miele Cat & Dog Canister, but this filter is also available to fit all Miele C1-C3, U1, and S2000-S8000 vacuum cleaners.
Do you prefer canister or upright vacuum cleaners?
With the Miele upright vacuums, many of the same great features that have made the Miele canisters so popular, including Miele's HEPA filtration, quiet operation, and versatile use were integrated into a truly versatile, efficient, and eye-catching package. Like their canister counterparts, the Dynamic U1 uprights feature the powerful Vortex motors plus Sealed System technology. Automatic height adjustment, brushroll control, multiple suction settings, and a deluxe handle are also included with each model. Additionally, the flexible, crush-proof hose offers unmatched reach and makes it easier to clean on stairs, under furniture, and the hard to reach areas of your home. A proprietary Swivel-Neck design allows them to corner and turn freely while accessories that snap directly into the back of the vac mean not caddies or wasted time searching for the right tool.

The Miele H1 Swing is a stick upright vacuum cleaner that comes standard with the AirClean filter and sealed system. This lightweight alternative to the full size uprights can always be upgraded with an optional HEPA filter and can be configured multiple ways from stick up right to handheld vac.

Long the centerpiece of the Miele brand, the Miele canisters feature the very best Miele has to offer and unlike traditional canister vacuums, they are just as effective in cleaning all types of flooring. In general, Miele canisters are lighter weight, easier to store, more customizable (in terms of attachments and cleaning heads), and come in a variety of colors with more features than we have space to list. Regardless of whether you are looking for an upright or canister, for the longest lasting vacuum, absolute best allergen control, and a cleaner and healthier home, Miele has what you are looking for.
What type of flooring is in your home?



For those with carpet throughout the house or high pile carpet, one of the Dynamic U1 upright vacuum cleaners would work perfectly for you. All are more than capable of tackling even the thickest carpet, and with a separate brush roll control, independent motor, and automatic height adjustment the U1 uprights are able to clean any type of carpet as well as smooth flooring. The U1 upright models are:

If you have all carpet or mostly carpet and prefer canister style vacuum cleaners, then you'll want one of the Miele premium powerbrush models, with an electrically driven brush roll and height adjustments for deep cleaning of carpets. Miele canister vacuums that come standard with Powerbrushes include,

There is a smaller subset of Miele canister vacuums that are suited for carpet. This set works best for low to medium pile carpet and rugs, and while it has the power of the premium models, the carpet tool (the SEB 217-3) lacks the height adjustment found in the previous models.

The other upright option is the Miele H1 Swing. This vacuum comes with a combination tool but is able to use certain powerbrush attachments for light carpet cleaning.

If you have a mixture of smooth floors and carpet, any of the Miele uprights and canisters listed above will work. The uprights all have the ability to turn the brushroll off to clean smooth flooring, and most of the canisters listed above provide the ability to turn off the brushroll or actually provide you with a dedicated smooth floor tool. For low pile and some medium pile carpet, an air driven turbobrush may suffice. While it lacks the power of an independent, electrically driven motor, the turbobrush uses the suction to power the brushroll. Models that come standard with the Turbobrush include:

If you have mostly smooth floors with possibly some low-pile carpet or area rugs, a Miele straight suction canister vacuum with a combination floor tool may work. Combination floor tools come in a few different shapes and sizes, but all have the same basic functionality. They all have a rocker switch that when set for smooth floors, allows bristles to extend and clean. When your change the rocker switch for use on low pile carpet or rugs, the bristles retract and thin strips of felt work to loosen debris and hair from carpet. Models that features a combo tool include:

Matching the right floor tool with what you need in your home is key in selecting the right Miele for you. The most expensive models offer the greatest versatility and for most of these, regardless of what types of flooring you have, they are more than up to the task. Less expensive models can give up some carpet cleaning ability for a lower price point, but still may be perfectly suited for needs.
How big is your home?
Each of the Miele S7 upright vacuum cleaners are well equipped to handle larger homes. With a 6.3 quart AirClean U bag, the Miele upright vacuum cleaners will retain more dirt and debris than any other Miele vacuum cleaner.

If you have a large home, you'll want a larger vacuum cleaner with a larger filterbag capacity. For those who prefer canister style vacuums, several models have the larger AirClean G/N dust bags with a 4.76 quart capacity:

If you prefer canister style vacuum cleaners and have a standard or smaller sized home, the Miele Compact C2 series models are smaller, more compact and use smaller sized AirClean FJM vacuum bags. The FJM bags are 9-ply dust bags with a 3.5 quart capacity. These models come with FJM bags:

The Miele Compact C2 canister vacuums are a direct replacement for the S4/S6 line (Polaris & Neptune) in both form, function, and capacity.

If you prefer a more economical canister style vacuum cleaner with the same performance and a larger vacuum bag, the Miele Classic C1 vacuums are perfect for your needs. With an apartment or a small home, models that use larger G/N bags work well and save you money in the long run. The G/N bags have a 4.76 quart capacity. These Classic C1 models use the Miele G/N AirClean dustbags:

While any Miele upright or canister would more than suffice, if you have an apartment or loft, you should also consider the Miele H1 Swing. While the bag capacity is less, it is very lightweight and often provides enough power and cleaning versatility for small apartments, dorm rooms or lofts.
Miele Vacuum Cleaner Buying Guide - Other Factors to Consider
Power - All Miele canister and upright vacuums feature a powerful 1200 Watt motor that provides enormous suction. The Miele H1 Swing features a slightly smaller motor that comes in at 1000 Watts.

Air Flow - When it comes to measuring a vacuum cleaner's cleaning ability, air flow is more important than power. Power is necessary to create adequate airflow, but factors such as the type of filtration employed and how full the bag is also contribute to a vacuum cleaner's air flow. Not all vacuum cleaners have adequate air flow, which is necessary for superb cleaning.

Suction Control - Miele vacuum cleaners not only offer superb air flow, but they also allow you to control the level of suction. Different models offer the suction controls as slide bars, rotary dials, +/- foot control buttons, or convenient fingertip controls placed on the handle. The Miele UniQ and Marin canister vacuum cleaners as well as the Miele Swing and Miele AutoEco uprights feature intelligent automatic suction control settings. Without the hassle of changing the setting manually, these vacuums will automatically adjust their suction according to what type of surface you are currently cleaning.

Operating Radius - How far will your vacuum reach before you have to find another power outlet? The Miele Quickstep has an operating radius of 28 feet, the Miele canister vacuums have an operating radius of 29.5 to 36 feet, and the Miele S7 Uprights feature a full 55 feet of total reach.

Turbobrush vs. Powerbrush - A turbobrush is air-driven, while a powerbrush is electrically-driven. Though turbobrushes work well for low to medium pile carpet, if your home has high pile carpet or wall-to-wall carpet, you'll probably want a powerbrush. This is something to keep in mind as powerbrushes feature a separate motor that powers them, ideal for deep cleaning, removing pet hair and vacuuming thick carpet. Each Miele canister series has at least one model that comes standard with a powerbrush, but any Miele with an electrically powered hose and wand can be upgraded to a powerbrush at any time.

Noise - Despite their awesome power, Miele vacuum cleaners feature quiet operation - so quiet that you can hear the phone ring while vacuuming. Both the Miele canisters and S7 uprights feature extra sound insulation, and all are quieter than comparable vacuum cleaners. With the introduction of the Miele Compact C2 vacuums, this insulation was improved upon. Now, with the Miele Complete C3 models, an encapsulated motor makes this line the quietest vacuums Miele has ever manufactured.

Conveniences, Ease of Use & Comfort - All Miele canister and S7 vacuum cleaners are easy to use with intuitive controls and hygienic AirClean dust bags. Select models offer the following additional conveniences: automatic suction control, fingertip suction and/or powerbrush control, swivel-neck design, safety shut-off to prevent overheating, automatic shut-off when parked, HEPA filtration, filter and bag change indicators, automatic height adjustment, one-touch cord rewind, LED lights, sound reducing casters, and ergonomic deluxe handle assembly to prevent strain on the wrist.

Accessories & Attachments - Miele vacuum cleaners give you the option of several different accessories like extra brushes, the handheld turbobrush, the car clean kit, and the micro clean tool set for electronics and delicate items. Miele S7 uprights will fit any Miele attachment to their wands (except powerbrushes). Some Miele vacuums, like the Miele Swing, now come standard with the Miele Micro Set and Flexible Crevice Tool as free, bonus accessories. To see what additional floor tools are compatible with any given Miele visit any one of our series specific attachments pages or simply check the bottom of the product page you are viewing.

Manufacturer's Reputation - In 2007, Germany's leading market research institute awarded Miele with the "Best Company" prize for being the most successful company in Germany. To give you an idea of just how successful Miele is, Google came in second, and Porsche came in third. The secret behind Miele's success lies in their motto:Immer besser which is German for "Forever better." And in just a few minutes online, you can quickly access information regarding numerous awards Miele brand products have won over the years, including top rankings by consumer reporting agencies. Regardless of the product, the Miele brand is consistent when producing top of the line home appliances.

Durability & Warranty - If you're looking for a vacuum cleaner with durability and longevity, look no further than Miele. Miele vacuum cleaners are designed and tested to last for 20 years. Miele vacuum cleaners come with a 7-year warranty on the motor and a 1-year warranty on parts and labor. The Brilliant is the only exception to this - offering a full 10 year warranty on the motor and 5 full years on parts and labor. It is good to keep these two things in mind when considering the initial cost of a Miele. Purchasing a cheaper vacuum every few years will cost you more over time, while providing lower quality results.
---
If you've found the Miele Vacuum Cleaner Buying Guide helpful and you're ready to shop,
see all Miele Vacuum Cleaners
or learn more!