Danby DDR50A2GP Premiere Dehumidifiers
Danby DDR50A2GP Premiere Dehumidifiers

Humidity can cause many problems in your home from mold and mildew to insects and your home feeling "sticky" even with the air conditioner on. These are common symptoms of too much moisture in your indoor air, and one of the easiest ways to remove it - a Danby DDR50A2GP 50 pint dehumidifier. With an AHAM rated capacity of 50 pints of moisture removed per day, the Danby 50 pint is great for lowering humidity in rooms throughout your home. The digital controls allow you to see the current relative humidity with just a glance and let you know when the tank is full, what speed you are operating at, and if the unit is defrosting, and like other Premiere Danby dehumidifiers, the DDR50A2GP is covered by a two year warranty. If excess humidity is your problem or if your home still feels humid even with your air conditioner running, the highly rated Danby 50 pint dehumidifier is the perfect way to free yourself from mold, mildew and pests without spending a lot to do so!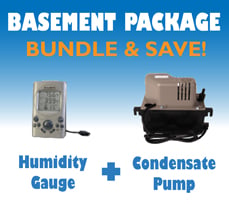 Danby 50 Pint Basement Package

Is gravity working against your dehumidifier or are you tired of having to empty the condensate bucket? Upgrade your Danby 50 pint dehumidifier to our Basement Package! This convenient package supplies all of the tools you will need to dry any space in or around your home in the most convenient way possible. In addition to a Danby Premiere 50 dehumidifier, the kit includes a condensate pump and an Acu-Rite Digital Humidity gauge. The condensate pump is designed to collect and pump water horizontally or vertically, while the Acu-Rite allows you to monitor and track indoor and outdoor humidity. This package gives you easy and complete control over your environment.
Features
Quickly and effectively removes up to

50 pint of moisture per day

under AHAM, 80° F @ 60% relative humidity and will even surpass that under more humid or warmer conditions.
2 fan speeds High & Low.
Energy Star Qualified

for inexpensive operating costs.
Programmable,

Digital Controls

with LED display and timer.
Digital

Built-in Humidistat

provides immediate and accurate humidity conditions in the room.
Auto Restart

after power outages.
Auto De-Icer

with defrost indicator, prevents coils from icing and means less down time and more time drying your home.
Operates effectively in temperatures as low as 41° F.
Direct Drain option

with 6.5 ft. of hose included or works with standard garden hose fitting eliminating the need to empty a bucket.
Quiet operation - only 55 dBA.
With low power usage and R10A refrigerant, the Danby 50 pint dehumidifier is

one of the most environmentally room dehumidifiers available

.
Easy roll casters and built-in hand grip for easy movement from room to room.
Delay start compressor for less wear and tear.
Washable air filter

to keep the motor and coils free of large debris and particles.
Effectively dehumidifies the air in spaces up to 1000 sq. ft.
2 Year Warranty

parts and labor coverage.
Danby

Good humidifier, and easy to move. Has really helped the air quality in my basement.

Excellent item.

My son have multiples allergies and his doctor recommend this product and Im so happy because this is sooo good, my son breathe really good.
---

Danby Premiere 50 Pint Dehumidifier DDR50A2GP Dehumidifier

For the last several years, the line of Danby Premiere dehumidifiers has consistently ranked towards the top of consumer rankings lists. From moisture removed and ease of use to durability and energy efficiency, Danby dehumidifiers have been a popular choice for keeping homes comfortable while removing the excess moisture that can cause mold, mildew and allow insects to thrive in your home. Used in living areas, basements or offices, Danby dehumidifiers deliver reliable, consistent performance, so how does the new Danby DDR50A2GP 50 pint humidifier compare to its predecessors? With our showroom model, we ran the Danby 50 pint for a week to see how it performed.

What I liked about the Danby DDR50A2GP Dehumidifiers

Performance, performance, performance. We ran the Danby 50 pint dehumidifier in the warehouse here at work for several days. With no climate control other than heat, parts of the warehouse can present conditions far more severe than a typical home, particularly during the summer or when there are several days of rain or extreme temperatures. After having to empty the reservoir three times the first day, we decided to take a different approach. Elevating the DDR50A2GP, we used the supplied hose to port the dehumidifier and allow the extracted condensate to collect in a five gallon bucket. After day one, the bucket had collected nearly a full five gallons of water. Again, humidity can be significantly higher than your home would likely be, but it demonstrates three things.

First, the Danby 50 pint is good at what it does. It can remove water quickly and efficiently. Second, the Danby DDR50A2GP can exceed AHAM rated extraction (50 pints per 24 hours) when used in more severe climates (higher humidity or higher temperatures). And last, if possible, the direct drain option is the way to go. Without using the direct drain/hose option during our test, we could have run the dehumidifier through the night, but at some point it would have filled then shut off until it was emptied in the morning. If excess moisture or mold is a problem, you don't want to lose valuable drying time and allow the humidity to creep back up during the night. So unless you're a sleep walker or the humidity level isn't as severe as our test, using the direct drain with the supplied hose is more convenient way to keep your space dry.

There are no superfluous features with the Danby Premiere dehumidifier. The display shows exactly what you need - the current relative humidity. When tested against a humidity gauge, the margin of error is within a couple percent. While for some people, the timer may not be the most useful feature, for many, the ability to set the dehumidifier to shut off after a certain period of time can be helpful, particularly if you want to run it while you are at work and shut off before you get home. This is especially useful if you are using it in conjunction with a programmable thermostat. The auto-defrost and auto-restart are also helpful. For basement use, the auto restart is invaluable in case of a power outage, especially if you are away from home. The Danby will reset and restart when power is restored. The auto defrost prevents what you see in pictures that people have posted on the internet - a thick layer of frost or ice on the dehumidifier. Before this can happen the Danby DDR50A2GP shuts the condenser off and allows the coils to thaw. All of these features are practical and either automatic or easy to use.

In terms of cost, the initial cost is comparable to what you will find many 50 pint dehumidifiers selling for. The other cost to keep in mind is the operating expense. The Danby DDR50A2GP dehumidifier is Energy Star qualified, and even with the fan and condenser running, you won't see much of an increase in your power bill. By using R410A refrigerant, the Danby also complies with new environmental regulations that help protect the environment. When these are coupled with an expected lifespan of anywhere from 5-10 years, the Danby 50 pint is well priced, does not cost much to operate and offers a smaller environmental footprint than comparable room dehumidifiers.

As stated above, the porting option is ideal, and each Danby comes with a length of drain hose. This is often enough to get to a nearby floor drain. If there are no floor drains nearby you can either elevate the dehumidifier so that it could possibly drain into a sink, or you can opt for the Basement Package and feed the drain line directly into a condensate pump that can then push the water to a drain or exterior of your home. The condensate pump is even powerful enough to push water up to 18' vertically. Either of these options reduce hassle by eliminating the need to empty the tank.

If you are using the dehumidifier is a living space, noise can be a concern. On the low fan speed, the Danby is fairly quiet. While the fan will produce some noise, it should not require you to raise the volume on the television by more than a one or two pushes of the volume button. On high, it can be a little much for some people, but generally speaking, it is much like losing weight. Easier to maintain than attain. What I mean is that once you get the humidity down to where you need it, it is often easier to maintain that level while running the dehumidifier less frequently or on the lower speed than what was needed to get you to that point initially. The redesign for the 2014 models will help with this. New for this year, Danby 50 and 70 pint models have fans that will shut off. So unlike older versions where the fan would continue to run, these shut off a couple minutes after the compressor kicks off, which should help reduce noise and excess heat in the room.

What I did not like about the Danby DDR50A2GP Dehumidifiers

First, ignore the stated coverage area. This dehumidifier cannot effectively dry 3000 sq. ft. of space, mainly because it is simply not powerful enough to circulate the volume of air in a space that size. If you go by what's on the box, that would be a volume of about 24,000 cubic feet of air that the Danby 50 pint could dry. Aided by something to help circulate air in that size of space, maybe, but unlikely. Based on the CFM of this model, we recommend 800-1000 sq. ft. as the top end of effective drying. Besides, this all presumes the space if open, and not many homes have 1000 sq. ft. of open space. Lastly, heat - like all refrigerant dehumidifiers, the Danby DDR50A2GP dehumidifier exhausts warm, dry air. In tight spaces this can warm the room some, so if you are using it in a living space or bedroom, I suggest using the time so that it runs while you are way then shuts off when you get home.

Overall, the Danby 50 pint dehumidifier is a great choice for most homes, apartments, or offices. It can remove serious amounts of excess moisture and humidity efficiently, and without costing you a lot to operate. The added features are useful and practical, and the coverage are is high enough even for open basements and larger spaces. It will add some heat back to the room, and the fan does produce some noise, but overall, the downsides of this model are small compared to the ability to eliminate mold and mildew and control pests in your home. Taking everything into account, it is not difficult to see why the Danby Premiere dehumidifiers are consistently ranked some of the best in the industry.


Product Questions
No questions yet. Be the first to ask the question!
Danby DDR50A2GP Premiere Dehumidifiers Specifications
| | |
| --- | --- |
| Recommended for: | Those who want a popular, reliable home dehumidifier |
| Coverage Area: | App. 800 Sq. Ft. |
| Moisture Removal Capacity: | 50 PPD (23.7L) |
| Tank Capacity: | 14.2 Pints (1.78 Gal) |
| Full Tank Indicator: | Yes |
| Direct Drain Option: | Yes (6.5 ft. Hose Included) |
| Auto De-Icer: | Yes |
| Auto Restart: | Yes |
| Humidistat: | Yes, Built-in |
| Control Type: | Programmable, Digital Push Button - LED Display |
| Adjustable Humidity Range: | 30-90% rH (5% increments) |
| Fan Speeds: | 2 |
| CFM (Low/High): | 175 / 194 |
| Noise: | 55 dBa |
| Casters: | Yes |
| Removable Air Filter: | Yes - Vacuum to clean |
| Refrigerant Type: | R410A - Non Ozone Depleting |
| Dimensions: | 15 4/16" W x 12 3/16" D x 23 9/16" H |
| Weight: | 38 lbs. |
| Shipping Weight: | 41.4 lbs. |
| Power Supply: | 770 watts, 7 amps, 115V, 60 Hz |
| Warranty: | 2 Year Parts & Labor |
| Certifications: | UL, CSA, Energy Star |
---
Danby DDR50A2GP Premiere Dehumidifiers Additional Resources
Danby Premiere 50 Pint Dehumidifier DDR50A2GP User Manual


Dehumidifier Buying Guide
Danby Dehumidifier FAQs
Dehumidifier FAQs
Top Five Room Dehumidifiers
Dehumidifier Water Removal Options
Information About Mold


---