Danby DDR70A2GP Premiere Dehumidifiers
Danby DDR70A2GP Premiere Dehumidifiers

Does your home feel sticky and humid even with the air conditioner running? Do you have problems with mold, mildew, insects, or dust mites in your home? A big cause of all these problems is excess moisture (humidity), and a simple solution is the new Danby DDR70A2GP Dehumidifier. This 70 pint dehumidifier is rated to extract 70 pints of moisture from the air in your home per day, and in particularly humid spaces it can exceed that performance. Quiet, and extremely easy to use, the Danby 70 dehumidifier provides two convenient ways to dispose of the condensate you pull from the air. Valuable features give you flexibility and a two year warranty covers you twice as long as comparable models. So keep your home comfortable during the humid months and eliminate mold, mildew, insects and dust mites with a consumer best rated Danby DDR70A1GP dehumidifier.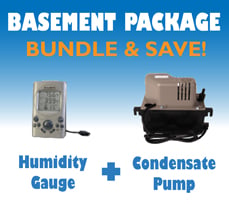 Danby 70 Pint Basement Package

Is gravity working against your dehumidifier? Try the Danby 70 Pint Basement Package. It provides all of the tools you need dry any space in or around your home. In addition to a Danby Premiere dehumidifier, the kit also includes a condensate pump, and an Acu-Rite Digital Humidity gauge. The rugged Hartell KT3 condensate pump is designed to collect and pump water horizontally or vertically. This frees you from emptying the reservoir and is ideal in spaces where a floor drain is not readily accessible. The Acu-Rite allows you to precisely monitor and track the indoor and outdoor humidity, to provide complete control over your environment.
Features
Effectively dehumidifies the air in spaces up to 1000 sq. ft.
Energy Star rated

for inexpensive operating costs.
Programmable,

Digital Controls

with LED display.
Digital

Humidistat

built-in to provide immediate and accurate humidity conditions in the room.
Auto Restart

after power outages.
Auto De-Icer

with defrost indicator, means less down time and more time drying your home.
Operates effectively in temperatures as low as 41° F.
Direct Drain option

with 6.5 ft. of hose included or works with standard garden hose fitting.
Quiet operation - only 55 dBA.
1-24 Hour Timer
2 fan speeds High & Low.
Air filter

to keep the motor and coils free of large debris and particles.
Effectively dehumidifies the air in spaces up to 1000 sq. ft.
Casters and integrated handles for easy movement from room to room.
2 Year Warranty

parts and labor coverage.
Fresh Air

Danby brought humidity down in basement and held it no problem

High CFM for large areas

I was looking for a dehumidifier to control humidity in my approximately 1300 square foot basement. The high CFM's and constantly running fan on this Danby keeps the whole basement dry. The auto-drain function works great. Also, AchooAllergy.com had it for cheaper than anywhere else I could find it, with free shipping, to boot!!

Finally DRY!!

I live about 50 yards from a river, and the water table here has always been high. Our house is old, and the basement has always been damp and musty. This was my grandmother's home, so I know the history of floods and dampness - for the first time I can remember, the basement smells fresh! This was a very small investment for such an efficient product. It runs quietly, and we have it draining directly into our sump. I haven't seen the first electric bill yet, but the product definitely works like a charm and I am very satisfied!

Hard Worker

We need a dehumidifier in our basement to help control the humidity. Our basement has several rooms but also is very spread out. This dehumidifier works well, is easy to program and rolls quickly from room to room if necessary. It is a little noisy when it is running, but is very efficient.

great quality

As always Danby is a great dehumidifier this is my 3nd purchase and have them in different parts of our tropical house and has saved our place from mold. And you can't ask for more than that. It's not that noisy we don't run it when we are there. I do continual drainage and that works great. And your delivery service is great.

No review title given

It was easy to set up and get running. It does produce some noise, but much less than I expected. It also doesn't put off as much heat as I expected either. The settings are easy to figure out and it tells you what humidity level you're starting at, as well as the temperature. The only complaint I have about it is that the bucket could be a bit easier to take out and put back in, but I've never really had a dehumidifier where it was. I have a 800-1000sq ft apartment and leave the dehumidifier running while I go to work. The tank is basically full when I return yuck.. so much humidity in the air! but it will have the humidity to where I've set it. I've noticed that keeping the dehumidifier running has helped my asthma symptoms. My allergist also recommended this to me for dust mite allergies as well. Apparently they flourish in humidity levels over 50%, so using a dehumidifier creates a harsher environment for them to survive in.

danby dehumidifgier

very fast shipping, good product

Dehumidifing Crawl Space

I could not believe how fast got my dehumidifier to me. The Dehumidifier seems to be doing the job. Thank you achooallergy.com.

Danby DDR70A1GP Premier Dehumidifier

We have very happy with our new Danby dehumdifer. It is much quieter than our last dehumdifer and is keeping our basement much drier than before. Very easy to set up right out of the box. Our only concern is a bucekt handle that seems to be a little weak.

This really pulls the water out of the air

love this thing. it has changed my basement.
---

Danby Premiere 70 Pint Dehumidifier DDR70A2GP Dehumidifier

For over 60 years, Danby has been providing efficient, quality home appliances. Following this tradition of solving everyday home problems, the Danby DDR70A2GP dehumidifier tackles mold, mildew, dust mites and insects by removing excess moisture in the air and lowering humidity levels. Similar to its highly rated predecessor, the DDR7009REE, this latest version of the Danby 70 provides exceptional performance in a reliable package. After setting up test models at home and in our warehouse, this is how the newest Danby dehumidifier fared.

What I liked about the Danby DDR70A1GP Dehumidifiers

The first of the two models was placed in the downstairs of a range/split-level home. The lower floor of the split-level has no basement or crawlspace under it. Often that space has high humidity during the spring/summer and issues with insects throughout the year. The second DDR70A2GP was placed in a rear section of our warehouse (no climate control). Granted, the relative humidity and temperature in the warehouse space is much higher than in the home, but over the course of a 24 hour period, both had to be emptied multiple times. For the warehouse unit, the moisture extracted totaled over 6 gallons in 24 hours, and in the home, the moisture removed topped 2.6 gallons.

In a second run, we used the supplied drain hose to port the dehumidifiers. After elevating each, we ran the hoses into 5 gallon buckets to collect and weigh the water extracted. While temperatures and humidity levels remained about the same for each test, the results were better. In the home, the total came it at 3.3 gallons while in the warehouse the water removed totaled a whopping 11.62 gallons. Granted, your home should never be as humid as the warehouse space, but the results show two things. First, if conditions are right, the Danby 70 pint will remove more humidity than it's rated for. Secondly, if porting a dehumidifier is a viable draining option, it can dramatically increase effectiveness, particularly in very humid spaces. This only makes sense since a continuous drain means the unit never has to stop dehumidifying due to a full reservoir. (as might be the case while you are at work or sleeping cannot empty the tank)

The features of the Danby Premiere dehumidifier are practical and useful. So while it may not sing show tunes or tell you the current time in Rio, what it does offer is the ability to control how long the unit runs, when it will start, an auto-restart function if the power flickers or goes out, and an auto-defrost feature that ensures it continues to run even in cooler temperatures. A built-in humidistat gives you control over the humidity level (set target RH to any five percent increment from 30% to 90%) and provides you with a reading of the current relative humidity in the room. Lastly, two fan speeds give you some control over noise, and the redesign of the fan, which I discuss below, should also help cut some excess noise from the 2014 models.

In terms of energy usage, the Danby DDR70A2GP is Energy Star qualified, and even with the fan and condenser running fairly steadily, you won't see much of an increase in your power bill. By using R410A refrigerant, the Danby also complies with new environmental regulations that help protect the environment. When these are coupled with an expected lifespan of anywhere from 5-10 years, the Danby 70 pint is well priced and offers a smaller environmental footprint than other models.

If you have owned or seen a Danby Premiere in the past, you will be pleasantly surprised to know that Danby finally corrected something that I had long considered something, "I do not like about the Danby dehumidifier." That, is the fan running all the time. With the 2014 production run, Danby has tweaked this longtime feature. So now, instead of the fan running all of the time, it shuts off shortly after the compressor shuts down. The advantage to this is that it no longer circulates warm air (warm since the air flows over the motor, and it takes time for the motor to cool). This should help also reduce another complaint with this dehumidifier, increase in room temperature. Since all refrigerant dehumidifiers exhaust warm, dry air, people sometimes notice a slight increase in room temperature. With the fan shutting down shortly after the compressor stops, this should help to keep room temperatures closer to the norm.

While other dehumidifiers simply fill the supplied reservoir and shut off, the DDR70A1GP allows for continual usage through porting. For basements or areas with floor drains, this is a big advantage when gravity is working with you. It allows you to set the unit up, run the condensate line to a nearby drain and essential let it run with little supervision. I have seen with other models that if someone forgets to empty them, they can sit, full of water, and mold and other microbes can begin to grow on the tank and in the water. A supplied hose is about six feet long, but if you need more length, you can cut an old garden hose to fit (the female end of the hose screws directly onto the threaded drain pipe on the back of the Danby.) The direct drain option, if possible in your situation, is really the way to go.

What I did not like about the Danby DDR70A2GP Dehumidifiers

You may find the manufacturer (Danby) and other retailers touting the square footage of this model. Two things: First, square footage is not very accurate since it does NOT tell you the volume of air in the room. Second, effectiveness does not always remain consistent with larger areas. For areas that are 3000 sq. ft. or more, proper dehumidification of the air in that space is difficult without adequate air circulation. Without adequate circulation, the drying process in large spaces can be slow and uneven. This is particularly true in a home. Walls and doors block or slow airflow, so while the first floor of your home may total 2000 sq. ft. a room dehumidifier like this will not effectively dry the entire floor. An open floor plan would help, and proper air circulation would help even more. Based on our experience with this product, 1000 sq. ft. (8000 cu. ft.) is a good measuring stick. Below that, the Danby DDR70A2GP is outstanding. Beyond that, you may not see the drying results you desire. There is always some grey area, but if you have specific questions, please contact customer service or submit an FAQ above. And don't worry, nearly all manufacturers who use sq. ft. as their measurement stretch their numbers a bit.


The Danby DDR70A2GP is an ideal way to reduce humidity in your home and stop mold and mildew growth. The features of the Danby are useful, without fluff, and the performance is some of the best in the industry. Danby's price and performance are two big reasons why it has been recognized by consumer reporting/testing agencies as one of the best dehumidifiers for home use. This dehumidifier also provides the flexibility to collect water in the removable condensate reservoir or to directly drain condensate into a floor, HVAC or other existing drain line to eliminate the need to empty the bucket. If neither of these will work, opt for the basement package to give yourself the ability to push the water horizontally or vertically with no hassle. With few drawbacks, the Danby 70 pint dehumidifier is truly one of your best options for keeping mold, mildew, insects and dust mites in-check in your home.


Product Questions
What is the efficiency ? i.e pints per kwh ? Thank you.
I have a Danby 70 pint Dehumidifier model#DDR70A2GP which I purchased in July 2014. I have it installed in the Basement with draining hose. I have the following questions: 1 Should you run the dehumidifier 24 hours 7 days a week? 2 I live in New Jersey is it safe to run it in the winter months 24 hours 7 days a week also or will the dehumidifier freeze up? My basement tends to be on the damp side. I had it waterproofed in July also. The contractor said to run the Dehumidifier to prevent mold and mildew.
Danby DDR70A2GP Premiere Dehumidifiers Additional Resources
Danby Premiere 70 Pint Dehumidifier DDR70A2GP User Manual


Dehumidifier Buying Guide
Danby Dehumidifier FAQs
Dehumidifier FAQs
Top Five Room Dehumidifiers
Dehumidifier Water Removal Options
Information About Mold


---