Santa Fe Compact70 Dehumidifiers
Santa Fe Compact70 Dehumidifiers
The Santa Fe Compact70 (formerly the Compact2)
70 pint dehumidifier is an ideal solution for drying your crawlspace or basement. With durable steel construction, a lightweight, compact profile, and superior water removal capacity, the Santa Fe Compact70 small crawlspace dehumidifier removes excess moisture in even the tightest of spaces.

The Compact70 is also highly customizable, from dual exhaust outlets to optional casters and condensate pumps, this small crawlspace dehumidifier can be ported, hung, or ducted just about anywhere! Additional features like auto-restart (after power outage), Energy Star, and MERV 13 air filtration not only ensure your Santa Fe Compact keeps running without costing you a bundle but also helps improve overall air quality in your home. If value in a robust, American-made dehumidifier is what you want, look no further than the Santa Fe Compact70! 6-year Limited Manufacturer's Warranty and an additional FREE Extended 6-year Unit Warranty through Achoo Allergy!
Santa Fe Compact Basement Package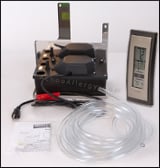 The Santa Fe Compact70 dehumidifier is light enough to be hung or even wall mounted and small enough to fit between standard floor joists. Still, there may be times when there is no drain nearby or when mounting the unit simply isn't an option. For instances like these, we have the Compact70 Basement Package. This kit provides the tools needed to keep your basement or crawlspace dry even when you need to drain the water up to 20' away. An included, bolt-on condensate pump is powerful enough to push water horizontally and even lift it vertically out of the space you're drying, and because this is a pump custom made for the Compact, it actually attaches to the unit. In addition to the dehumidifier and the pump, we've also included a humidity gauge. More robust than our standard humidity gauge, this handy device features a wireless remote sensor to provide you a digital readout of indoor & outdoor humidity and temperature readings as well as other useful information. So when the layout of your space or gravity is working against you, best the situation with the Compact70 Basement Package!
---
Features
Removes 70 pints per day

, AHAM (@ 60% RH, 80&deg: F)
Exceeds Energy Star efficiency requirements!

Easy to Use

simply run the drain line, plug it in, and set the humidity level

Powerful

150 CFM Fan

Auto Defrost

Fan/Blower can be set to continuous (to constantly cycle the air in your space) or to Auto (kicks on only when dehumidifying)

Quiet Operation

considering the amount of air that is moving.

Quiet compressor

due to well-built, steel construction
2 Stage Air Filtration,

Includes a MERV 13 Air Filter

that can trap particles as small as 1 micron, and a

washable, coarse dust prefilter

for superior air filtration of particles as small as 3 microns and larger

Auto Restart

Feature will automatically restart at the original setting after a power outage
Impressive 6-year Manufacturer's Limited Warranty
An additional Free Extended 6-year Unit Warranty through Achoo Allergy!
Made in the USA
---
Santa Fe Compact70 Dehumidifiers - A Closer Look
Humidity Control Settings
The humidity control is adjusted by a dial that turns the dehumidifier on and off. The compressor turns on when the relative humidity (RH) rises to the dial set point then shuts off when the RH is within ±5% of the set point. When installing, I recommend using a hygrometer to get a reading on your current RH. Then, after installing the dehumidifier, checking the RH and adjusting until you get it to a set point that provides exactly what you need.
Approximate Humidity Levels Per Setting
"Drier" 35% to 45% Relative Humidity
"Normal" 45% to 55% Relative Humidity (Recommended for most applications)
"Humid" 55% to 65% Relative Humidity
---
Excedes my expectations

Our house has a crawlspace with a new concrete slab, but it still felt damp. The clothes in the closets were clammy and the newly finished floors had a sticky feel from the very high humidity. In addition, the crawl space was musty and not a pleasant place to have to be in. After sealing the foundation walls and installing the Santa fe Compact 2 dehumidifier with it's hanging bracket, I watched the humidity fall from it's high of 97% to 48% over the course of a week and a half. The house feels dry, the towels dry in the bathrooms, the floors are slick and slippery as I had expected them to be and the crawl space is a place I am not embarrassed to have trades people have to work in. I am very pleased and would heartily recommend this unit to anyone who needs their house dried out.

excellent product in a small package

We bought a house that has a 1400 finished basement which has multiple rooms. This space had a typical residential dehumidifier that not working. There was a damp mild musty smell to it which the prior owners addressed with a plug in air freshener. I wanted a commercial quality dehumidifier that would fit in a fairly small space that was near the plumbing out flow pipe so the water hose from the dehumidifier could be run directly to it. We did internet based research and found several brands of dehumidifiers that appeared to be of exceptional quality, but none that fit the physical demensions that I needed. We are extremely please with the operation of this unit Setup and operation is simple. Within an hour the water hose was starting to fill up and in 3-4 days the humidity was at +/- 48% . The fan motor is pretty quiet. I think that because there is a rotary dial instead if a digital readout to set the humidity level, some tweaking is and was needed in order to find the correct setting for the space that the unit will be placed in, but that was not a big deal and the tech support was very helpful in this regard. Its very important to make sure that the height of the discharge nipple be sufficently higher then the opposite end of the hose in order that the gravity discharge feature to work well. We have had this unit for only 1 month and that is the reason that I give it 4 instead of 5 stars. Time will tell. I expect that for the price, that this dehumidifier will give us many years of excellent service.

Does the job well

I'm using this humidifier in my encapsulated 1600 square foot crawl space. I also purchased the hang kit which made it very easy to mount to my floor joists. After turning the unit on, the humidity steadily declined and then maintained at 45%. I have the humidity level set just past the midway point on the dial. Now that I'm in steady state, the unit doesn't have to run very often and it seems to be able to maintain the humidity level very efficiently. Overall seems like a great product so far

crawl space dehumidifier

I write very few reviews but for this product I am making an exception. For my needs this is the best money I have spent on my house. The basement package is the way to go but also spend the extra money and get the hang kit. It will allow you to place the unit up and out of the way keeping it off the ground and leaving you with usable space beneath it. Plus adding the advantage of changing filters and making it much easier to level. I have waited till my first electric bill to see the difference from last year and the best I can tell there is no change. But the best part is the change under my house, I have gone from a average humidity of 63% to 47% and holding only after two days. As a added bonus the temperature went from 55 to an average of 67 degrees and having no musky smell. I have approx.1300sq.ft.under the house with almost seven feet of head space. This unit handled it with no issues. The basement pkg. comes with a humidity gauge and a remote so you can see what the temp. and humidity is inside and under the house making it very convenient.

A Great Product

This dehumidifier starting solving our problem as soon as it was turned on. We noticed a difference in our crawl space within a couple of hours and it kept improving as the hours passed. We were amazed at how fast it worked. It was very easy to set up and works great. Our humidity and "mildewy" problem is gone and we have a very good atmosphere in our home. It even made the house atmosphere above the crawl space so nice, no smells and no unneeded moisture. We highly recommend this product.

quiet!

The shipment came to Canada in just over a week- fully tracked so we could follow it, and was about $140 customs at the post office. It is really quiet, and I can barely hear it running from the living area of the house it is in the crawl space. Lots of water coming out of machine into drainage tube and my humidity is down where I want it. Not too heavy, either. The hang kit was good and easy to use.

santa fe compact 2

The santa fe compact 2 was easy to install if you have any handyman skills and it seemed to be working so well that we got a second one for another area. Also very fast delivery.

Santa Fe Compact

Just got my Santa Fe dehumidifier and got it in place this past weekend. Seems to be doing the job so far. Really like the small size and metal construction. Definitely worth checking out if you are looking for something durable.

Great Unit

I installed this unit in my crawl space on 8/16/14 with a RH of 79%. I have a vapor barrier installed along with sealed crawl space vents and after less than 24 hours, the RH had ped to 59% and after 2 days fell to between 48-50% at a temp of 72 degrees. Currently it is now slightly drier in the CS than it is in my home. Initially, after reading some reviews online, I was concerned with potential noise of the unit but this is not an issue. While standing in the room directly above this unit, the sound of it running is detectable but just barely so. Overall, I am very satisfied with this purchase!

santa fe compact 2

This is our second Santa Fe. We liked the first one so well we bought another for a different area. Easy to install and shipped very fast.
---


Santa Fe Compact Dehumidifier
At 12" tall and 12" wide, the Santa Fe Compact70 can fit where no other dehumidifier can. Innovative features such as integrated vertical or horizontal exhaust outlets offer flexibility even in exceptionally tight spaces, while the optional condensate pump, hang kit, and duct kit facilitate installation in the most challenging applications. No conventional dehumidifier can perform as efficiently and effectively in crawlspaces as the Santa Fe Compact70.
Water Removal - The Santa Fe Compact70 is AHAM rated (80° F @ 60% RH) to remove 70 pints of water per day. This is right in line with most crawlspace dehumidifiers. For spaces of about 2,300 sq. ft. or smaller, the 190 CFM blower can cycle through the air in your basement or crawlspace and remove the excess moisture that often leads to odors, mold and pests. Unless you have a structural problem with excess moisture (like a leaking pipe, improper drainage of the area around your house, etc.), the Compact70 can help remove odors, control pests and reduce or eliminate the growth of mold in your basement or crawlspace.
Durable Construction - The body and frame of the Compact70 is all steel, and while this does add some additional weight, it also adds a great deal of durability. It can withstand harsh conditions, from heat to cold without warping or cracking. Unlike the plastic housing of many dehumidifiers, steel won't crack or break. This model also comes standard with a MERV 13 air filter and a washable prefilter (rinse and air dry). Not only does this work to filter particles out of the air in your crawlspace or basement but this also helps to keep debris like dust and dirt from collecting around the coils and motor, preventing premature failure or strain on the blower. If you want better filtration of even smaller particles, as small as 1 micron, opt for the MERV 13 Annual Filter Kit as an upgade.
Energy Star Qualified - You can find crawlspace dehumidifiers with a smaller initial cost, but you will be very hard pressed to find one that will cost so little to operate. The Compact70 actually surpasses Energy Star guidelines and removes more water per kilowatt, five pints of water removed per kilowatt, than nearly all comparable brands and models. Those are savings that add up! So while you might pay a couple hundred more upfront for the Santa Fe Compact70, it'll end up saving you hundreds over the years of solid, reliable use that it provides.
Lightweight & Compact - With an ultra slim 12" x 12" body, the Santa Fe Compact is built for tight spaces. It easily fits between standard floor joists and has such a short stature that even low crawlspaces are not a problem. The overall weight of this crawlspace dehumidifier could be lighter, but that would likely mean scrapping the steel frame and body. So while there's a small sacrifice in terms of weight, what you gain is rugged durability.
Adaptability - The exhaust on this model can be modified to exit via the back of the machine or through the top. This gives you some flexibility if you were looking at a through-the-wall installation. The included 8' section of hose is generally enough for most people to port the drain line to the exterior of the crawlspace or a floor drain in the basement. Additionally, there are a wide variety of add-ons for this model. If you're looking to be able to move this model, say for use in a basement, go for the optional caster kit. Gravity not working with you in draining the condensate? There's a condensate pump kit that comes with a bracket to mount the pump to the side of the dehumidifier. Those are just a few of the more useful accessories but there are also mounting and ducting kits as well as other add-ons that help to make the Santa Fe Compact70 versatile and highly adaptable for whatever situation you throw at it.
Made in the USA - The reality is the United States just doesn't produce many products at home anymore. Manufacturing of most of our home appliances often takes place overseas, and while the price of these products haven't decreased much, quality sure has. As an authorized re-seller, we're proud to offer brands that are made right here in the U.S., and all Santa Fe dehumidifiers have this distinction. Since 1977, Therma-Stor, the parent company of the Santa Fe brand, has been designing and manufacturing heat transfer appliances and dehumidifiers. And unlike cheaper brands, Santa Fe dehumidifiers are only sold and distributed through select retailers.
Product Questions
My crawlspace is approx. 48" high,1985 sq. ft. I am sealing it up encapsulating would the Santa fe 2 be sufficient or the advance be necessary.minimal moisture, my problem is with outside air condensing in the crawlspace
The hanging kit for the Sante Fe Compact 2. Do you stock it and how much is it? What is the item number so I can order it? thank you dale
I have a low crawl space under my CBS house that a smaller person can crawl in....the space has a dirt floor and blocks with holes in them or dirt in some areas for ventilation. How would this product be set up in my circumstances?
Santa Fe Compact70 Dehumidifiers Specifications
Recommended For:
Crawlspace / Basement
Model Number:
4033600
Coverage:
2,300-3,000 Sq. Ft.
Water Removal:
70 pts. per day @ 60% RH, 80° F
Power Supply:
115v, 5.1 Amps (9ft. long power cord)
Energy Factor:
5.0 Pints/kWh (2.4 L/kWh)
CFM Rating:
150
Noise:
63 dBa
Auto Defrost:
Yes
Auto Restart:
Yes
Effective Operating Range:
From 49° F - 95° F (will operate as low as 41° F)
Air Filter(2):
Two (9" x 11" x 1" MERV 13 AND Washable Prefilter)
Drain:
3/4 Inch Threaded NPT (8' Drain Hose Included)
Casters:
Optional
Condensate Pump:
Optional
Dimensions:
12" W x 12" H x 21" L
Weight:
55 lbs.
Warranty:
6-year Manufacturer's Warranty on unit and the components
Additional 6-year Manufacturer's Warranty on unit and the components through Achoo
2-year Manufacturer's Warranty on workmanship or materials
---
Santa Fe Compact70 Dehumidifiers Additional Resources
Santa Fe Compact70 Dehumidifier Specifications Sheet


Santa Fe Compact70 Dehumidifier Owner's Manual

Santa Fe Compact70 Dehumidifier Extended 6-Year Warranty Information


Dehumidifier Buying Guide
Dehumidifier FAQs
Top Five Crawlspace Dehumidifiers
Information About Mold
---