By: P. Cade McDonald, Founder and CEO of AchooAllergy.com
In last month's issue of Allergy Consumer Report, we published the article How to Recognize Marketing Ploys & Choose the Right Air Purifier. The article contained the following statement:
"Other retailers list the recommended room size based on an ACH of six, and their customers often end up paying more money for a large air purifier when a smaller model would have worked just fine."

Before I list my best allergy relief product recommendations for you, I'd like to take a minute to explain to you why I don't necessarily agree with the above statement. I have always stated that, in a perfect world, I would like to place the largest air purifier possible in the smallest room possible. This would guarantee tremendous air exchange rates.
Imagine that you purchase one of our largest air purifiers, like an Austin Air Purifier, which outputs 400 cubic feet of air per minute on its highest setting. You then put this air purifier in one of your smallest rooms, say your walk-in closet. The closet measures six feet wide by eight feet deep with eight-foot ceilings. That gives us a volume of 384 cubic feet. If we put an Austin Air HM-400 in the closet and let it run on its highest fan speed setting at 400 CFM, then we get an hourly output of 24,000 cubic feet of air per hour. Divide this output by the volume of the closet, 384 cubic feet, and we get over 62 air exchanges per hour. Thats a lot, but is it too much?
When it comes to air purification, I believe there is no such thing as overkill. The more times a quality air purifier can "turn" the air in a given room, the cleaner the air is going to be.
In the past, I have always suggested utilizing a larger air purifier and letting it run on one of its lower fan speeds. This normally leads to less white noise (a side effect of all good air purifiers) and increases the likelihood that the person suffering from allergies is going to leave the machine running and cleaning the air, thus helping them breathe and sleep better.
While I don't necessarily agree with the above quote from the article How to Recognize Marketing Ploys & Choose the Right Air Purifier, I do agree with the main point of the article: You, as a customer, must be well-informed and fully understand the concepts of ACH (Air Changes per Hour) and CADR (Clean Air Delivery Rate) in order to to choose the right air purifier for your needs. If you have any questions, we're always glad to help.
I have been in the allergy relief products business for eight years. My goal from the very beginning has been to educate our customers about allergen avoidance and help steer them toward the best allergy relief products.I consistently express the recommendations listed below. If you are one of our customers who remembers visiting our first location on Roswell Road in Buckhead back in the old days, you probably remember me saying something like this: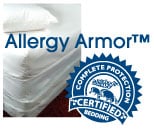 1. If you are going to do anything at all in regard to allergen control, put an Allergy Armor pillow cover on your pillow. This offers the biggest bang for your buck, so to speak. For just $10 to $20, you can do effectively avoid a very potent allergen - the dust mite and all its related particulate matter - by simply encasing your pillow.


2.

Become a conscious cleaner

. Unfortunately, this is nothing we can sell you or you can buy in a box. You have to become more cognizant about how well and how often you clean your environment. Just the other night, I dropped something off the nightstand, and it rolled under the bed. I got out the flashlight that I keep in my bedside drawer and took a look under the bed. It was disgusting! Even though we employ a professional cleaning service and instruct them to use our HEPA vacuum cleaner when they vacuum, they were missing a really important part of the vacuuming process. You need to vacuum around the nightstand and under the bed. Take a look for yourself; I guarantee there are huge dust balls and other debris - and that debris should be properly removed (with a certified HEPA vacuum cleaner). Cleaning with a good vacuum is always superior to dusting with a feather duster or rag. A HEPA vacuum completely removes the dust, whereas dusting most often makes it airborne, allowing it to settle back in the same place or somewhere else (like your airways).
You should also wash all bedding at least once a week, and make sure you wash it in water hot enough to kill dust mites, or invest in Allergen Wash or de-mite Laundry Additive. I could go on and on about the importance of cleaning for allergy sufferers, but I won't. In a nutshell, be cognizant of your cleaning practices. For instance, when was the last time you washed your comforter?
3. If you have pets and are allergic, or if you test positive for airborne allergens other than dust mites, consider purchasing a quality HEPA air purifier. Most of our customers begin by putting air purifiers in their bedrooms, as that's where they spend the majority of their time at home.
4. After you have completed steps 1-3, it is then time to consider a HEPA vacuum cleaner like a Sebo Vacuum or Miele Vacuum Clenaer. HEPA vacuum cleaners are investments; they are expensive to build and expensive to certify. That said, you can expect a quality HEPA vacuum cleaner to last much longer than the dust-billowing, carpet-eater available at the big box store. Vacuuming with the right kind of vacuum cleaner is far superior to dusting. Why dust when you can permanently remove the possible allergen from your living area? Every one of our customers could greatly improve their health if they were more conscientious about their vacuum cleaner and their vacuuming habits. When I was in my mid to late twenties, I lived in an old building that was converted to loft apartments. About half the walls were brick, and I remember my friends making fun of me for vacuuming the walls. Bricks are dusty - they attract and accumulate dust. My apartment was cleaner and less dusty than anyone elses because I took the time to vacuum the bricks on the wall . . . and my health was better because of it.
I hope this article helps you better understand our company's mission. We want to educate and provide products that help our customers live better, healthier lives.
Visit our Allergy Relief Learning Center for more helpful recommendations.
---
Originally published in the
August 2007
issue of
Allergy Consumer Report
.