Allergist Interview: Dr. Mona Mangat on Finding an Allergist and Finding Relief
This month we spoke with board certified allergist and immunologist Dr. Mona Mangat of Bay Area Allergy and Asthma. The practice treats patients suffering from the entire spectrum of allergic conditions from eczema, allergic rhinitis, and asthma to food allergies, hives, and drug allergies.
Dr. Mangat's experience with allergies extends beyond her professional life. With four young children of her own, combating allergy symptoms is a daily part of her personal life as well.
Please tell me a little bit about yourself and your history as an allergist.
"I trained in internal medicine and pediatrics at the University of Tennessee and LeBonheur Childrens Medical Center and completed my allergy and immunology fellowship at Henry Ford Hospital in Detroit, Michigan. Having done my residency in both internal medicine and pediatrics, I didn't want to waste my dual training; I wanted to be able to treat both adults and children, so I chose allergy. I began my own practice in 2007."
"I am married to a radiologist and we have four kids, who between them have peanut allergies, eczema, allergic rhinitis, asthma and receive allergy shots."
How big is your practice? Is there a particular type of allergy or treatment your practice specializes in?
"I am a general allergist, and I see 50 percent adults and 50 percent kids."
What do you love about your job?
"I love that when I make people feel better it's a very tangible experience for them. They see it, they feel it. It's not like your cholesterol went down. Treating allergies generates a lot of positive feedback that my patients can see and feel and experience."
If you could suggest one thing for your patients what would it be?
"I really, really would suggest that they be compliant. If they listen, I promise they'll feel better. For instance, I tell some patients, 'If you stop smoking, many things will get better.' If people will do what you tell them to do, they'll usually feel better.
"A lot of times the biggest hindrance is patients don't want to spray something up their nose or breathe something in, for instance. What I ask them to do initially a lot of times has to be easy, and there has to be a tangible benefit - like breathing better. When patients see a positive response, then they become more compliant. They have to trust me; if they don't trust me and don't think I know what I'm talking about, they won't be compliant."
What is your favorite allergy relief product?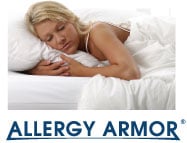 "I always recommend allergy relief bedding. That is my favorite allergy relief product. If people will invest the money in it, they will see the benefit. Encasements really do make a difference."
Where do you see allergy treatment going in the near future? In the distant future?
"I'm hoping in the distant future, we won't have to give people injections, but rather will be able to administer sublingual immunotherapy (SLIT). In the short-term, I don't see too much of a change, although I do think serums for immunotherapy will become better and more targeted. In the past several decades, allergy treatments have made great strides."
Is there anything else you'd like to add or discuss?
"Many times, it takes my patients a long time to actually come and see me. But once they see how much their quality of life improves, they realize that they should have been to an allergist long ago.
"This brings up the point about the need for public education and education in the medical community about what allergists do. I appreciate the recent campaign launched by the American College of Asthma and Immunology campaign with the slogan: 'Find an Allergist, Find Relief.'"