Allergist Interview: Dr. Sunil Saini on Patient Education
This month we bring you an interview with Dr. Sunil Saini, who runs a solo practice in southern California. He is triple board certified in allergy-immunology, clinical laboratory immunology, and pediatrics. Dr. Saini is a huge proponent of patients becoming educated on their conditions. He makes it his mission to educate each of his patients about their disease, how various coping methods work, and what to do in allergy or asthma emergencies.He believes that - especially in the context of living a full life even with allergies and asthma - knowledge is power. We couldn't agree more!
Please tell me a little bit about yourself and your history as an allergist.
"I'm in private practice in southern California and I'm also an Associate Clinical Professor at the University of California, Irvine. I've been both a professor and in private practice for about 12 years.
"I became interested in becoming an allergist because I suffered from allergies as a child. Specifically, I had severe hay fever. During the fall season, I suffered so badly, I couldn't go outside, couldn't play with my friends, and medicine wouldn't work. I went to see an allergist and my parents put me on allergy shots. When something affects you personally, you have a real interest."
How big is your practice? Is there a particular type of allergy or treatment your practice specializes in?
"I have a solo practice, so it's small and personal, which is the way I like it. Everyone knows everyone, including the staff, patients, and me.
"We pretty much treat everyone and everything. We take care of every age, from babies all the way to the elderly and everyone in between. And we treat all types of allergic conditions including hay fever, food allergies, chronic sinusitis, hives, eczema, and asthma.
"With babies, what we treat mostly is eczema or sometimes food allergies. Eczema can start as young as age three months. For the eczema, we really recommend to highly moisturize the skin with a lot of lotion. We also tell parents to make sure that there are no fragrances in any of the products they use for their children. These include detergent, lotion, and soaps.
"We also take a look at the baby's diet. Sometimes the only sign of a food allergy is when it shows up as eczema. At times, something that a breastfeeding mother eats can set off a baby's allergies, so even before a baby is eating solids we sometimes ask the mother about her diet.
"Probably, the five most common food allergies in young children are egg, milk, wheat, soy, and peanut allergies.
What do you love about your job?
"I love the relationships I get to build with families. Unfortunately, allergies can stick around, so many times patients need someone who can follow them long-term. Because of these long-term relationships, I get to know my patients well. I also get to know their families because allergies run in families. Often, I treat multiple members of the same family who have different types of conditions."
"That's what gets me up and going in the morning: helping my patients to live happy lives, helping the kid who can't play sports be able to become a successful athlete. There's a lot of reward that comes with that."
If you could suggest one thing for your patients what would it be?
"Learn about what's happening to you, whether you suffer from eczema, allergies, or asthma. I'm a huge proponent of self-education. The more you know about what's going on in your body, how the medicines work, and what they do, the more you feel in control, and the more you can make educated choices. I can recommend courses of action, but the more educated my patients are, the more involved they can be.
"For instance, if a patient has hay fever, then I would recommend doing some testing to figure out exactly is triggering their symptoms. But I also want them to know what is happening in their noses that makes them feel that way and medicine I might prescribe will work.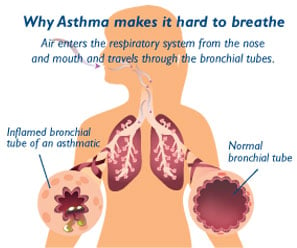 "If a patient has asthma, I want them to know what's happening in their lungs. I want them to know the difference between inflammation and bronchospasms and why we have different medicines. I want them to know when to take each.""When it comes to food allergies, I want my patients to be knowledgeable about how different allergenic foods can be disguised so they don't accidently ingest them. And - this is very important - food allergic individuals must know how to use their auto injectors and that they must have them with them all the time.
"This type of educating my patients is something I try to do when people come and see me. Spreading this knowledge to others who don't necessarily have allergies is also important. For instance, teachers, family members, and friends should also know about when and how to use an auto injector if an emergency occurs."
What is your favorite allergy relief product?
"When people are allergic to dust mites, allergy covers are certainly a favorite product. Nasal irrigation is also very helpful for chronic sinus infections."
Where do you see allergy treatment going in the near future? In the distant future?
"Some people who have a desire to reduce their medications do allergy shots. In the future, allergy vaccines that are administered in drops under the tongue may become available. Young children who are afraid of needles, and others, will be able to receive allergen desensitization in a much more convenient way."
Is there anything else you'd like to add or discuss?
"I think the biggest thing we talked about was education. In my office, I educate our patients in the medical aspects of allergies and asthma. Others on staff teach patients how to use their medicines, such as inhalers and auto injectors, correctly. We also give our patients written information to take home so that they can absorb what we've discussed more slowly. The more knowledge patients have, the more power they have."