Allergist Interview: Dr. Susann Kircher on Quality of Life and Stinging Insect Allergies
We were pleased to speak with Dr. Susann Kircher of Allergy and Asthma Center of Birmingham, Alabama. Without further ado, here is what she had to tell us:
Please tell me a little bit about yourself and your history as an allergist.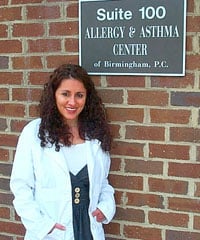 "I did my fellowship at University of California, San Diego and then practiced at Kaiser in San Francisco. After that, I went to Atlanta and then home to Birmingham. About five and a half years ago, I opened my own practice.
"I am board certified in both internal medicine and allergy and immunology. When I was a resident, I noticed that one of the doctors I worked with, who was an allergist, was actually happy. I liked the fact that he was involved with his patients. For example, through skin tests, he and his patients could see right away what their allergy problems were.
"Through working with allergists, people can actually feel better and get better, as opposed to taking care of one symptom but having to suffer from medication side effects. With allergies, patients can take ownership of their disease and then take steps to feel better. Quality of life is sometimes underrated, but it shouldn't be."
How big is your practice? Is there a particular type of allergy or treatment your practice specializes in?
"I opened my practice myself I am still the only physician in the practice. I treat everything, including allergic rhinitis, a lot of eczema cases, asthma, stinging insect allergy, medication allergies, and contact dermatitis. I also treat immune deficient patients. These are mostly older patients with antibody deficiencies. The main treatment for them is immunoglobulin replacement therapy."
What do you love about your job?
"I really think my job is fun. I enjoy doing procedures like skin tests and lung function tests and discovering what patients' specific issues are. And I love seeing people feeling better and getting better. I also like the fact that once allergists are board certified, they can treat both children and adults. I really enjoy being able to see and treat whole families."
If you could suggest one thing for your patients what would it be?
"With the medication, testing, and products that are available, there's no reason for someone with allergies to keep suffering without relief. Be proactive in your health. Ask your doctor for a referral to an allergist, or seek an allergist out yourself. Many people wait so long to see an allergist. They think everyone is allergic to dust and they just live with their symptoms as if there's nothing they can do about them. But there is a lot you can do! Allergy shots are an option too, and they are the closest thing we have right now to a cure. There really are a lot of choices when it comes to allergy treatment."
What is your favorite allergy relief product?
"I like dust mite covers. I'm a big believer in HEPA air purifiers, dehumidifiers, and quality vacuums. When it comes to pets, there are many things you can try before you have to think about finding new homes for your animals. For instance, Allerpet shampoos, pet wipes, etc. Cat allergen is usually worse than dog allergen. Actually, there's a protein in dog dander that actually helps regulate, and therefore boost, the immune system. This is probably because dog dander has more bacteria, and this is why young children who grow up with dogs tend to have fewer allergies and less incidence of asthma when they are older."
Where do you see allergy treatment going in the near future? In the distant future?
"I hope that one of the things we will see is improved shots. Research is being done on the specific proteins that cause allergic reactions, and when shots are formulated with these specific proteins, immunotherapy will be a shorter course of treatment than it is now. Sublingual immunotherapy looks like it will be a safer option as well. People will be able to administer it at home, too, so the convenience will improve."
Is there anything else you'd like to add or discuss?
"I'm a big believer in treating stinging insect allergies, especially in the southeast where stinging insects are more prevalent. Stinging insects that can cause life-threatening allergic reactions include bees, wasps, hornets, and fire ants. Allergy shots for stinging insect allergies provide desensitization and are 97 percent curative. The general population has a four to five percent chance of being allergic, so with shots, the risk is down to lower than that of the general population."