Making sure your bedroom is armed against dust mites is the number one step you can take in alleviating allergy symptoms. Dust mites love to live in bedding, mattresses, and pillows where they can enjoy a constant feast of the dead skin cells you shed as you sleep. But this doesn't have to be the case! Using allergy relief bedding that's impenetrable to dust mite allergen, pet dander, and other allergens will provide substantial relief from nighttime allergy attacks.As lower temperatures prompt you to add down comforters and blankets to your beds, it's a good time to re-think the way your bedding is working for or against allergy-relief. And what better time to make sure your bedroom is allergy-proof than when you're changing out seasonal linens? Get cozy for winter and fight allergies at same time.
Back to the Basics: Allergy Relief Covers
The first barrier against dust mite allergen should be the layer that touches your mattresses and pillows. Achoo! ALLERGY's exclusive Allergy Armor mattress covers and pillow encasingsprovide superior protection against dust mite and other allergens - and they are arguably the most comfortable ones you can purchase.
Allergy Armor allergy relief bedding comes in five different lines:
| | |
| --- | --- |
| | Allergy Armor Ultra: The best of the best, Allergy Armor Ultra features the smallest pore size and is made of membrane-free, breathable fabric. Be sure to use Allergy Armor Ultra if you suffer from allergies to pet dander. Lifetime warranty. |
| | Allergy Armor Cotton Blend: More breathable than the 100% polyester Ultra, Allergy Armor Cotton Blend also has a slightly larger pore size, but is still effective against dust mite allergen, pollen, and other allergens. Comes with a 5-year warranty. |
| | Allergy Armor Advanced: The original Allergy Armor � line, Allergy Armor Advanced provides excellent protection against dust mites and other allergens at a budget-friendly cost; however, with its larger pore size, the protection AA Advanced provides is not as superior as that of AA Ultra or Cotton Blend. |
| | Allergy Armor Classic: Our only allergy relief bedding that is not membrane-free, Allergy Armor Classic is the perfect choice for those who require a waterproof encasing. |
| | Allergy Armor Organic: Ideal for those with chemical sensitivities and skin sensitivities, Allergy Armor Organic is made from organic cotton. Truly a luxurious choice, there are no finer, more comfortable allergy relief covers to be found. |
Allergy Relief Bedding Packages, which come with everything you need to begin fully allergy-proofing your bed, are an excellent way to ensure that your sleeping zone is protected against dust mite allergen. Packages come with a box spring cover, a mattress cover, and pillow covers.
Allergy-Proof Your Comforter
If you slept with nothing but a covered mattress and pillows and sheets (that you would wash with dust-mite killing solution such as de-mite Laundry Additive), your allergy-relief regimen could stop with mattress and pillow encasings. But, especially in the colder months when bedding tends to pile on, how can you protect yourself from the dust mites, pet dander, and other allergens that slowly fill your bedding and trigger allergy attacks?
For comforters, Allergy Armor also makes duvet covers, which keep dust mite allergen from penetrating through the comforter itself and triggering allergy attacks. If you or members of your family are allergic to the down itself, however, there are also alternatives. PrimaLoft synthetic comforters replicate the softness of down, without the allergens. Hypodown comforters and pillows combine the finest, cleanest down in the world with naturally hypoallergenic plant fibers that trap allergens.
Allergy-Friendly Blankets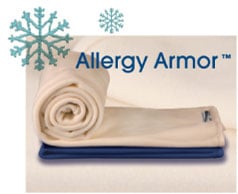 And what about blankets? The best way to ensure that your blankets aren't harboring allergens is to wash them frequently, preferably with anti-allergen laundry soaps like Allersearch Allergy Wash or de-mite Laundry Additive. But it's important to make sure that your blankets can stand up to such frequent washing.
Allergy Armor's new Microfiber Fleece Blankets are the perfect solution. They are made of Polartec microfiber fleece that won't lose any of its cashmere softness with wash after wash. They also dry quickly, warding off the possibility of moisture buildup and mold.
For those with tighter budgets, Vellux Blankets are a good alternative. They are hypoallergenic and lightweight, and will also stand up to frequent washings.
Allergy-Proof Bedding Extras
In addition, other down bedding extras, such as mattress pads also come in hypoallergenic varieties.
PrimaLoft mattress pads are made of synthetic down that won't trigger allergies. And similar to the way in which Hypodown comforters are constructed of hypoallergenic down, Royal Pedic Pillowtop Mattress Pads are made from natural latex and untreated New Zealand wool, covered by Belgian cotton ticking, providing you with the ultimate choice in allergen-free, eco-friendly bedding. TheDeluxe Natural Latex Mattress Pad is also made of naturally dust mite-resistant latex.
With all these allergy-relieving options right at your fingertips, there's no reason your bedroom can't be an allergen-free haven for solid and refreshing nighttime rest. Take advantage of the changing season and your winter bedding swapping to make sure your bed is allergy-proof.