Is Bedding Boring? For most people, yes, the topic of bedding is dreadfully boring. But for an allergy sufferer, bedding can mean the difference between misery and happiness. Think about it: You spend approximately one-third of your life in bed, lying there in the same spot, inhaling all of the allergens in your breathing zone. As you toss and turn, your head collides with your pillow, sending millions of highly allergenic particles flying into the air. Dust mite fecal matter, decomposing insect appendages, animal dander, mold spores, and probably even toxic chemicals - all right there in your face. Did you know that the average mattress doubles in weight after ten years due to dust mite infestation? It's no wonder that so many allergy sufferers wake up sneezing and rubbing their watery eyes!
Unfortunately, many allergy sufferers don't realize that they have the power to avoid these allergens by controlling their environment. Environmental control means setting up your home in a way that is inhospitable to dust mites, mold, and other sources of allergens. Investing in allergy relief bedding is the most important step you can take in your quest for allergy relief. Backed by hard science and popular opinion, allergy relief bedding is your first line of defense against allergens.

Just check out a couple of comments from satisfied customers who've encased their beds with achoo ALLERGY's exclusive Allergy Armor.
An allergy sufferer from Maryland writes:
I have severe allergies. I am allergic to everything. I wake up every moring trying to clear my head out enough to function through the day despite the medication I take. I never would have thought my pillow could be causing these problems until I read an article that said after a couple of days of sleeping on even a brand new pillow, bacteria, mold and other allergins start forming. I found this website by chance and after reading the reviews, I chose the Allergy Armor pillow cases. The first night I slept with the cases on, I woke up clear in the morning. I was so happy but still cautious. I couldn't believe that something so minor could be the cause of all my trouble. Well, it's been over a week now and consistently every moring I am clear when I wake up. It is such a relief! I loved these pillow cases so much that I referred a friend of mine to this site. She is waiting for her order and is hoping she has the same result. I feel like a whole new person!
Elizabeth from The Windy City writes:
I have terrible allergies. I just found out about these encasings. My doctor told me about them when I went in to get tested for allergies. My husband did not even notice that I had put them on our pillows and mattress and he is a hot sleeper. I am so glad I took the initiative to do this. These encasings feel just like my sheets. Lightening fast shipping too. Thanks achoo!
What is Allergy Relief Bedding, Anyway?
Allergy relief bedding refers to any bedding that helps relieve allergies (hypoallergenic pillows, blankets, and sheets included); however, when we talk about "allergy relief bedding" here at achoo! ALLERGY, we're usually referring to our exclusive line of Allergy Armor allergy relief bedding, made of special fabrics that zip up to entirely encase pillows, mattresses, and comforters. These zippered covers are also known as dust mite covers or dust mite encasings, and they are scientifically proven to drastically reduce the number of dust mites living in your bed. Allergy Armor Ultra Pillows are another efficient way to protect against dust mites, which cannot penetrate the Ultra fabric they're made with. Hypoallergenic blankets are another important component of allergy-proofing your bedding. A 2001 Johns Hopkins study showed that "mite population and allergen levels decreased by 90% or more within a month of placing mattress and pillow covers and treating bedding."
How does Allergy Relief Bedding Work?
What makes allergy relief bedding special is the amount of space between the threads. This space is known as the "pore." Average pore size is important because if the pores are small enough, even microscopic allergens will not be able to pass through the fabric. Dust mites average around 300 microns in size, and their allergenic fecal particles average around 10 microns. (As a frame of reference, a grain of sand is about 800 microns.) Therefore, allergy relief bedding must have an average pore size of less than 10 microns to effectively block dust mite allergen.
Dust mites live deep within the fabrics of pillows, mattresses, and other bedding materials. But once an allergy relief cover is placed on a pillow or mattress and zipped up, the dust mites trapped inside will die. They cannot survive because they have been cut off from their food supply - namely, your dead skin cells. Humans shed two to three pounds of skin per year; that's more than enough food for dust mites, even when there are several million of them.
The History of Allergy Relief Bedding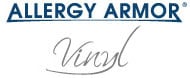 If you had encased your mattress with a dust mite cover several years ago, you'd be sleeping on a hot, crinkly, noisy bed! These fabrics of the past are known as "membrane fabrics" because they are made with an impenetrable urethane backing. We offer two types of high-quality membrane fabric: Allergy Armor Classic and Allergy Armor Bed Bug. Because the urethane barrier makes the fabric waterproof, Allergy Armor Classic is great for young allergy sufferers or those with incontinence, and the special sew pattern in Allergy Armor Bed Bug not only keeps bed bugs out of your mattress, but also provides complete allergen protection as well.
The hot, crinkly membrane fabrics went out of style as soon as AllerSoft hit the market a few years ago as the first breathable, non-membrane fabric. A cotton-polyester blend, Allersoft is now Allergy Armor Cotton, and achoo! ALLERGY oversees the cutting, sewing, and quality control for this fabric. Instead of using a urethane backing to block out allergens, non-membrane allergy relief fabrics rely on an extremely tight-weave which makes the pores small enough to block allergens."After six years helping allergy sufferers, we were not satisfied with the allergy relief bedding market," says P. Cade McDonald, Founder and CEO of achoo! ALLERGY, "so we created our own superior fabric: Allergy Armor Advanced."
achoo! ALLERGY introduced the high-quality fabric that revolutionized the allergy relief bedding industry: Allergy Armor Advanced. Allergy Armor Advanced is made with a soft, luxurious, tightly-woven, breathable microfiber fabric. Several years of research and development went into the design, production, and testing of Allergy Armor Advanced.
Less than a year after the launch of the Allergy Armor Advanced in March 2006, Allergy Armor Ultra debuted as the most effective allergy relief bedding available. Constructed of the same high-quality microfiber fabric as Allergy Armor Advanced, Allergy Armor Ultra goes through an extra finishing process that shrinks the average pore size down to 2.8 microns - the best in the industry. Allergy Armor Ultra fabric now encases our very own Allergy Armor Ultra Pillows, which don't require an extra encasing.
More recently, Achoo! has further expanded it's allergy bedding selection by introducing Allergy Armor Organic and Allergy Armor Bed Bug. Allergy Armor Organic is a certified organic cotton encasing with an average pore size of 6 microns. It also features the highest thread count of all of the Allergy Armor fabrics. Ideal for allergy and asthma sufferers as well as those who like to "buy green" or suffer from MCS, Allergy Armor Organic is free of dyes, chemicals and/or bleaches. Allergy Armor Bed Bug is very similar to Classic, with one major difference. The sew pattern is such on this fabric that it is certified to keep bed bugs out of your bedding. These mattress covers coupled with an Allergy Armor box spring encasings are two very important elements in keeping bed bugs out of your mattress and box spring.
Allergy Armor Ultra - Perfect for Pet Owners
Allergy relief bedding effectively blocks out dust mite allergen as long as the average pore size is below 10 microns, but other allergenic particles like pet dander may be as small as 3 microns. That's why Allergy Armor Ultra is perfect for pet owners - because the tiny pores block out even the smallest allergens like pet dander as well as larger allergens like dust mite feces.
Allergy Armor Ultra and Allergy Armor Advanced also feature an antimicrobial finish that protects them against stains, bacteria growth, and mold growth.
The Technology behind Allergy Armor Ultra
A special finishing process known as calendaring shrinks Allergy Armor Ultra's pores down to their microscopic size.
| | |
| --- | --- |
| | Neil Blanton, Research & Development Technical Manager at Precision Fabrics, explains, "Calendaring is a process that uses pressure between two rolls to densify and consolidate porous materials. There are multiple uses of calendering from paper companies, textile companies, and nonwoven manufacturing. Some people use it to increase gloss and decrease roughness on paper to help print. On textile webs it can be used to help gloss, hand (how a material feels), and to achieve certain effects like reduced air porosity." |
"The best way to think of it, in a generic way, is that you have two smooth rolls that are nipped together under high pressure to 'mash' or 'iron' something flatter than it originally was. Sometimes heat is also added to one or both rolls to help achieve the desired effect. It's sort of like one of those asphalt machines they use when they resurface a road - a big roller thats hot that weights a lot, that compacts the asphalt down to make it dense. Except here, we are using two rolls and the asphalt is the fabric.
"Underneath the pressure and heat of the rolls, the fabric goes through forces that change or modify the material. In our case, the fibers are flattened and stabilized to give a denser material. This helps make voids (small gaps in the fabric) close up and thereby reduces the pore size even more."
Allergy Relief Bedding - Does Size Matter?
Size does matter when it comes to allergy relief bedding, especially in regard to mattresses. You don't want the Allergy Armor cover to be too small because it may tear when you're trying to put it on the mattress (and you don't want a vulnerable spot in your Armor). It's important to measure the depth of your mattress before ordering an allergy relief mattress cover. To measure the mattress, remove the comforter, blankets, sheets, and mattress pad, then use a tape measure or ruler to measure the depth from seam to seam. Most of our encasings come in four depths: 9" deep, 12" deep, 15" deep, and 18" deep. If you have a mattress that falls between two of these sizes, choose the larger size, and you can simply tuck the extra material under the mattress. See How to Put on Your New Allergy Relief Mattress cover for instructions and illustrations.
Additional Allergy Relief Bedding - Hypoallergenic Bedding
If you have a comforter or duvet, you should encase it in an Allergy Armor duvet cover to prevent dust mite infestation. Since dust mites can also live in your box spring, you should encase it in a box spring cover.
For your convenience, we've combined a mattress cover, two standard pillow covers, and a box spring cover in Allergy Armor bedding packages.
Besides Allergy Armor allergy relief bedding, we also offer additional brands of hypoallergenic bedding. Ogallala pillows and Hypodown comforters are made from premium goose down infused with a natural plant fiber that traps allergens. PrimaLoft comforters, pillows & mattress pads are made from an antimicrobial and hypoallergenic luxury synthetic down.
Cashmere soft, plush, and washable, hypoallergenic Allergy Armor Blankets are one of the latest additions to the Allergy Armor brand. It's important that blankets be washed frequently in order to avoid the buildup of allergens within them. Vellux blankets are also a favorite among allergy sufferers. Organic cotton blankets and organic cotton sheets are ideal for those with chemical sensitivities.
If you're looking for a cost-effective solution to your allergies, we recommend purchasing a hypoallergenic pillow and covering it with an Allergy Armor Advanced dust mite encasing. For 100% hypoallergenic support of your spine and back muscles, try a Snoozer Body Pillow.
If you have allergies and you're considering purchasing a new mattress, learn more about the mattresses we offer. Royal-Pedic mattresses utilize the finest natural and organic materials to improve ventilation, comfort, and durabilty. They're made with pure organic cotton, natural latex (which is naturally hypoallergenic and antimicrobial), and natural lamb's wool that has not been chemically treated. Royal-Pedic healthy mattresses are ideal for allergy and asthma sufferers as well as chemically sensitive individuals.
Originally published in the April 2007 issue of Allergy Consumer Report.
Updated on September 2, 2009.