What Makes the Best MCS Air Purifier?

MCS (Multiple Chemical Sensitivity) is, most broadly defined, a multi-system illness related to contact with one or more of a wide variety of substances. It is often defined so generally because the causes of MCS are not known and the symptoms can vary widely from person to person. What is most common is that it often stems from exposure to chemicals, even everyday chemicals that most of us take for granted and have little observable reaction to. This is why for an air purifier to be truly the "Best in Class" for MCS Air Purifiers, it must provide broad but highly effective filtration of not only particles, but also chemicals and vapors. The IQAir MultiGas GC is the best air purifier to perform this function.
How and What We Test
Selecting the best MCS air purifier is not an easy task, nor is it one that can be accomplished with a single test. We factor in a variety of tests, customer experiences, professional opinions, and our own in-home, real-life testing to select the best air purifier in any class. From particle counter tests to removal of smoke and bleach vapors in a defined space, we attempt to put quantifiable numbers behind each air purifier. However, empirical data only provides part of the picture.
We also factor in professional opinions from air filtration and chemical specialists as to the efficacy of the filter media in each air purifier. Then we factor in customer feedback from targeted consumer surveys. Lastly, we spend time using each air purifier in real life applications throughout the home. All of these things are factored in to making what we believe is the most complete analysis of MCS air purifiers on the internet.
After reviewing dozens of brands, styles and sizes of air purifiers, the best choice for us is clear. The IQAir Multigas GC Air Purifier is the most complete and effective home air purifier for MCS sufferers.
Treating Multiple Chemical Sensitivity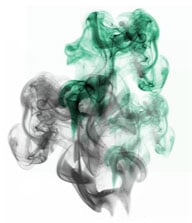 Dealing with multiple chemical sensitivity requires education about which chemicals, substances, products, or fumes trigger a reaction. If possible, it is helpful to narrow down which specific chemicals are causing a reaction. Once this is accomplished, an individual with MCS can do two things: avoid the offending chemical where possible and eliminate it from the air when the items cannot be removed or avoided.
For instance, take the individual who gets nauseated and dizzy in nail salons. This is actually a simple problem to solve. The person should just not patronize traditional nail salons unless they implement effective filtration systems or choose to use safer products. But what about the employee whose office just got new carpets? Or the homeowner who just had new flooring installed? Formaldehydes in the adhesives can cause itchy eyes and headaches among other symptoms. In such cases the individual has two choices: suffer in silence or use targeted air purification to rid the air of the irritant.
This is where the IQAir MultiGas comes in as the recommended choice in providing relief for MCS sufferers. As a top-of-the-line unit for controlling gaseous contaminants, the IQAir MultiGas provides powerful, targeted air cleaning to rid the air of fumes, odors, and other environmental irritants.
The Key is Filtration

For MCS sufferers, the exact cause of the reaction isn't always known. Sometimes it can be common particle allergens, sometimes cigarette smoke, the chemicals in household, or perfume. For those who suffer from MCS, it is often a combination of these latter few that cause severe reactions. It's because of this that the IQAir MultiGas is the best choice in controlling your indoor air quality.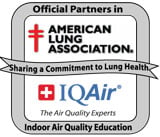 Four canisters of specially blended carbon work to create one of the most powerful chemical, smoke and odor removing air purifiers available today. It is in these canisters where the key to the MultiGas air purifier's effectiveness lies.
At its core, the carbon used to create the IQAir MultiGas filters is very different, from start to finish. Unlike many air purifiers that use a coconut shell base, the GC and GCX air purifiers use bituminous coal. When converted to activated carbon, it tends to have more pores (for greater adsorption) and be a higher quality filtration product. From here, a blend of impregnated alumina pellets are mixed with the activated carbon. While the carbon adsorbs
odors, the impregnated alumina pellets use potassium permanganate to oxidize chemical molecules like formaldehyde and break down the carcinogens and over 4000 chemical irritants found in tobacco smoke. Even the design of the filters lends itself to greater efficiency. Four cylinders of carbon allow for greater exposure of more surface area which means greater filtering capabilities.
In addition to the filtration of gases, fragrances, odors, and smoke, the IQAir MultiGas GC offers comprehensive particle filtration. The H11 HEPA pre-filter traps more than 99% of all particle 0.3 microns or larger. Not only does it keep large particles, like dust bunnies and hair out of the filtration system but it also eliminates pollen, dander, dust, dust mite allergen, mold spores, bacteria and viruses.
IQAir prides itself on surpassing traditional HEPA air purifiers and does this by removing 95% of all particles 0.003 microns or larger. These extremely small microparticles can be the most damaging to sensitive lung tissue and delicate airways. And like other IQAir air purifiers, every Multigas unit is tested and certified to meet these filtration standards prior to being packed.
All of these filtration features come together to make the MultiGas the most complete air filtration system for MCS sufferers.
Other Additional Features

In addition to the comprehensive smoke/odor/chemical filtration, the IQAir MultiGas is a great choice for MCS sufferers for other reasons as well:
No IQAir purifier produces any ozone - ever!
Indicators lights and an LCD display panel give you easily read status messages as remaining filter life, based on actual usage, to help ensure that you are never unprepared.
Triple seal design reduces internal leakage for

maximum purifying efficiency

.
Ultra-quiet design means powerful air purification that's

inaudible

on lower settings.
Modular tower design means you can easily and quickly

replace individual filters

as needed.
Intelligent filter life monitor tracks actual usage so you

replace filters when they actually need to be replaced

.
Six fan speeds allow you to

choose your ideal performance level

.
Use the integrated timer to

program your unit to run automatically

by timer and by day of the week.
Casters and a convenient carrying handle make the IQAir MultiGas

easy to move

from room to room.
Energy efficiency means your unit

only costs pennies a day

to run.
Each unit is individually tested and certified to ensure

you get a perfectly flawless unit

that meets exact filtration standards.
The IQAir MultiGas GC comes with a

5 year warranty

.