Not many people think of cockroaches when they think of allergy triggers, but cockroach allergen is a major source of indoor allergies and may lead to asthma.
How common is cockroach allergy?
The Asthma and Allergy Foundation of America (AAFA) reports that 23 to 60 percent of urban residents with asthma are sensitive to cockroach allergen.
What is the source of cockroach allergen?
Like dust mite allergen, cockroach allergen comes from the feces, saliva, and bodies of the bugs.
How many homes are infested with cockroaches?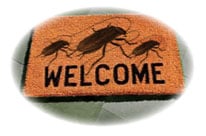 Studies show that well over three-quarters of urban homes have cockroaches. Each infested home may house 800 to 300,000 cockroaches. According to the AAFA, when one roach is seen in the basement or kitchen, it is safe to assume that at least 800 roaches are hidden under the kitchen sink, in closets, and the like.
Where is cockroach allergy most prevalent?
Cockroach allergy can be a big problem for people who live in inner cities, people who live in the South, and people of low socioeconomic status. In one study of inner-city children, 37 percent were allergic to cockroaches, 35 percent to dust mites, and 23 percent to cats.
Who is most affected by cockroach allergy?
People with severe bronchial asthma are most likely to have cockroach allergy. Others at risk include people with chronic stuffy nose, skin rash, constant sinus infection, repeat ear infection, or asthma. Cockroach allergy is most common among African Americans of low socioeconomic status. Experts believe that this is due to the disproportionate number of Africans Americans living in inner cities.
What are the symptoms of cockroach allergy?
Symptoms vary and may include itchy skin, itchy eyes, itchy nose, scratchy throat, and asthma.
How is cockroach allergy diagnosed?
The National Heart, Lung, and Blood Institute recommends that all asthma patients be tested for cockroach allergy as well as allergies to dust mites, cats, dogs, and mold. Only a doctor can perform a skin allergy test to check for cockroach allergy.
How can I avoid cockroach allergen?
Because cockroaches are so resilient, we recommend that you call an expert to exterminate all roaches in your home. To keep roaches away, do not leave food and garbage uncovered. Use baits and traps for ongoing roach control; chemical pesticides may irritate allergies and asthma.
Clean and vacuum frequently. Unlike smaller allergens such as cat dander (which can float in the air for hours at a time due to its light weight), cockroach allergen particles are large and quickly settle on surfaces. Therefore, we recommend a quality vacuum cleaner to pick up these settled particles along with an air purifier to eliminate any airborne allergens.