What causes mold allergies?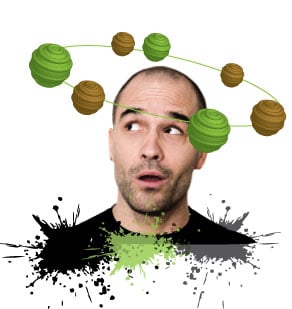 There are thousands of types of mold, but only a small number of molds are widely recognized allergens. The seeds of molds are called spores. Each spore that germinates creates new mold growth, which in turn can produce millions of spores. Because they are so tiny, the spores may get past the protective mechanisms of the nose and upper respiratory tract, and bring on allergy symptoms.
Some facts about mold

Molds can grow wherever there is moisture, oxygen, and a few chemicals which they need to thrive. Mold grows abundantly outside, in rotting logs, moist leaves, and many damp areas. Inside the home, mold flourishes in areas that are warm, moist, and dimly lit. Watch out for mold growth in areas like damp basements and closets, bathrooms (especially shower stalls), places where fresh food is stored, refrigerator drip trays, house plants, air-conditioners, humidifiers, garbage pails,                    mattresses, upholstered furniture, and old foam rubber pillows.
People who have mold allergies may have symptoms from spring to late fall. Mold is especially a problem in warmer areas of the US. However, mold growing indoors can cause allergy symptoms all year round.
An established mold colony can be seen as spots or streaks. It is not the mold growth itself which contains the allergens, but the mold spores. Once these spores become airborne and are inhaled, your mold allergy symptoms begin.
The most common symptoms associated with mold allergies are:
Nasal stuffiness
Eye irritation
Wheezing
Aggravation of asthma symptoms
Cold and flu like symptoms

The good news is, there are some easy steps you can take to get rid of mold inside your home, and alleviate your mold allergy symptoms.
What can be done to decrease exposure to mold?
Monitor humidity with a hygrometer or humidity gauge, and use a dehumidifier if necessary. It is best to keep relative humidity levels inside the home between 40% and 50%.
Use a HEPA air purifier for the removal of mold spores. The best way to avoid exposure to mold is to trap mold spores before they can reach you or start new mold growth.
Use Vital Oxide to eliminate visible mold growth. Vital Oxide is a completely non-toxic but highly effective way to kill mold. Remember to pay special attention to sinks, tubs, and shower stalls.
After cleaning surfaces and removing mold, use Vital Oxide or Allergy Armor Sure Coat as a sealant to prevent mold from growing back. Vital Oxide lasts about 3 months while Allergy Armor will give you about six months of protection (in very wet areas - like shower stalls).
Use mold resistant shower curtains or mold reducing shower squeegees to eliminate excess moisture.
Avoid carpets in bathrooms, or use only washable throw rugs.
Keep humidity under 50 percent by using air conditioners, and supplement with dehumidifiers in the summer.
Allow moisture to escape from the home. Ventilate the shower and cooking areas. Open windows when the outside humidity is low.
Wear a face mask when mowing the lawn or gardening.
Mold Allergy Buying Guide

Austin Air Healthmate 400
A HEPA air purifier will remove mold spores before they have a chance to contaminate your air or start more mold growth. We recommend the Austin Air HM-400, a great value for allergy sufferers. The HM-400 contains a true HEPA cloth filter to trap 99.97% of all particles 0.3 microns and larger. It removes mold spores, as well as a variety of other airborne allergens and contaminants: pollen, pet dander, dust, odors, chemical vapors, and more. Most effective for areas up to 700 square feet.
Danby 70 Pint Dehumidifier
The Danby 70 dehumidifier is one of the best ways to remove excess moisture from any space in your home. With a full electronic controls, built-in humidistat, casters and a direct drain option the Danby 70 makes moisture removal simple. By keeping the humidity levels in your home below 50% you can not only eliminate the growth of mold but also keep your home cooler during the summer and eliminate the damp conditions that dust mites need to survive.
Aprilaire Dehumidifier
The whole home Aprilaire dehumidifiers can be ducted directly into your existing HVAC/central air structure. This solution offers whole house dehumidification. With steel construction and a five year warranty the Aprilaire dehumidifiers are a no-hassle way to keep humidity levels in check throughout your entire home.
Acu-Rite Humidity Gauge
It is important to maintain knowledge of humidity levels inside your home so that you can effectively control them. A humidity gauge (also called a hygrometer) is the best way to monitor humidity levels. The Acu-Rite Digital Humidity Gauge also features a digital thermometer, clock, and light.
M-1 House Wash
This versatile cleaning solution can be used on a variety of surfaces to perform just about every cleaning job you can think of. It makes easy work of removing mold and mildew, and can be used on many surfaces, so you can get rid of mold and mildew everywhere.
Vital Oxide
Vital Oxide is the safe and effective solution for mold removal, odor control, green cleaning, and broad spectrum disinfection.
Allergy Armor Sure Coat
This clear, non-toxic, odorless solution is a mildew resistant coating. Use on indoor and outdoor surfaces that are exposed to moisture or high humidity. Simply spray or wipe onto any clean surface, and allow to dry. Allergy Armor Sure Coat can protect from mold and mildew for up to 2-4 years, depending on conditions.
Silk Comfort Mask
Luxurious, double-layered silk blocks particles like mold spores, as well as dust, pollen, animal dander, and more. Hand washable, and conveniently folds into your pocket or purse.
3M HEPA Mask
This true HEPA mask is economical and efficient, blocking mold spores and a variety of other allergens and irritants. Wear it to do outside chores like mowing the lawn and raking moist leaves, or inside chores like cleaning air conditioners and bathrooms.
---