Dr. W. Gerald Teague, M.D. on Air Pollution & Your Health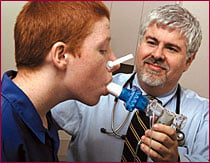 Earlier this year, the Asthma and Allergy Foundation of America named Atlanta, GA (home of achoo! ALLERGY) the worst city for asthma sufferers, largely because of the city's poor air quality. Atlanta has a sizable population of asthmatic children (11%), and asthma is the top reason for admission in Children's Healthcare of Atlanta. Traffic congestion in Atlanta is so bad that the Chamber of Commerce has called it the greatest threat to the city's economic prosperity, and this traffic congestion is the major source of air pollution.
The Clean Air Campaign hopes to change all that. Formed in 1996 by a diverse mix of organizations, The Clean Air Campaign is a non-profit organization with the mission to motivate Georgians to take action to improve air quality and reduce traffic congestion.
The Clean Air Campaign works year-round to educate the public and encourage behavior that will improve air quality. They offer assistance to employers who want to set up commuting options for employees and other smog-reduction programs like carpooling, teleworking, and transit pass programs. The Clean Air Campaign promotes a regional rideshare database with a toll-free telephone number, 1-87-RIDEFIND. They also head up a public information campaign, offer an air quality education program for schools, and provide Smog Alert notifications at www.cleanaircampaign.com.
Dr. W. Gerald Teague, M.D., Director of Emory Pediatrics Asthma Clinical Research Center, recently became a board member of The Clean Air Campaign. Dr. Teague offers the following advice on how to protect yourself and your family from air pollution:
The Problem: Traffic Congestion
"If you drive a car, you are part of the problem," says Dr. Teague. "We need to work together and come up with common solutions to protect the public. We are all in this, and we have to continue to educate and hold ourselves and our policy makers accountable."
"Traffic congestion is the problem," stresses Dr. Teague, "and I really support the way The Clean Air Campaign is trying to modify that. We have in Atlanta scientists and engineers at Georgia Tech who have performed an incredible level of speciation of the air. What this means is the precise chemical composition of the air and how it changes literally from hour to hour is now better understood. This new information supports the reason why I think air quality is linked to traffic: in the morning the levels of fine and ultra fine particles are the highest. These particles are primarily composed of organic carbon and they come from road dust and the tailpipes of vehicles. In the afternoons the speciation changes around 4 or 5 pm to sulfated aerosols, which are primarily from power plants, so the source seems to change."
Misconceptions about Air Pollution
"One of the biggest misconceptions is that an individual can move away from the inner city and then think that they no longer have to worry about air pollution as a health issue," says Dr. Teague. "That's just not true at all. Another misconception is the assumption that if 'I'm a healthy person and I don't smoke and don't have asthma, then air pollution won't affect me.' Research shows that even a healthy person can be affected by air pollution."
What is Smog?
According to www.cleanaircampaign.com, "Smog, a word that is a combination of 'smoke' and 'fog,' is a mixture of air pollutants, some that can be seen or smelled, and others that cannot. In Georgia, the two most important pollutants that threaten human health are ground-level ozone and particle pollution."
Ground-level ozone is a secondary pollutant that results when nitrous oxides and volatile organic compounds (VOCs) combine. Nitrous oxides and VOCs come from vehicle emissions as well as utility plants and other sources.
Particulate pollution consists of very small solids and liquid drops. Particulate pollution results from any type of combustion, including vehicle exhaust, power plants, wood burning, construction activity, and agriculture.
As stated above, The Clean Air Campaign provides Smog Alert notifications atwww.cleanaircampaign.com.
"I think Smog Alerts are important," says Dr. Teague, "particularly for individuals with chronic lung and cardiovascular diseases. Having said that, I think healthy people should also consult the air quality index. We should all take care of our lungs."
Air Pollution & Your Health
"One of the most common symptoms which is under recognized and associated with ozone exposure is a feeling of chest tightness," says Dr. Teague. "Dry cough and breathing difficulty are some of the other frequent early symptoms. Shortness of breath is another symptom. However, patients with asthma or other chronic lung diseases who wait until they are short of breath to take action usually have to have hospital care. Therefore, I think it is far more important to pay attention to some of the more subtle symptoms. I encourage my patients to pay attention to their bodies and to take corrective action. If you start feeling any of these symptoms, slow down and take it easy."
"In the case of inhaled ground-level ozone," continues Dr. Teague, "ozone can injure the cells that line the surface of the breathing tubes (airways) and lungs. What results is an inflammatory response to the ozone which makes a person susceptible to tissue damage. Essentially, the type of stress associated with ozone exposure is similar to the category of inflammation that results in aging of the lung. Imagine the impact of such occurrences on a runner who always runs in the heat of summer on late afternoons when ozone concentrations are at their most elevated state. In susceptible individuals, such exposure can decrease lung function in the short term. Long term studies are still assessing the impact of daily air pollution exposure over time."
Exercising Outdoors in Smog
"If you are an overweight child, you are still probably better off exercising in smog than not exercising at all," advises Dr. Teague. "However, you don't have to exercise in smog. I would advise teachers, parents and school officials to be aware of the air forecast. On high ozone days, you should reschedule or change the location of outdoor activities. The point is not to discourage exercise. The point is to inform where and when people exercise to minimize exposure to air pollution."
"It probably is worse for a person to run near a busy road," continues Dr. Teague. "We are just beginning to understand 'road dust.' When you are running near a busy thoroughfare you not only are exposed to the pollution already in the air, you are also going to be exposed to particles, tire debris and exhaust emissions at the source, so you could get much more exposure versus exercising in a park. The actual health effects of exercise and just residing or working near busy roadways are now starting to be understood and appear at this time to be very important."
"This is not to say that people that are far removed from the hustle and bustle of downtown are necessarily breathing clean air," continues Dr. Teague. "In fact, our air quality monitors show that unhealthy air concentrations of ozone and particle pollution are just as common in the suburban and even rural areas of our region as they are in downtown Atlanta. This is counter-intuitive, but quite true. Air pollution knows no boundaries. It isn't just an issue for those who work in the city. It is a problem where our kids go to school and our backyards all throughout our region."
Particle Air Pollution
"Particle pollution in Georgia is a year-round problem," says Dr. Teague. "It's a problem indoors as well as out. And, the low level concentrations we see on a daily basis are as important, or possibly more important, than occasional spikes. Particle pollution is tied, not only to respiratory complications such as asthmaand emphysema, but also to stroke, lung cancer and heart disease. Given what we are learning about the nature of the problem, we need to do much more to educate the public about both the spikes and the health risks associated with the daily low-level exposure to carbon particles."
Indoor Air Pollution
"Particles can actually be higher in the home than outdoors at certain times," says Dr. Teague. "We don't know how many of these particles are generated inside versus outside though. There can be indoor sources of pollution such as computers, formaldehyde, air fresheners, candles, etc. There is a lot of misinformation out there concerning air purifiers and air duct cleaning. Many people do not realize that electronic air purifiers clean the air by generatingozone. I would advise a person who is considering the purchase of an air purifier to check the device with a non-biased source such as Consumer Reports or websites maintained by such public health groups as the Environmental Protection Agency and the CDC. Unfortunately profit-driven motives may lead some to over promise the health benefits of their products and services."
See the Air Purifier Buying Guide for more information about how to choose a safe air purifier.
Global Warming & Air Pollution
Air pollution also contributes to global warming, and as Dr. Teague points out, global warming will make the world even more uncomfortable for allergy and asthma sufferers: "One of the main things I see would be that warmth usually is associated with an increase in humidity. Warm humid conditions support an increase in indoor airborne allergens such as dust mite, mold, and cockroach. It often is important to decrease the humidity in the home to control these exposures."
Learn More about The Clean Air Campaign
To learn more about The Clean Air Campaign and how you can help improve the air quality in your city, visit www.cleanaircampaign.com.
Originally published in the March 2007 issue of Allergy Consumer Report.