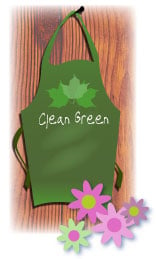 As temperatures creep upwards and sunlight streams through newly opened windows, we all begin to sense the need for that yearly ritual: spring cleaning. Allergy sufferers and non-allergy sufferers alike benefit from chemical-free cleaning, but sometimes the thought of changing your entire cleaning routine is more daunting than spring cleaning itself!
This season, open your cupboards and use these common household ingredients to tackle even the toughest cleaning chores:
Lemons - Antibacterial, Antiseptic Bleaching Agents

Lemon might be the most delightful of the natural cleaning materials you have at home. Their sunny yellow color and bright scent are invigorating. But - what's more - is that lemons and lemon juice have many uses that keep your home sparkling, clean, and fresh-smelling. Here are some ways to incorporate lemon into your cleaning routine:
Use lemons to clean copper. Dip a rag in a lemon juice solution and shine copper-bottomed pots and pans. Or, cut a lemon in half and dip it in salt for some extra scrubbing power. Copper or brass fixtures will also gleam if cleaned with lemon.
Freshen your garbage disposal and drain by putting a lemon peel in the disposal and running it.
Whiten linens or other whites by soaking them in hot water with some lemon slices. Launder as usual or hang in the sun to bleach further.
A lemon juice solution may be used on bathroom or kitchen tile to loosen soap scum, grease, and other grime.
You can also use lemon juice to clean windows and other glass surfaces. Mix with water, spray onto glass, and wipe clean with old newspapers.
Mix a ------------------- cup lemon juice with ------------------------------ teaspoon olive oil to make furniture polish.
Add lemon juice to your solutions when using vinegar to clean in order to neutralize vinegar's scent if you find it unpleasant.
White Vinegar Deodorizes and Disinfects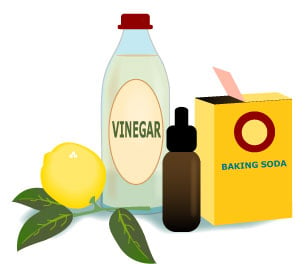 Although some people don't like the smell of white vinegar, be assured that the scent dissipates as soon as the vinegar evaporates. A natural disinfectant, vinegar is especially good for cleaning in the kitchen. Any leftover residue isn't at all harmful if used to clean cutting boards and the like. We consume vinegar, after all! Can you say the same for bleach? Following is a partial list of the many ways to use vinegar for cleaning:
Make windows streak-free without the blue stuff, which pollutes indoor air. Instead spray a solution of half vinegar, half water on windows and other glass surfaces and wipe clean with newspaper (newspaper won't leave lint like rags might).
Pour vinegar into toilet bowls to disinfect. Spray on toilet rims and seats and wipe for natural disinfecting.
Clean hardwood flooring safely with a solution of one cup vinegar per gallon of water. Use the solution for any other hard flooring as well.
Spray shower tiles with vinegar to help discourage mildew.
Remove soap scum from faucets with a solution of one part salt to four parts vinegar.
Deodorize a garbage disposal by filling it with vinegar and letting it sit for an hour.
Eliminate noxious odors by setting out a bowl of vinegar in the room. This will also help get rid of fruit flies.
Spray or wipe cutting boards with vinegar.
Clean the inside of the refrigerator without harmful chemicals by using a water-vinegar solution.
Soak sponges and dish rags in water and ------------------------ cup vinegar.
Baking Soda Scrubs and Freshens

When you need a little extra scrubbing power, baking soda is the place to turn. Again, since we consume baking soda in many baked goods, it's clearly safe to use in the kitchen and everywhere else around the house. Here are some ways to incorporate it into your regular cleaning routine:
Place an open box of baking soda in the fridge or in closets to keep them smelling fresh.
Sprinkle baking soda in garbage cans and cat litter boxes to help absorb odors.
For natural deodorizing, sprinkle baking soda on carpets before vacuuming.
Clean scuff marks off floors (even no-wax floors) with a paste of three parts baking soda to one part water. Wipe with a damp, warm cloth.
To clean the oven, make a baking soda and water paste, spread over the inside of the oven, wait a few hours or overnight, and then wipe clean. You can use the same technique for food burned in pots and pans.
Baking soda is a natural degreaser, so use it to clean grease off of countertops, stovetops, and other surfaces.
Use baking soda as a scouring powder to scrub sinks, tile, the bathtub, and the inside of the toilet bowl.
Sprinkle baking soda on already-blotted carpet spills to absorb any remaining liquid. This will prevent unpleasant odors later on and will help keep stains from setting.