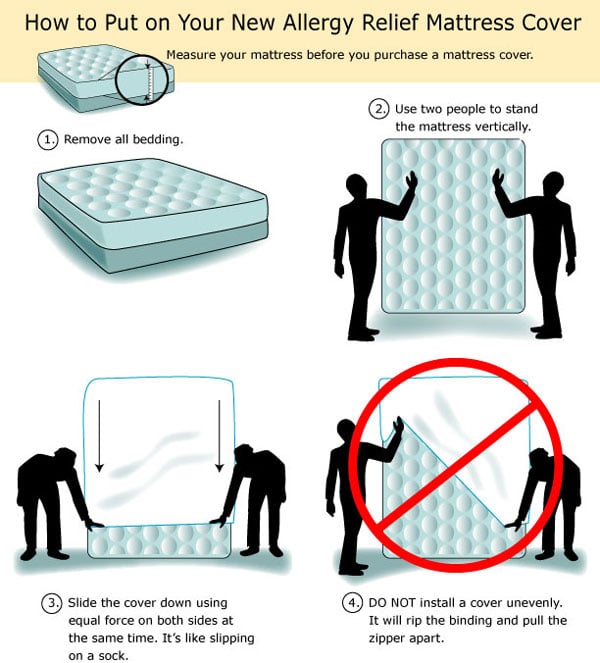 How to Install Your Mattress Cover
How to Put on Your Allergy Armor Mattress Cover
Before you open the package and remove your new mattress cover, please make sure that the size printed on the package matches your mattress measurements. AchooAllergy.com wants to help make your mattress cover installation as simple as possible. Follow these four easy steps, and say good-bye to those pesky dust mites:
Remove all your bedding, including your mattress pad, comforter, blankets, sheets, and pillows.
Find someone to help with the installation. It's much easier with two people. Lift the mattress off the bed and stand it vertically so that the head of the mattress is up in the air.
With one person on each side of the mattress, slip the mattress cover over the head of the mattress. Gently and evenly pull the cover down on both sides of the mattress. It's kind of like slipping on a sock. Do not use excessive force--allergy mattress covers are not made to stretch.
Zip up the mattress cover at the foot of the bed. If you want, use zipper tape to tape over the zippers of the mattress cover. Some experts recommend placing tape over the zipper since some allergens are small enough to penetrate the spaces between the zipper teeth. Gently place your mattress back on the bed, being careful to avoid sliding the mattress across the box springs or bed frame. Sliding the mattress may cause the cover to rip. Use a regular fitted sheet to cover your new allergen-free mattress.
If you need further assistance or have any more questions about your new allergy mattress cover, please call our knowledgeable, friendly staff at  1-800-339-7123.
Return to Allergy Bedding or shop all Mattress Covers.