Spring allergy season is a time of year when even people who don't regularly suffer from allergies may find themselves struggling allergy symptoms. While popping a pill might seem like the easiest thing to do, many people prefer to attack their allergy problems without having to rely on medication or deal with potential side effects. As we explore alternative allergy treatments, from popular and effective methods like the use of a neti pot, to the lesser known and questionable like NAET, we turn to diet and the potential to treat allergies with herbs, foods, and supplements.
As Mary Hardy, MD, director of integrative medicine at Cedars Sinai Medical Center in Los Angeles says, "Using nature-based products can be a very useful way to handle mild allergies and a useful adjunct for more significant allergies, and there are many types of treatments you can safely try."
(Remember that even though these treatments are "natural," you should always consult with your allergist before you self-treat, especially with supplements, because they could interfere with your other medications, symptoms, or treatments in dangerous ways and possibly create dangerous side effects.)
Treat Allergies with Herbs

Stinging nettle and butterbur are the two most common herbs for allergy relief. Let's take a look at both and how they can help during the spring allergy season.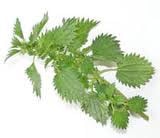 Stinging nettle is a natural antihistamine. In fact, it inhibits the body's ability to produce histamine, which is the compound responsible for causing allergy symptoms. As stated on the website The People's Pharmacy, "A double-blind trial was conducted to test stinging nettle's use in allergies (sneezing, sniffling, and runny nose). A majority (57 percent) of the participants found that the herb was better than placebo in treating these symptoms."
Unlike synthetic antihistamines, stinging nettle has no drowsy side effects. Stinging nettle may be taken as an extract, or a tea, or even eaten (with proper preparation). But the easiest method of consumption is via capsules.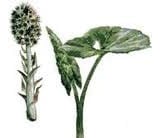 Butterbur is the other standout of herbal allergy remedies. One study found that butterbur as an allergy remedy is as effective as cetirizine, the active ingredient in Zyrtec. And although cetirizine is supposed to be non-drowsy, it does cause drowsiness in some cases; butterbur does not.
Butterbur must be used with caution, however. The herb comes from the same family as ragweed, so in ragweed-sensitive individuals, it is possible that butterbur could worsen allergies rather than relieve them. In addition, raw butterbur, whether used in a tea or sold in capsule form, can contain toxic substances that harm the liver and kidneys. To avoid this seek out butterbur that is "PA-free" to avoid these potential problems.
Allergy Relief Through Foods

Last month, we talked about using omega 3 to treat eczema. This nutritious fatty acid helps improve the skin's function as a barrier and also contains anti-inflammatory properties. It's this anti-inflammatory function that makes omega 3s useful in combating not only eczema, but other allergies as well.
The best way to obtain omega 3s is through a diet that contains foods rich in the nutrient. These omega 3 rich foods include walnuts, flax seed, omega 3 eggs, salmon and other fish, and grass-fed beef. Omega 3 oils may also be obtained through supplementation including flax seed oil or fish oil capsules.
Spicy foods also may provide short term allergy relief by temporarily clearing nasal passages and acting as a mild decongestant. In fact, some nasal sprays, like Sinol, are formulated with capsaicin hot peppers. Foods like hot sauce, chili peppers, or horseradish, as well as hot ginger and garlic, can have the same effect.
Honey, especially local honey, may provide allergy relief. In addition to soothing scratchy throats, honey can be thought of as a mini allergy shot because it involves ingesting a form of the pollen that an allergy sufferer reacts to in a safe way.
Steamy foods or drinks, such as tea or chicken soup, may provide some relief of allergy symptoms by helping to loosen mucus and clear airways. Be creative in combining food with allergy relieving properties. For instance, make a hot drink with honey and cayenne pepper. Or add lots of garlic and some ginger to your chicken soup.
Treating Allergies with Supplements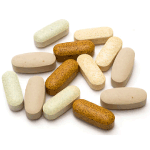 In addition to herbal supplements and omega 3 supplements, quercetin supplementation may help relieve allergy symptoms. Quercitin keeps mast cells from releasing histamine. While quercitin may be found in citrus fruits, onions, tea, tomatoes, broccoli, lettuce, wine, apples, and parsley, in order to ingest enough quercitin to be effective against allergy attacks, supplementation is probably necessary. Again, it's very important to discuss any supplementation, including quercitin supplementation, with your doctor.
Probiotics are also an important component of natural allergy relief. Probiotics can help prevent the formation of allergies in the first place when taken by pregnant women and infants. They can also help keep allergy symptoms at bay.Probiotics are found in foods like yogurt, but for a broader spectrum of bacterial strains, supplementation is necessary.
Knowing which herbs, foods, and supplements can help allergies is half the battle. Use this information to ask your allergist which natural remedies, in addition to environmental control of allergens, might be best for you.
---
If learning hot to treat allergies with herbs, diet changes, and supplements is something you'd like to learn more about, visit one of the more in-depth articles below.
✔ Probiotics Role in Allergies
✔ The Atopic March & Probiotics
✔ Foods That Fight Allergies or Aggravate Them
✔ Treat Eczema With Omega 3s
✔ Nutrition for Allergy Sufferers
✔ Genetically Modified Food