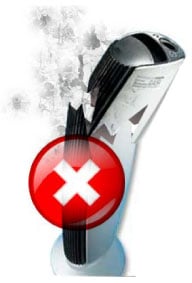 Due to untruthful marketing and a cheap price tag, the ionic air cleaner became enormously popular during the 1990s and the early part of the new millennium. Thanks to a couple of high-profile lawsuits that exposed the truth about ionic air cleaners, people stopped buying them. As it turns out, the ionic air cleaner actually pollutes the air.
In 2002, Consumer Reports tested the Sharper Image Ionic Breeze Quadra air cleaner alongside several other air purifiers. Sharper Image was unhappy with the published results, so they suedConsumer Reports. Consumer Reports won the case because their test methods were deemed scientifically valid.
In 2004, Consumer Reports told the world that the Ionic Breeze could be dangerous to consumers' health because it emits ozone, a lung irritant that can damage the respiratory system. Sales of the ionic air cleaner plummeted.
Sharper Image changed the design of the ionic air cleaner to include an "OzoneGuard" grill attachment, but it was too late. Most consumers were already aware of the great air cleaner scam, and Consumer Reports found that the OzoneGuard didn't work very well, either. The add-on component captured only about 75% of ozone emitted by the unit.
In 2007, Sharper Image settled a huge lawsuit by paying out $60 million in consumer merchandise credits. The class-action lawsuit alleged that the specialty retailer misled customers about the effectiveness of its ionic air cleaner.
Other ionic air cleaners that emit ozone include Ecoquest and Oreck air cleaners. As a rule of thumb, if a manufacturer describes their product as an "ionic" air cleaner, the air cleaner most likely emits ozone. People with asthma should avoid ozone as it can trigger an asthma attack and respiratory damage. Unfortunately, many people with asthma have fallen for the ionic air cleaner claims since they are especially concerned about indoor air quality.
Most doctors and allergists recommend HEPA air purifiers for allergy and asthma sufferers. HEPA air purifiers do not emit any chemical by-products. They rely on HEPA filter technology to safely and effectively trap airborne allergens and other pollutants. We recommend a Healthmate air purifier from Austin Air. The Austin Air Healthmate is very easy to use and is very effective for use in your bedroom.