As a leader in home air filtration, IQAir has a long history of developing air cleaning technologies that provide you with the tools needed to effectively clean the air in your home or office. After years of development, IQAir has made some significant changes to their residential air purifiers while continuing to lead the way in improving indoor air quality. With improvements to core components of their systems, the New Edition IQAir air purifiers offer more efficient filtration, quieter operation and longer filter life. To see how they did this, we have to examine the changes they made as well as answer a few questions that those considering an IQAir or those who already own an IQ Air purifier may have.
IQAir New Edition Air Purifiers - A Three Pronged Approach
When comparing IQAir purifiers to other brands in the price range, a common complaint used to be that the filter changes for IQ was more frequent and thus cost people more money to maintain each year. To address this, IQAir made a few changes. First, they increased the filter media used in each filter. For example, the HyperHEPA filter in the HealthPro used to be 30 sq. ft. The New Edition filter now features 53 sq. ft. of filter media. In addition to simply increasing the HEPA media used, they also made slight changes to the design of the filter that increased the amount of particles they can hold while maintaining their extremely high levels of efficiency. The end result are filters that last up to 38% longer. In the past you would change your HyperHEPA filter once every two to four years, but with these improved filters, the AVERAGE filter life is now four years!
In addition to improved filter life, the changes in the pleat patterns have increased the particle retention of the same amounts of filter media by 20% in prefilters and 38% in HEPA filters. This leads to the second improvement - more clean air.
More clean air can really only come about from two changes. While the changes described above made the filters more efficient and longer lasting, it was also improvements to the motor design that brought more clean air.
When an air purifier is broken down to its most basic components, it is essentially a fan and a filter. Sure, there are plenty of other parts, but the core of any air purifier is this pair. The fan is largely responsible for determining what volume of air your unit can clean and how fast it can do it. So for IQAir to increase the amount of filter media it would also have to address the fan. What they managed to do was recreate their traditional "red label" fan to move more air through the filters with less noise. With an aerodynamic, 3-D design, the new IQAir fans depart from traditional models in creating more power and higher CFM rates DESPITE having to push air through even more filter media than in the past.
A couple other minor changes include the materials they use as spacers (between the pleats of the filter media). This change should reduce that "new" smell that you sometimes experience when you replace a filter.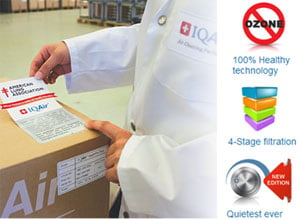 When you combine all of these things, a few IQAir New Edition air purifiers statistics stand out.
Up to 38% Longer Filter Life - PreMax Filter goes from 4500 to 5400 hours; HyperHEPA goes from 11,000 to 15,200 hours; and the V-5 Cell from 7000 to 7100 hours (minor adjustment in design).
Average of 32% Quieter - Measured noise levels have dropped nearly 30% across all fan settings.
25% More Clean Air - The increased efficiency coupled with higher CFM's than ever before means greater coverage area and more clean air throughout your home or office.
New Edition FAQ's

If I have an old model, can I use the new filters?
Yes. Any replacement filter order will be filled with the upgraded filters.
Since the filter life is different will my filter life monitor be accurate?
It will be slightly off. The changes have required a change to the monitor as well. So if you have an older machine, you will be alerted sooner than needed to replace the filter. As a good rule of thumb, replace the new filters when the red light BLINKS. This will accommodate the increased filter life, saving you money in filters all while maintaining the performance you have come to expect from IQAir.
Which residential models are IQAir New Edition air purifiers?
The IQAir HealthPro, HealthPro Plus, HealthPro Compact and MultiGas GC will all feature the improved filters and fan design. These were the first to upgraded.
How much are these improved filters really going to save me?
For someone who owns an IQAir HealthPro Plus, if you run your model 24 hours per day on setting 3, you should see an average annual savings of $68.
How do I know if I have a New Edition IQAir?
Check the box the unit arrived in. If it has "NE" on the outer serial label, then you have a New Edition model.
What about commercial IQAir purifiers, like the GCX and Cleanroom?
ALL IQAir air purifiers are now New Edition models. From popular residential air purifiers to commercial grade air cleaners, each IQ Air purifier now boasts an improved fan, better airflow, quieter operation, more filter media, and longer filter life.
Will this affect my warranty if I have an older model?
Not one bit.