Portable Air Conditioners and Dehumidifiers Cut Heat, Humidity and Cooling Costs
Summer weather is upon us in most parts of the country. That means dealing with hot and humid weather and the consequences they bring for allergy sufferers. Dust mites in particular thrive in heat and humidity, so their populations tend to soar during summer months. Mold
can pose a serious problem as well when humid conditions provide the moisture that mold colonies need to grow.
So, while humid air may temporarily make an allergy or asthma sufferer feel slightly better, as summer months progress, dust mite allergen and mold spores may combine with pollen, pet dander, and other substances to make allergies worse. Fortunately, portable air conditioners and dehumidifiers can help alleviate some of summer's discomforts. Here's how:
Reduce Humidity and Temperatures with Portable Air Conditioners
Even if your home has central air conditioning, a portable air conditioner can supplement cooling power when a central AC unit has a difficult time controlling temperature. For instance, upper floor bedrooms or sunrooms without air conditioning can get hot and uncomfortable during the day. Portable air conditioners don't require reconstruction, like many window units do, and they offer the flexibility of being able to move them from room to room if necessary.
By cooling the air, portable air conditioners create a cooler living environment and help lower humidity levels. Cool air holds less moisture than warmer air, so even cooling the air alone helps keep humidity in check. This means keeping dust mite populations and mold colonies under control. Who can argue with fewer dust mites and mold with lower humidity and heat?
Dehumidifiers Cool the Air, Cut Cooling Costs, and Keep Mold and Dust Mite Allergen in Check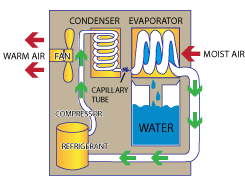 By focusing on removing moisture from the air, dehumidifiers can make the air feel cooler even though they push out warm air. In cooling dry air instead of moist air, this can help to lower central air conditioning costs and make your family more comfortable. Dehumidifying the air also keeps dust mite populations in check and helps prevent mold and mildew growth.
Dehumidifiers come in all shapes and sizes for use in various home and commercial applications. Larger dehumidifiers like the 70 Pint Danby Dehumidifier or the Soleus 95 pint are great for dehumidifying living spaces, large rooms, or even some basements. Quieter units like the Stadler Form Albert dehumidifier are ideal for bedrooms while an AprilAire or Santa Fe dehumidifieris ideal for keeping a basement or crawlspace dry and free of mold or insects.
Portable and mini dehumidifiers are designed to absorb moisture in small areas like under sinks, around your washer, or in closets. Eva Dry Mini Dehumidifierscan be used over and over again. When they are saturated, they can be plugged in so the trapped moisture is released as steam. Preventing small spaces from becoming too humid prevents mold from forming in the first place. This quality can save a lot of headaches from remedial cleaning.
This summer see for yourself how investing in portable air conditioners and dehumidifiers makes your indoor environment cooler, drier, and more allergy friendly!