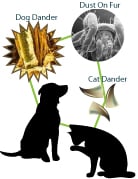 All year long, allergen concentrations in the home are higher than they are outdoors. But during wintertime, when our pets spend an increased amount of time indoors, we see an even higher allergen load in the home. Even if you're following your typical allergen avoidance routine, this combination of more allergens and more time indoors can tip your total allergen load over the edge. Thus, winter often necessitates that you amp up your environmental control measures.

If your family has dogs or cats, one area to focus your energy is dealing with the extra pet hair that accumulates inside during winter. Our furry friends are spending more time indoors when it's cold, and they usually have heavier coats of fur during the winter season. To keep this added fur and its accompanying pet dander under control, take the following steps:
Bathe your pets regularly using specialty products like the safe and naturalEcology Works Anti-Allergen Pet Shampoo, which denatures protein allergens on contact. Or, you can try using Allerpet/C (for cats) or Allerpet/D (for dogs) in between baths to help control pet dander.
Since excessive bathing can often dry out your pets skin, use cleansing wipessuch as Quick Bath Cleansing Wipes for Cats or Quick Bath Cleansing Wipes for Dogs between baths. These wipes quickly and easily remove loose fur and pet dander, keeping it off your furniture, out of your carpets, and ultimately, away from your breathing zone. These wipes are great for getting outdoor allergens, like pollen, off your pet's coat after outdoor romps.
Brush your pets regularly with a fur reducing tool like the FURminator Pet Deshedding Brush. This extremely effective tool removes loose hair before it ends up in your house. In fact, it can decrease shedding by 60 to 80 percent. It can even reduce shedding for up to four to six weeks.
No matter what you do to reduce the amount your pet sheds, pet fur and dander will still end up in your home. This is where environmental control products specifically designed to reduce pet dander come in.

The Austin Air Pet Machine features true HEPA filtration and can trap particles as small as 0.3 microns with 99.97% efficiency. Vacuum cleaners like the Dyson DC25 Animal Vacuum Cleaner or the Miele Cat and Dog Upright Vacuum Cleaner are constructed to remove pet fur from upholstery and carpeting while trapping odors and dander.

Even if you're not in the market for a new vacuum, theEureka Power Paw Universal Turbo Attachment can be used on any vacuum topick up a maximum amount of pet fur while you clean.

The Dyson Groom Pet Brush is the newest item in our lineup of pet allergen reduction solutions. This ingenious tool features retractable slicker bristles that can be adjusted to your pet's specific fur length. Once you've used the bristles to remove loose fur, you can easily retract the bristles and Dyson's suction power will pull the fur off the brush. This means not only less dog hair in your house, but also no extra cleaning!

If your pet is afraid of being brushed with the vacuum cleaner on, you can use the brush with the power off - and then turn it on when you're ready to get rid of the fur you've collected. Truly in a class of its own, the Dyson Groom Pet Brush makes keeping your pets as allergen-free as possible easier than ever.
By taking these few extra steps during the colder winter months, you ensure that extra time indoors with your pets doesn't mean a flare up with your allergies.