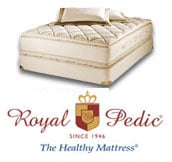 In honor of the re-structuring of the Royal-Pedic section of our site, we talked with owner Tony Kelemen a little bit about his insider experience with the best mattresses in the world.
I understand that your family purchased Royal-Pedic in 1984 from the founding family, the Kaplans. How did your family, the Kelemens, develop an interest in mattress-making?
Previously, our family business was high end pottery manufacturing. When Royal-Pedic became available for sale, and we learned about its fine reputation for uncompromising quality, as well as a celebrity clientele including a vast list of movie stars and even U.S. Presidents, we made the transition into mattress manufacturing.
Can you describe the step-by-step process of making a Royal-Pedic mattress?

Each Royal-Pedic mattress is hand crafted using the finest materials available from around the world. Our factory craftsmen are paid hourly, rather than per piece. This results in high standards of quality, rather than rushing to get the order done. Each Royal-Pedic mattress is constructed somewhat differently than the other, so it's not easy to generalize a step-by-step process of making a Royal-Pedic mattress.
What is the most rewarding part of your job?
The most rewarding part of my job is when customers are happy with their new mattresses and they are sleeping better than ever, which can improve all aspects of their lives.
What type of customers make up the majority of your clientele? Do you see many customers with allergies, asthma, or multiple chemical sensitivities?
Our customers are value-oriented. They want quality, healthy ingredients, and a of course a good night's sleep. And yes, we do have many customers with allergies, or other sensitivities that need mattresses without all the bad chemicals.
Purchasing a Royal-Pedic mattress is a significant investment. In your estimation, what's the most compelling reason to purchase a Royal-Pedic mattress?
Handmade high quality construction backed by over six decades of master craftsmanship producing absolutely the best mattresses available.
How long are your mattresses expected to last?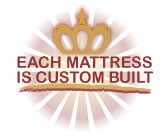 Hygienically speaking, it's good to change out a mattress approximately every ten years. Even though we have customers that have had our mattresses for much longer, we try not to over-inflate the expected life of the mattress, so we say give or take ten years.
---