The SEBO vacuum is well known amongst cleaning professionals for its design, durability, reliability, and premium air filtration. Beyond this group of people, many do not know a great deal about this brand. Below are some frequently asked questions about SEBO vacuums to help give a better idea of what sets this brand apart and why a SEBO vacuum cleaner might be the perfect choice for you.
What is special about the design of SEBO vacuum cleaners?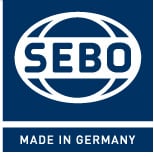 Consistent, reliable performance is a key feature with every SEBO vacuum cleaner. The German-engineered, sealed-system vacuums pass the most rigorous test: they meet the demands of cleaning professionals worldwide. SEBO is the world's leading manufacturer of commercial upright vacuum cleaners and can be found in luxury hotels and offices around the globe.
The first SEBO vacuum, which debuted in 1978, took the commercial cleaning world by storm with its integrated hose, clutch-protected brush roller, and by-pass motor. Safety measures protect SEBO motors from overheating, and many models also feature reinforced, toothed belts that will not slip or stretch, and each is tested to last the entire life of the vacuum. Durable ABS shells have replaced antiquated cloth and heavy steel, while a long lasting German motor powers each SEBO. The engineers at SEBO developed these features to create lasting quality and high performance, even in the most demanding commercial cleaning scenarios. Now you can harness this professional cleaning power in your own home.
Why are SEBO vacuum cleaners ideal for allergy and asthma sufferers?
A SEBO vacuum is completely sealed so that no air leaks out. This means that all allergens and fine particles remain trapped within the sealed system and NOT redistributed back into the air your breathe. As tests have shown, after using most vacuums that are available today, the amount of particulate in the air dramatically increases. This is directly linked to the inferior filters and leaky systems that typify cheaper, but much more commonly used, upright vacuum cleaners. All SEBO vacuum cleaners feature a three-stage filtration system that forces air through five different layers of filtration (six if you opt for the HEPA upgrade).
First, a three-layer dust bag captures most of the allergens and nearly all visible soil, dirt and debris. Then a hospital-grade microfilter captures the remaining particles and protects the motor from debris. If you upgrade to a HEPA filter in lieu of the S-Class microfilter, you would use the 4-ply dust bags instead (supplied in HEPA Service Box). Finally, an exhaust filter removes any remaining particles from the air before it exits the vacuum. All SEBO vacuum cleaners have certified S-Class filtration ratings, and optional certified HEPA upgrade kits are available for most models.
What is the difference between S-Class filtration and HEPA filtration?
Both S-Class filtration and HEPA filtration systems are ideal for allergy and asthma sufferers. The difference between S-Class filtration and HEPA filtration is very slight, and it boils down to the hundredth decimal place. In fact, many people use the terms "S-Class" and "HEPA" interchangeably.
S-Class filtration, by definition, captures 99.9% of all particles down to 0.3 microns, while the U.S. HEPA filtration captures 99.97% of all particles down to 0.3 microns. As far as actual differences in the filter media and mechanism of filtration, HEPA filters rely upon a very tightly constructed mesh of fibers. As air passes through it, they become trapped or blocked from passing further. The SEBO S-Class filter uses a mesh that is not as tightly constructed, but the filtration remains extremely high due to the electrostatic properties of the filter. It is similar to the effect of "static cling" that you may notice with clothes in your dryer. By having a slight electrical charge, the S-Class filter attracts particles, actively pulling them and holding them in the filter. Both types are extremely effective.
For particles that are 1 micron or larger (including the dust mite allergen, pollen, mold spores, and most animal dander), the SEBO S-Class filtration rate is 100%. British Allergy Foundation tests show that SEBO vacuums do not emit a detectable level of dust mite allergen, which is why they bear their seal of approval. This type of filtration makes SEBO vacuum cleaners a great option for allergy and asthma sufferers alike.
What comes with the optional certified HEPA service kit?
The SEBO HEPA service box comes with eight Ultra bags, one HEPA filter, and one exhaust filter. The Ultra bags have an additional layer (4 total ply) of filtration than standard SEBO bags. This helps to trap more particles before they reach the HEPA filter, prevent it from clogging and ensure longer life of the filter.
The optional HEPA service kit is available for SEBO C & K series canister vacuum cleaners as well as all of the Automatic X4 & X5 upright vacuums.
What is the difference between a SEBO turbo head and a power head?
A turbo head is an air-driven carpet cleaning attachment that uses the power of the suction to turn the brushroll. A SEBO power head has an electrically driven brushroll for carpet. Turbo head attachments are ideal for rugs, and low to medium pile carpet, generally carpeted surfaces that are not very high or dense as this can bog the attachment down. Power heads provide more aggressive cleaning ability and are your best option for fully carpeted homes or homes with dense, high pile carpet. With SEBO vacuum cleaners, most power heads and turbo heads offer a 12" wide cleaning path, but some models can be upgraded to a larger 15" wide power head.
Are all SEBO attachments interchangeable?

Attachments, yes. Floor tools, no. Attachments like the crevice tool, dusting brush and mattress nozzle will fit SEBO vacuums universally. Floor tools vary somewhat. Some SEBO vacuums feature floor tools that snap and lock onto the end of the wand. With other SEBO models, the attachments slide onto the wand and simply fit snugly in place. Particularly with SEBO Felix uprights, color is also something to keep in mind. While the attachments of a specific Felix vacuum will fit all other Felix models, there are multiple colors in this line.
What is the most popular SEBO vacuum cleaner?

The SEBO Automatic X vacuums - the Automatic X4, and Automatic X5 - have been traditional favorites among our allergic customers. With the introduction of the SEBO Felix line, these models have drawn more interest. However, the most popular model currently is the SEBO D4 canister vacuum cleaner. With your choice of three colors, and all the tools you need for both smooth floors and uprights, the D4 is extremely versatile and has a very distinct look.
As the newest model in the lineup, the SEBO Felix vacuum has received the most press. Wired TEST magazine chose the Felix as an Editor's Pick for the Best Gadgets & Gizmos on the Planet in 2007, saying, "At 15.4 pounds, this sweeper was the lightest tested and the overall best. The kicker: Felix's soft hum won't freak out jumpy pets."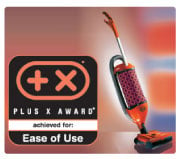 Right from the start, the SEBO Felix was making a strong impression. The Felix won a Plus X Ease of Use award in 2006, and in 2005, it was selected as one of Time magazine's Best Products of the Year. In the same year, Consumer Digest chose the SEBO Felix as the Best Buy for Premium Upright Vacuums, saying, "This German-made upright is versatile and quiet. Thanks to its telescoping ergonomic handle, svelte body, 180-degree swivel joint between the trunk and motorized carpet nozzle, and the nozzle's low profile, this vac is also lean and agile enough to reach out-of-the-way spots (especially under the furniture). It easily becomes a lightweight (9.9. lbs.) but powerful hand vac. A variable power control adjusts suction. It also has a cog-style belt that should last the life of the unit and an extra-long, easy-store cord. It has a darn good warranty, too, by industry standards."
How does the SEBO Duo Carpet Cleaning System work, and why is it recommended for allergy sufferers?

The SEBO Duo Carpet Cleaning System comes with Duo-P Cleaning Powder and a Duo Brush Machine. The Duo-P Cleaning Powder is made up of tiny granules moistened with detergent. When worked into the carpet with the Duo Brush Machine, the Duo-P Cleaning Powder cleans each carpet fiber, lifting stains and soil from deep within the carpet.
The SEBO Duo Carpet Cleaning System is the preferred deep carpet cleaning method for many. Most people are familiar with carpet cleaning powder, but the stuff you purchase at the store is typically loaded with fragrance. If you've ever replaced carpet, you'll see that a lot of that powder never makes it back up and out of your carpet. Hot water extractors, another traditional method of cleaning carpet, floods your flooring and often leaves behind more than enough moisture to encourage mold growth and dust mites. Despite what endorsements carpet cleaning companies such as these pay for, they are never a good solution for anyone with asthma or allergies. You can avoid all those problems by using the SEBO Duo Carpet Cleaning System.
Duo-P is a moist powder that has much less odor but does a good job of cleaning even delicate carpets. There are no residues, and unlike other carpet cleaning methods, Duo-P powder won't leave behind excessive moisture. As a bonus, the Duo-P Cleaning Powder also has a built-in fiber protector to guard against future damage from soiling and staining.
While it is not essential to use the Duo-P Cleaning Powder with the Duo Brush Machine or a SEBO vacuum cleaner, for the absolute best results, it is highly recommended.
Did we forget anything?

If you still have any questions or unsure if a SEBO vacuum cleaner is right for you, give us a call at 1-800-339-7123 to speak with one of our vacuum cleaner specialists.