What Does 'Hypoallergenic' Really Mean?
In a dictionary entry for the word 'hypoallergenic', the Greek prefix hypo means "less" and allergenicmeans "causing allergies." But don't be fooled - "hypoallergenic" is not a medical or scientific term; it is a marketing term - and a loose one, at that.
Nowadays, "hypoallergenic" appears on packaging for all sorts of products, and it's hard to know if a product is truly hypoallergenic since no standards exist. The fact is, the word carries little meaning, and many "hypoallergenic" products are quite allergenic!
Hypoallergenic Bedding vs. Allergy Bedding
Here at AchooAllergy.com, we do not refer to Allergy Armor as hypoallergenic bedding. We call it allergy bedding because it actuallyblocks out allergens to prevent allergic reactions.
We do offer a hypoallergenic pillow, which is less likely to cause allergic reactions because it's stuffed with a polyester fill. However, the pillow does not actually block allergens. For complete allergy relief, this pillow needs to be encased in an Allergy Armor pillow cover.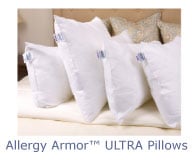 On the other hand, our new Allergy Armor pillows do not require an allergy relief cover because they're made with our exclusive allergen barrier fabric. The pore sizes in the fabrics are so small that dust mites and other allergens cannot pass through them. The pillows also feature an antimicrobial finish to prevent mold and bacteria growth.
Similarly, the new Allergy Armor blanket goes beyond a standard hypoallergenic blanket. Like the pillows, it blocks mold and bacteria growth with an antimicrobial finish. And it's made to be extremely durable and stand up to the frequent washes required by an allergy sufferer.
So Hypoallergenic Really Means...
Nothing! "Hypoallergenic" is a vague marketing term. Next time you see the word, ask yourself, "What makes this product hypoallergenic?" You may find the answer on the product packaging, or you may have to call the manufacturer. You may not find an answer at all!
Do not trust that a product will protect you from allergies simply because it's labeled "hypoallergenic." To ensure that you receive quality allergy relief products, you should only purchase them from a trusted company that has scientific evidence to back up marketing claims.
Measure
Measure