You can find dehumidifiers in many places, so with all of these options why buy a dehumidifier from us? What makes us different than other companies that sell dehumidifiers? While there are many options to consider when purchasing a dehumidifier, we have five excellent reasons why buying a dehumidifier from AchooAllergy.com is not only a better choice but also a better overall buying experience.
1. We Provide Answers to Your Questions
< href="https://www.achooallergy.com/buying/dehumidifier-buying-guide">
For starters, we offer a comprehensive dehumidifier buying guide to not only offer advice but also help guide you through the process of choosing the best dehumidifier for you. Whether it is comparing dehumidifier capacity, cost, or technical specifications we have a comprehensive chart to help you find the dehumidifier that is best suited to meet all of your needs. In addition to this we also provide you easy answers to the most commonly asked questions in regards to not only types of dehumidifiers, but also uses, dehumidification, allergies, and indoor humidity control, among others. All of this and more can be found on our easy to read dehumidifier FAQ page. We do all of this in our efforts to provide you with everything you need to make an informed decision. We want you to get the right dehumidifier you need, the first time.
2. We Offer A Wide Selection of Dehumidifiers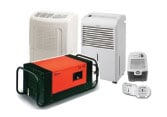 From your basement to your bedroom or your cupboard to your to laundry room we offer a dehumidifier to meet your needs. For most rooms in your home, you will find a Danby, Stadler Form, or Soleus, or dehumidifier that will be suitable in controlling humidity. These models come in a range of sizes with a myriad of options. Need an industrial strength dehumidifier for a job site or commercial project? Try one of our Ebac dehumidifiers. Rugged and durable Ebac dehumidifiers are sold worldwide for a variety of commercial and residential applications. If space is a concern, we offer several types of space-saving dehumidifiers that will fit conveniently in your cupboard or cabinet. Try an Eva-Dry 333 or Eva-Dry 500 for these areas. They are compact, easy to use and will keep all of your heirlooms, firearms, jewelry and other moisture sensitive items safe from the corrosive effects of moisture in the air. We offer a dehumidifier that is right for any room or space in your home.
3. We Do the Research for You

At AchooAllergy.com we provide as much information as possible to help you make an informed decision. The more information you have, the better able you will be to choose the dehumidifier that is right for you. This not only cuts down on the headache of a possible return but also works to ensure your satisfaction with whatever product you ultimately choose to purchase. To provide a comprehensive view of each dehumidifier, we test the models we carry. In our homes, in our warehouse and in any situation that offers a real-world application of our products, we test and review every dehumidifier we offer, from the accuracy of the humidistat to rate of water removal. In some cases this may result in offering slightly fewer products, but if a product will not meet the needs of our customers or does not accomplish what it claims you will not find it on our website. We understand that problems can and do occur, but overall, the brands we offer provide quality at a fair price.
4. AchooAllergy.com Makes Returns Simple

We understand that there are unfortunate instances when a unit may be damaged while in transit, may not perform up to your expectations, or could malfunction. Rather than have to deal with returning the unit to the manufacturer, we provide you several options depending on your particular situation. We may return or exchange your product. In some cases we will have one of our parcel carriers pick the defective unit up right from your home. You can easily reach our customer service department via email at cs@achooallergy.com or by phone at 800-339-7123. All messages will be returned promptly, and we promise to do our best to make and keep you a satisfied customer.
5. We Deliver Your Dehumidifier for Free

As with all purchases over $150 from AchooAllergy.com, we will deliver qualified dehumidifier purchases for free, right to your door. This eliminates the hassle of having to drive to a big box home supply store or appliance store and load and unload the unit yourself. This also frees you from the trouble of dealing with pushy sales representatives or store associates looking to make a commission on your purchase. Another distinct advantage we offer over a big box or local appliance store is that for all purchases made (excluding GA residents), we charge no sales tax.
We Are Here for You

If you have any questions about dehumidification, dehumidifiers, humidity and allergies, prices or our policies feel free to contact us at 800-339-7123 or you can reach us via email at cs@achooallergy.com.