Ogallala Avalon Hypodown Comforters
Ogallala Avalon Hypodown Comforters

OGALLALA IS COMING SOON WITH NEW PRODUCT LINES! WITH THE QUALITY & CARE YOU KNOW AND TRUST!
The Avalon Hypodown comforter is just right for lightweight luxury in warmer climates. The Avalon is the only Hypodown comforter available in a Southernlite fill which is ideal for warm sleepers or balmy evenings. The Avalon Hypodown comforter is encased in soft cotton sateen with a 300-thread count and sewn into a 9" box design. This comforter is completely hypoallergenic. The innovative Hypodown material is made from a mixture of clean Hungarian goose down and naturally hypoallergenic Syriaca clusters from the white downy tuft of the Syriaca plant. Hypodown is tested by allergy doctors and guaranteed to be allergy-free.
---
Features
Made from long staple cotton sateen with 300-thread count and edged with satin piping
Sewn into a 9" box design
12-inch square baffling gives comforter a traditional appearance that is a perennial favorite
Filled with a hypoallergenic and airy mix of 80% goose down/ 20% Syriaca clusters
Hypodown wicks moisture away from your body 30% faster than down alone, and 70% quicker than synthetics
Available in a variety of weights and fill powers so you can choose your perfect comforter
---
An Avalon Hypodown Comforter is ideal for you if...
You want a hypoallergenic comforter filled with an innovative and superior blend of Hungarian goose down and Syriaca clusters.
You want a value-priced luxury comforter that is lightweight and comfortable.
You want a highly customizable comforter so you can choose just the right level of fluffiness and warmth.
---
Ogallala Avalon Hypodown Comforters - A Closer Look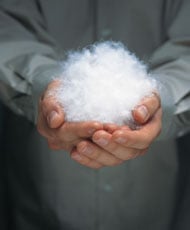 What is Hypodown?
The short answer is that Hypodown is an 80%/20% mix of fine Hungarian goose down and naturally hypoallergenic Syriaca clusters. The long answer is that the makers of Hypodown search for goose down that is the fluffiest and cleanest in the world. Then, they grow their own Syriaca plants, collect the finest pods, capture large Syriaca clusters, and transfer them to their patented Hypodown blender. It uses bursts of air to combine the Syriaca clusters and the goose down into a material so intimate it cannot be separated. An airy cloud-soft combination of two natural fibers to give you a tranquil, restful night's sleep.
Hypodown is hypoallergenic
Goose down can cause allergic reactions for some people. However, it is not the down itself you are allergic to, but remaining particles of dust and dirt that are inside the down. Hypodown offers the cleanest down available, tested by allergy doctors in the United States, Hungary, and Germany. Each test concludes that people who are allergic to down can use Hypodown with no allergic reactions. Hypodown comforters and pillows are guaranteed to be reaction free for 10 years!
Innovative and natural Syriaca clusters
Syriaca clusters are what gives Hypodown it's unique properties. The hollow fibers inside the Syriaca clusters aid in moisture transfer, wicking moisture away from your body 30% faster than just down alone. And, Syriaca clusters are durable and warm. They also help to trap and stabilize the components in down which can cause allergic reactions.

Syriaca clusters come from the plant commonly known as milkweed, naturally cultivated on Nebraska farms. You may have seen their fluffy, silky clusters like parachutes through the autumn sky. Light-weight, buoyant, and moisture resistant, Syriaca clusters were also used in life jackets in World War II.
---
How to Select Your Comforter
1. Size
First, choose your bed size. The Avalon Hypodown Comforter is available in 5 sizes: Crib, Twin, Queen, King, and Super King. Dimensions are shown below.
2. Fill power
Fill power is the space that one ounce of down occupies in cubic inches.
Hypodown 700 is the most popular choice and above the quality found in many department stores. The down cluster content is 85% and the fill power is excellent. These are excellent quality comforters.
Hypodown 600 is higher than the industry standard. Fill power is above average and down cluster content is 75%. These are high quality comforters.
3. Weight
The Avalon is available in three weights: Classic, Southern, and Southernlite. A queen size Classic contains 16 oz. more down than a queen size Southernlite, so you'll want to make sure that you choose the comforter that is the right level of warmth for you.
If you are generally hot while you sleep, you'll want a lightweight comforter: consider the Southernlite weight in fill power 600 or 700, or the Southern in fill power 600.
If you are usually comfortable at night and live in a temperate and mild climate, you may be interested in mid-range choice: consider the Southern in fill power 700 or the Classic in fill power 700.
If you are most often cold at night, you'll want a warmer comforter: consider a Classic in fill power 700.
Caring for your Avalon Down Comforter
A duvet cover will protect against minor soiling. AchooAllergy.com offers cool and comfortable
duvet covers
which are machine washable and dust-mite proof. For comforter care, spot clean when possible. Place comforter in the dryer on low heat to refresh the down, or hang on a clean line on a sunny day. For major cleaning, you should use a professional launderer familiar with cleaning down.
---
Warranty
The hypoallergenic down is guaranteed to be reaction-free for 60 days. To qualify for the guarantee, the product must be used with a protective cover and cleaned according to care instructions.
---
Beautiful and fluffy

I am in love with this comforter!!! I highly recommend it. I sleep on an organic mattress but was either freezing at night under a thick wool blanket or I was suffocating under a too heavy inexpensive faux down comforter. This is absolutely perfect. It is light-weight and breathes. It really does!!! I was skeptical as I have tried many comforters and I always woke up sweating profusely. I sleep soundly all through the night. I use the allergy armor blanket under it for extra cold nights. I bought the 700 fill/Classic...as I live in MA and keep my thermostat at 61 degrees at night. It feels very silky and fluffy. It is very not heavy on my body at all. Definitely worth the money!!

Avalon Comforter

I am so glad i purchased this comforter instead of a lower quality one. I live in GA and this comforter is perfect for all seasons. Not to hot in warmer weather and keeps you toasty warm on cooler nights. We all get more restful sleep and wake up able to actually breath. I highly recommend the Avalon comforter.

soft warm and perfect size

the crib comforter is perfect. it is soft, warm, and fits. I could not find one any where that was allergy proof to dust mites. A-1 ok
---

Avalon Hypodown Comforter

Allergy-free bedding has always been necessary for me. I have severe dust mite allergies, and I'm a hot sleeper. The Avalon Hypodown Comforter has been the answer to both of these night-time miseries.

Living in the south, I have never been able to sleep comfortably with a duvet on my bed; I have always used a sheet paired with a light hypoallergenic blanket. My wife has always wanted to dress up our bedroom by adding a comforter to our bed, insisting we would remove it when it's time to go to sleep. The Avalon Hypodown Comforter in the Southernlite weight was the perfect choice. It's hypoallergenic and so lightweight and breathable that we need not remove it when we sleep; it's perfect!

What I like about the Avalon Hypodown Comforter:
Custom tailored weight and fill power
Baffled, not sewn, for consistent fullness
Hypoallergenic
Light and breathable
What I do not like about the Avalon Hypodown Comforter:
The Avalon comforter in the Southernlite weight is really only suited for warm climates or hot sleepers. However, the Avalon comes in other weights suited for any climate.
---
Product Questions
No questions yet. Be the first to ask the question!
Ogallala Avalon Hypodown Comforters Specifications
Fill Power
Style
Crib
38" x 52"
Twin
68" x 88"
Queen
88" x 88"
King
104" x 88"
Super King
115" x 110"
700

Classic

8 oz.
24 oz.
31 oz.
36 oz.
47 oz.

Southern


6 oz.
19 oz.
24 oz.
28 oz.
37 oz.

Southernlite


4 oz.
12 oz.
15 oz.
18 oz.
24 oz.
600

Classic


8 oz.
24 oz.
31 oz.
36 oz.
47 oz.

Southern


6 oz.
19 oz.
24 oz.
28 oz.
37 oz.

Southernlite


4 oz.
12 oz.
15 oz.
18 oz.
24 oz.
---
---