Ogallala Harvester Hypodown Pillows
Ogallala Harvester Hypodown Pillows

OGALLALA IS COMING SOON WITH NEW PRODUCT LINES! WITH THE QUALITY & CARE YOU KNOW AND TRUST!
The most natural Hypodown pillow available, the Harvester is both luxurious and hypoallergenic. The Harvester Hypodown Pillow is a luxurious, high-quality hypoallergenic pillow that is sure to be a favorite. The secret to these pillows is Hypodown, an innovative blend of clean Hungarian goose down and naturally hypoallergenic Syriaca clusters. Hypodown is tested by allergy doctors and guaranteed to be allergy free. The Harvester Hypodown pillow is encased in a double shell of long staple cotton sateen with 300-outer thread count, and edged with satin piping.
---
Features
Unbleached, un-dyed, chemical-free cotton double shell with 312-outer thread count, 260-inner thread count
Edged with cotton piping
Filled with a hypoallergenic mix of goose down and Syriaca clusters
Hypodown wicks moisture away from your body 30% faster than down alone, and 70% quicker than synthetics
Available in a variety of fill powers and firmness so you can choose your perfect pillow
---
Ogallala Harvester Hypodown Pillows - A Closer Look
Ogallala Hypodown Features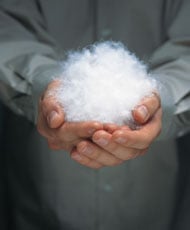 What is Hypodown?
The short answer is that Hypodown by Ogalalla Comfort Company is an 80% / 20% mix of fine Hungarian goose down and naturally hypoallergenic Syriaca clusters. The long answer is that the makers of Hypodown search for goose down that is the fluffiest and cleanest in the world. Then, they grow their own Syriaca plants, collect the finest pods, capture large Syriaca clusters, and transfer them to their patented Hypodown blender. It uses burst of air to combine the Syriaca clusters and the goose down into a material so intimate it cannot be separated. An airy cloud-soft combination of two natural, resilient fibers to give you a tranquil, restful night's sleep.

Hypodown is hypoallergenic

Goose down can cause allergic reactions for some people. However, it is not the down itself you are allergic to, but remaining particles of dust and dirt that are often inside the down. Hypodown offers the cleanest down available, tested by allergy doctors in the Unites States, Hungary, and Germany. Each test concludes that people who are allergic to down can use Hypodown with no allergic reactions. Hypodown comforters and pillows are guaranteed to be reaction free for 10 years!
Innovative and natural Syriaca clusters

Syriaca clusters are what gives Hypodown it's unique properties. The hollow fibers inside the Syriaca clusters aid in moisture transfer, wicking moisture away from your body 30% faster than just down alone. And, Syriaca clusters are durable and warm. They also help to trap and stabilize the components in down which can cause allergic reactions.

Syriaca clusters come from the plant commonly known as milkweed, naturally cultivated on Nebraska farms. You may have seen their fluffy, silky clusters like parachutes through the autumn sky. Light-weight, buoyant, and moisture resistant, Syriaca clusters were also used in life jackets in World War II.
1. Size
First, choose a size. Most of the hypodown pillows are available in three sizes: Standard, Queen, and King.
2. Fill power
Fill power is the space that one ounce of down occupies in cubic inches. All three fill powers contain the same ratio of goose down to Syriaca cluster, 70% goose down to 30% Syriaca cluster. However, each differs in the quality of the goose down, which directly relates to how much of the down is actually cluster. Down clusters are what provide the cushion, spring, and comfort of down. The higher the amount of clusters in the down, the better quality of down it is.

Hypodown 800 is the most luxurious option, the quality you might find in a fine hotel. The 800 fill power contains the highest quality, premium goose down. The down itself is 85% large clusters, which provides unmatched loft and cushion. These are quite simply some of the highest quality pillows you will find anywhere.

Hypodown 700 is the most popular choice and above the quality found in most department stores. With 80% being large cluster premium white goose down, the 700 fill power is an excellent balance of quality and price.

Hypodown 600 is the entry level hypodown. Higher than the industry standard, this above average fill power has a goose down cluster content of 75%. These are high quality pillows.
3. Firmness
Hypodown pillows are available in four levels of firmness: soft, medium, firm, and extra firm. How firm each pillow is determined by the actual amount of fill. This can vary from as little as 12 ounces of fill for some soft standard pillows to as much as 39 ounces of fill for extra firm king size pillows.

A soft pillow is recommended for you if you are petite, sleep primarily on your stomach or back, and like pillows which are conforming and moldable. A soft, plush pillow will prevent your head from being raised too high and promote circulation.

A medium pillow is recommended for you if you sleep primarily on your back or sides and like pillows which are supportive yet still pliable. A medium pillow will offer a little more support, keeping your neck inline with your spine.

A firm pillow is recommended for you if you are a taller or larger person, sleep primarily on your sides, or like pillows which retain their shape through the night. For side sleepers a firm pillow will help provide proper spine alignment.
---
Horrible!

I ordered this pillow after sleeping on a great pillow at a guest house and got the name of it off the pillow's label. I have such a difficult time finding a pillow because I have a scoliosis and my neck is effected. But the pillow at the guest house was perfect, so I searched for the name online and bought this one. I didn't even consider it might be made differently now from the older model pillow I had slept on. I stupidly threw away the packaging before really checking out the pillow. It was a terrible realization that this pillow was loud and crunchy, as if a plastic tarp was wrapped up inside. It was a very expensive mistake and I shuddered to pay $214 in the first place, but now I'm stuck with this horrible mistake. I can't believe anyone could sleep on such a loud pillow.

great pillows

Had polyps in my sinuses removed. Doctor said no feather pillows so glad to find a feather pillow I can sleep on that will not aggravate my allergies. My wife loves hers too as the firm pillow has relieved her stiff neck.

Allergy Armor Pillow Encasings

The dustmite protection pillow covers that arrived with my order were just as soft and comfortable as you said they would be. No plastic feeling, and the pillow remained cool and comfortable. Better sleep, no waking up with allergy problems. Thank you.

restful night's sleep

The Harvester pillow is luxuriously comfortable. Not only do I wake up without congestion from my allergies, but my neck is no long sore and achey. Thank you for a wonderful product

Great Hypodown PIllow

My allergies are much better since switching to the hypodown pillow. I never wanted to switch from a down/feather pillow because I like to be able to bunch and mold my pillow to support my neck. These pillows are extremely comfortable and absolutely worth every penny!

Very Nice Pillow!

This pillow is extemely comfortable, but the reason we got it is because our 1.5 year old daughter has been having a hard time sleeping due to a stuffed up nose. Apparently, it was allergies after all and she has been sleeping well. She loves it and we love it too, because now we can sleep!

We Bought 2 King Size Based on Your Description

And we found these pillows to be a well justified expenditure. Sometimes my wife and I sleep on my pillow - sometimes I sleep with her on hers. We got rid of our other ones once we slept on these!

Finally- A wonderful night's sleep!

I have been sleeping like a baby ever since I received this pillow (700/soft/Harvest)! I have arthritis and bone spurs in two disks in my neck and have been a prisoner to my former pillow (which I have been using since I was 10 (35 years-no lie)). I have been trying to replace it for years but every other pillow I tried gave me headaches and I could not fall asleep. This pillow is super soft and flexible. I would recommend to anyone with neck problems. Well worth the price.

Heavenly soft

Amazing pillow! Gives me the support I need without the neck ache! I have been sleeping like a baby since I purchased it. Will be purchasing one for my husband.

comfortable pillow

I purchased the hypodown soft pillow. I bought it to see if it would help reduce the hives and itching on my face. I refuse to give up onmy down pillow. I think I had some allergic reaction to the standard down. So far so good with this one. It didnt have that funky smell lke the other pillows I previously bought at the store.
---



Harvester Hypodown Pillow

From the moment I opened the package, I have been very impressed with the Harvester Hypodown Pillow. The quality of the product is the first thing I noticed. The Harvester pillow is made with unbleached, high thread-count fabric and finished with silky piping. It's so attractive that if I weren't sleeping on it, I wouldn't want to put a pillow case over it.

My pillow is the most important factor in the quality of my sleep; if it's not comfortable, then I'm not going to get a good night's sleep. My allergies have prevented me from sleeping on goose down in the past, but now I am able to enjoy the dreamy softness of down again, thanks to the hypoallergenic properties of this luxury pillow.

What I like about the Hypodown Harvester Pillow
Beautifully crafted, the superior quality is seen and felt.
I chose both the firmness and fill power. This customizable luxury down pillow allows you to select not only the size, but also the quality of the down fill (600, 700, or 800), and the firmness/softness that you need for a perfect night's sleep.
It is real goose down but hypoallergenic. Make no mistake, hypodown is real goose down, not a synthetic down alternative. Yet, even though it is down, it's guaranteed not to cause an allergic reaction for a full decade.
Looks fabulous on my bed.
What I don't like about Hypodown Harvester Pillow
The price reflects the quality. It would be pricey to buy two Harvester Hypodown pillows for all the beds in my home--but worth it!
In summary, Harvester Hypodown pillows are unsurpassed in quality, comfort, and craftsmanship. The Hungarian goose down and naturally hypoallergenic Syriaca clusters in the fill make it a perfect product for allergy sufferers who want a luxurious, quality down pillow without the sneezing, coughing, congestion, or wheezing that inferior down products can cause. Once you sleep on a Hypodown Harvester pillow, you won't want to ever consider another!
---
Product Questions
I have a Hypodown pillow. I lost the instructions. Might you remind me how to clean it. Thanks!
I got a firm harvester and my neck is hurting. I am thinking I may need an extra firm. I am a side sleeper. Are there sizing recommendations?