Ogallala Hypodown Boxed Mattress Pads
Ogallala Hypodown Boxed Mattress Pads

OGALLALA IS COMING SOON WITH NEW PRODUCT LINES! WITH THE QUALITY & CARE YOU KNOW AND TRUST!
Having trouble getting a great night's sleep on your older mattress? Want to soften your mattress up without buying a brand new mattress? You might want to consider a mattress pad or topper. Ogallala makes their top-of-the-line luxury mattress enhancers with their specially designed Hypodown 700 fill, so you truly can be surrounded in comfort. These mattress pads are sewn in a baffled box design in a 300 thread count. You will be amazed at how refreshed you will feel after one night on this Hypodown bedding. Ogallala bedding is all about comfort. If you are looking for a great night's sleep this mattress pad is the perfect choice. Mattress pad is available in these sizes: Twin, Full, Queen, King, Cal King.
*Please note that shipping time on this item will vary according to availability. These are a custom made item that is produced in limited quantities.
Features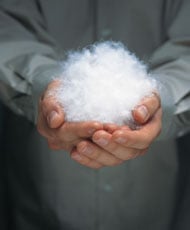 What is Hypodown?
The short answer is that Hypodown is an 80% / 20% mix of fine Hungarian goose down and naturally hypoallergenic Syriaca clusters. The long answer is that the makers of Hypodown search for goose down that is the fluffiest and cleanest in the world. Then, they grow their own Syriaca plants, collect the finest pods, capture large Syriaca clusters, and transfer them to their patented Hypodown blender. It uses bursts of air to combine the Syriaca clusters and the goose down into a material so intimate it cannot be separated. An airy cloud-soft combination of two natural fibers to give you a tranquil, restful night's sleep.


---
Product Questions
No questions yet. Be the first to ask the question!