Vanicream Lite Lotion 16-oz Pump Bottle
Features
Ideal for Sensitive Skin & Eczema

Fragrance, Paraben, & Dye Free

Great Everyday Moisturizer

OR
Vanicream Lite Lotion 16-oz Pump Bottle

Vanicream™ Lite Lotion for Sensitive Skin provides all the same moisturizing benefits of Vanicream™ Skin Cream, but in a lighter formulation. Lite Lotion spreads the fastest over face, feet, hands and body to soothe and hydrate skin without a greasy after-feel. Specially formulated for those with sensitive skin, Vanicream Lite sensitive skin lotion with pump is often recommended by dermatologists for its gentle, non-irritating qualities.
Light and theraputic, Vanicream™ Lite Lotion is a refreshing alternative to often irritating skin products because it contains no perfume, lanolin, dyes, formaldehyde, or parabens - no harmful chemicals, fragrances or dyes to irritate sensitive skin, eczema, or dermatitis.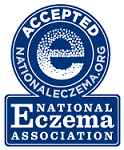 Lite Lotion goes on evenly and is absorbed quickly with no sticky residue. Vanicream™ Lite Lotion is approved by the National Eczema Association - Lite Lotion has been evaluated to determine that it does NOT contain ingredients or contents that are known to be unsuitable for use by persons with eczema or sensitive skin conditions.
Vanicream™ Lite Lotion comes in a 16-oz pump bottle and is good for every day use, use after sun or windburn, and even works well as a full body lotion. Also available in an 8-oz bottle with press cap (sold separately).
Features
Doctor recommended for sensitive skin
Light, therapeutic lotion keeps skin calm and hydrated
Beneficial to those with skin problems aggravated by lack of moisture
Carries the NEA Seal of Acceptance™ awarded by the National Eczema Association
Dermatologic formula contains no sulfates, phosphates, glutens, or any of these other common irritants
No parabens
No PABA
No dyes
No lanolin or derivatives
No fragrances or masking fragrances
No formaldehyde
No irritating preservatives
Easy-to-spread, quickly absorbed, non-staining, long-lasting
Kid friendly, and suitable for all ages and skin types
Non-comedogenic (won't cause blackheads)
Apply as needed to avoid dryness and skin irritation:
Use on hands, feet, face and body
Daytime or nighttime
After bathing, showering or swimming
Before exposure to the elements



---

Note: Vanicream™ skin care products have always been known for what is NOT in them. Please see this list of common chemical irritants often found in other products, and why they can be so irritating.
Vanicream Lite Lotion 16-oz Pump Bottle - Ingredients
Purified water, white petrolatum, propylene glycol, cetearyl alcohol, sorbitol solution, ceteareth-20, simethicone, glyceryl monostearate, polyethylene glycol monostearate, sorbic acid, BHT
---
---
You may also be interested in the following product(s)
Product Questions
No questions yet. Be the first to ask the question!