Vanicream Skin Cream - 4 oz. Travel Size
Features
Dermatologist Recommended
Perfect For Sensitive Skin
Therapeutic, Soothing Moisturizer
OR
Vanicream Skin Cream - 4 oz. Travel Size

Vanicream™ Skin Cream is recommended by dermatologists for people with sensitive skin. Both gentle and effective, Vanicream hypoallergenic skin cream provides long-lasting skin hydration without a greasy after feel. Vanicream's rich therapeutic cream helps to soothe the annoying and sometimes painful effects of eczema, psoriasis, winter-itch, and other mild to severe skin conditions.
Easy-to-use, Vanicream™ Skin Cream is non-comedogenic and non-staining. Contains NO perfume, lanolin, dyes, formaldehyde, or parabens. Perfectly hypoallergenic, Vanicream™ will leave your sensitive skin soft and silky without any irritation.
Vanicream™ Skin Cream is in a convenient 4 oz. tube, perfect for your purse, desk drawer, or in the car.
Vanicream™ Skin Cream is also available in a 1 lb. tub for use at home and 1 lb. tub with a pump for multiple users.
---
Features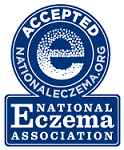 Moisturizes and helps to soothe red, irritated, cracking or itchy skin
Beneficial in skin problems such as:
– atopic dermatitis (eczema)
– psoriasis
– ichthyosis
– winter itch
Approved by the National Eczema Association - Vanicream Skin Cream has been evaluated to determine that it does not contain ingredients or contents that are known to be unsuitable for use by persons with eczema or sensitive skin conditions
No harmful chemicals or dyes to irritate sensitive skin
Kid friendly, and suitable for all ages and skin types
Apply as needed to face, hands, feet and body
Great as a night cream
Wonderful for massage
Apply after bathing, showering, swimming or sun exposure
Apply before exposure to wind or cold
Used as a compounding base by physicians and pharmacists
Vanicream Skin Cream - 4 oz. Travel Size - Ingredients
Purified water, white petrolatum, sorbitol solution, cetearyl alcohol, propylene glycol, ceteareth-20, simethicone, glyceryl monostearate, polyethylene glycol monostearate, sorbic acid, and BHT
---
---
You may also be interested in the following product(s)
Product Questions
No questions yet. Be the first to ask the question!
---