Reliable has been a leader in affordable and effective home appliances for many years. With Reliable steam cleaners, you find this same commitment to effective, affordable cleaning products. Reliable steam cleaners are safe, chemical-free alternatives to cleaning and sanitizing your home. Each Reliable vapor steam cleaner provides a quality "dry" steam that kills mold, bacteria, dust mites, and germs throughout your home. With an variety of styles and price points, we are certain there are Reliable home steamers for cleaning perfect for all of your needs. perfect for all of your cleaning needs. Browse steam cleaning mops below.
Call or Chat Now with our Product Experts for Special Offers and Volume Pricing!
Filter Results
Body Style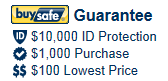 More Information On Reliable Steam Cleaners
Reliable Cleaning Without the Chemicals
Dry vapor steam cleaning can deep clean and sanitize your home safely while killing dust mites, bedbugs, bacteria and mildew. It is a green alternative to using common household cleaners that are often loaded with chemicals like chlorine and ammonia. These cleaners not only give off noxious odors but can leave by a chemical residue. With Reliable steam cleaners and steam cleaning mops you can clean AND sanitize throughout your home using only heat and water in the form of steam vapor.

Reliable steam cleaners use a "dry" steam to clean. This is a type of steam that is more heat than water which means quicker drying times for you and longer run times for each tank of water. Each comes with an array of attachments and varying price points make the Reliable line of vapor steam cleaners an excellent fit for nearly any budget.
---
The Reliable Steam Cleaner Line Up
As the most affordable models available, Reliable steam cleaning mops offer excellent smooth floor cleaning results at a very economical price point. As with all aspects of the Reliable steam cleaner line, the Reliable steam mops have been revamped, with a new look, a few new features, but still priced low enough to fit into most budgets. Those looking for the most versatile Reliable steam mop should consider the Steamboy Pro 300CU. Not only does it steam clean your floors but also has a built-in scrubbing bristle brush that makes cleaning up tough stains and grout a cinch! If you have no tile or need for a scrubbing brush, say your home's smooth flooring consists of linoleum, sealed wood, or laminate, then the Steamboy 200CU steam mop is likely the best fit. With a near instant heat up time, the 200CU safely and quickly sanitizes floors, leaving them dry in a matter of minutes.
If you are new to steam cleaners and are looking at an entry-level canister style steam cleaner, the BRIO 250CC steam cleaner is an excellent choice. With the versatility of steam cleaners that can easily cost 2-3x as much, the Brio 250 provides the attachments and performance to move beyond just steam cleaning your floors and allows you to literally steam clean nearly anything in your home. For the best in home steam cleaning, the Reliable 500CC steam cleaner sits atop the line. The Brio 500CC incorporates all of the features that have made Reliable a top choice among steam cleaner brands. From their patented EMC2 system and the dual tank, continuous steam technology, to over two dozen included accessories and an easy to read, digital control display, the Brio 500CC provides the versatility and look to compliment solid cleaning and sanitizing performance throughout your home.
---
Reliable Steam Cleaners - A Healthier Kind of Clean
Reliable has developed a comprehensive line of steam cleaners that has an option for everyone. In addition to being able to steam clean your floors, countertops, mattress, oven, bathroom, shower stall and just about any other space in your home, steam cleaners are an excellent way to reduce allergens. With over 200° F temperatures, the steam kills bacteria, mold, mildew, dust mites and even bed bug larvae. So some of the most common allergens, dust mites and mold, can be killed on contact with superheated steam, and with a variety of attachments you can steam hard and upholstered surfaces alike - even take wrinkles out of your clothing! Dirt, grime, grease, mold, mildew and even odors can be cleaned and neutralized with effective steam cleaning.
---
Discontinued Reliable Steam Cleaners
Reliable Tandem EV1
Reliable Steamboy T2
Reliable Steamboy T1
Reliable EnviroMate GO E20 Steam Cleaner
Reliable Enviromate E3 Steam Cleaner
Reliable Enviromate E5 Steam Cleaner
Reliable Enviromate PRO EP1000 Steam Cleaner