A great HEPA vacuum cleaner is a must-have cleaning accessory for anyone trying to reduce allergens in the home. The right allergy or HEPA vacuum cleaner can improve your indoor air quality while keeping your home looking great, but choosing the right vacuum for you can be overwhelming. Use our comparison chart to compare vacuum cleaner brands, features, specifications and prices. There is a wide range of styles and colors to fit your specific tastes, and we only carry top HEPA vacuum cleaner brands including Miele, Dyson, SEBO, Soniclean, and Electrolux. Chat, call or email us for expert advice or help in selecting the best HEPA vacuums for your home.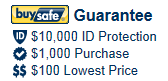 More Information On Vacuum Cleaners
If you or your children suffer from allergies or asthma, the type of vacuum cleaner you own can make a vast difference in your quality of life. A quality vacuum cleaner helps control dust mites, pet dander, and other allergens by removing them from flooring, shelves, steps, and furniture and then trapping them for disposal. The right vacuum can remove allergens and dirt from the physical surfaces in your home; and it can make your indoor air cleaner and more breathable. However, all vacuums are not created equally. Some may be great at removing dirt and pet hair from carpet while spewing the most dangerous particles, fine particles, back into the air you breathe. Probably, the most important factor to consider is the air filtration system on the vacuum you want to purchase.
Vacuum cleaners with standard filters simply spread allergens around in the air you breathe. They cannot effectively filter and trap fine particles like pollen or pet dander. If you have allergies, you need a tightly sealed vacuum cleaner with an S-Class or HEPA filter that meets the rigorous U.S. HEPA (High Efficiency Particulate Air) standards of removing 99.97% of all particles 0.3 microns or larger. S-Class and HEPA filters are nearly identical in filtration standards, so for allergies and asthma, either will work well. Several brands we carry, including Miele vacuums, SEBO, Soniclean, and some Electrolux vacuums, offer sealed systems with HEPA filtration. All of the SEBO vacuums we offer come standard with S-Class filtration. With HEPA or S-Class filtration, you can rest assured that your vacuum cleaner will effectively trap almost all of your household allergens.