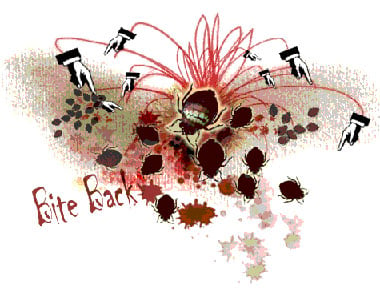 Gwinnett Daily Post - December 20, 2008
Buried deep in the depths and crevices of many mega-cities, a petite parasite lurks undetected.

Hitch-hiking from luggage to bedding, hotel rooms to homes, bed bugs were once a domestic nuisance of the past, but the tiny bugs are making a comeback in large metropolitans and towns.

Some say Atlanta and even Gwinnett have fallen victim to the unexpectedly transient insects.

Achoo Allergy and Air Products, an Atlanta-based company focused on helping you deter allergies, reveals more and more investigations into bed bug breakouts have begun and are traced to hotspots of international travel, such as New York, Los Angeles, and, yes, Atlanta.

Taking up residence mostly in the place from which they get their name, bed bugs have no wings and, therefore, temporarily fasten themselves to luggage and animals and can be found in hotels, bedrooms, dorm rooms and apartments.

Contrary to some beliefs, the bugs aren't synonymous with dirty, unkept confines, said Cade McDonald, Achoo Allergy spokesman. But, he said, vacuuming often and keeping rooms clutter free can help prevent the bugs from taking up residence.

"The key to preventing bed bug infestation is to keep bugs out of your bedroom in the first place," McDonald said. "Keep the bedroom clean and free of clutter. Vacuum frequently. Be on the lookout for signs of bed bugs when traveling, and try to avoid them."

Deter and detect

Needing blood to live, the only thing the bothersome insects need to survive is you - or another blood-producing host.

Similar to a flee or mosquito, bed bugs bite at the skin, leaving behind an itchy welt and localized swelling.

Fortunately, bed bugs do not spread diseases, according to research released by the Harvard School of Public School (www.hsph.harvard.edu/bedbugs) but are still bothersome to many and often a nuisance to get rid of.

McDonald said one sign of the bugs is the dot-like, red fecal matter they can leave behind on sheets and bedding. He said buying a mattress cover can help keep the bugs at bay.

"Typically, people who call us already have a problem with bed bugs, and they're looking for a new mattress, a mattress cover and some advice," McDonald said. "In every case that we've heard about, the mattresses were thrown out after an infestation."

McDonald adds that bed bugs are rather large compared to some other household insects like dust mites. But he said having a specially made mattress will not prevent an infestation.

"Bed bugs are looking for a warm body; they don't care what you're sleeping on," McDonald said. "And even if they can't get inside the mattress itself, they can find other hiding places in the bedroom."

The most affective way to eliminate the bugs, which can reach about 1⁄4 of an inch in size, is through professional extermination and throwing away infected bedding.

More information about preventing bed bugs can be found at www.achooallergy.com.