Allergy mattress covers provide protection against dust mite allergen, mold, pet dander, bed bugs, and other allergens that can pollute your indoor air and cause allergy and asthma attacks. By covering your bedding with zippered bed bug-proof covers, you are protecting the investment you have made in your mattress, box spring, pillows and comforters because you will never need to dispose of them due to bed bugs. Choose from numerous high-quality allergy mattress protectors below.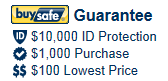 More Information On Mattress Covers
What Are Mattress Covers?
Crafted from unique fabric blends, allergy relief mattress covers are specifically constructed to block out dust mites and other allergens. Though made of fabric (typically cotton, organic cotton or polyester) allergy mattress covers differ from standard sheets in two major ways: First, a mattress cover is a zippered bedding cover that fully envelops your mattress. Secondly, allergy-free mattress covers are woven in a way that actually creates a physical barrier between your mattress and allergens. Though they are virtually unnoticeable and fit neatly beneath your normal sheets, the relief that they provide from allergies can be noticed after just one night's sleep.

Why Do You Need a Mattress Cover?
If you wake up in the morning with a stuffy nose, itchy eyes, sore throat, swollen sinuses, or other allergy symptoms, you are probably allergic to dust mites. Almost three-quarters of ALL allergy sufferers are ALSO allergic to dust mites. Dust mites are microscopic creatures which thrive in bedding. Unfortunately, their feces, waste materials and body fragments can cause morning congestion and restless nights, and over the course of ten years, your mattress can literally double in weight from all of these allergens and dead skin cells. That's nothing sneeze at!

How Does an Allergy Relief Mattress Cover Work?
Allergy mattress covers and allergy mattress protectors create a physical barrier between dust mites and their primary food source - your dead skin cells. By separating dust mites from their food source you kill the dust mites in the mattress and prevent new mites from taking up residence. Allergy Armor Ultra has an average pore size of 2.8 microns so that even the smallest allergens like cat and dog dander cannot pass through. This physical barrier not only seals allergens already in the mattress away but keeps new ones from entering the mattress and causing allergic and asthmatic reactions. Once you've encased your mattress with the cover, you simply zip it closed then put your sheets on as you normally would. Wash your standard sheets regularly to remove allergens from them, and sleep better knowing the one place where you spend nearly 1/3 of your life is allergen-free.
What Does "Membrane-Free" Mean?
Allergy bedding that relied on a membrane was one of the first types developed. As the technology has evolved, membrane bedding has been pushed to the lower end of the price scale and is often considered more of an "economy" line. Allergy Armor Classic has a urethane membrane barrier to block allergens. The advantage of this membrane barrier is that it is waterproof, and so we recommend these encasings for small children. Membrane-free encasings are softer, more comfortable, and more breathable; they rely on tight-weaving technology to create pore sizes so small that allergens cannot pass through the fabric. Our membrane free encasings include Allergy Armor Ultra, Allergy Armor Advanced, Allergy Armor Cotton, and Allergy Armor Organic.

How Do You Use a Mattress Cover?
An allergen mattress cover can sometimes be cumbersome to install, particularly for thicker, queen-sized mattresses. Luckily, once you've installed the allergy mattress protector, you only have to take it off a few times a year. The job is easiest if two people work together. One person should hold the mattress up, while the other person pulls on the cover. Then zip it up at the foot of the bed to seal it for complete protection.

How Do You Care for Allergy Bedding?
Caring for mattress and pillow covers is simple. Just machine wash on warm or hot, and gently tumble dry. Do not use bleach. We recommend you wash your allergy relief bedding three or four times per year. Your standard bedding should be washed in hot water every one to two weeks.