Choosing the right pillow can make a big difference in how you sleep at night and how you feel throughout the day. Sleeping on pillows that hold dust mites or feathers or simply uncomfortable pillows that lack support can leave you feeling tired or achy throughout the day. Whether you are shopping by price, looking for a custom pillow or simply looking for hypoallergenic pillows that will reduce or eliminate allergens, choose from a wide selection of styles to find the anti-allergy pillows that are perfect for you!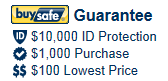 More Information On Allergy Pillows
Why should I buy Allergy Armor Pillows?

Allergy Armor Ultra is the best allergen barrier fabric available. Because of its extremely tight weave, allergens like dust mites and animal dander are simply too large to pass through the fabric. Women's Health Magazine recommended Allergy Armor Ultra mattress covers to allergy sufferers, reporting that "they're better than anything else on the market at keeping mites out."

Now you can get the protection of Allergy Armor Ultra built into a plush, hypoallergenic pillow. Allergy Armor hypoallergenic pillows are sewn with the Ultra fabric, so there's no need for a separate pillow cover! Simply place your decorative pillow case over the Allergy Armor pillow, and rest easy knowing that your pillow is free of allergens.

Why should I buy Ogallala Hypodown Pillows?

Ogallala hypoallergenic down pillows, or Hypodown pillows, are made from a blend that is 80% pure, clean Hungarian goose down and 20% Syriaca clusters. Syriaca clusters, also known as milkweed, are naturally hypoallergenic and trap any allergens from the goose down. Furthermore, the goose down is washed and rinsed numerous times before being combined with the Syriaca clusters. Hypodown is more durable, and more breathable than down alone or synthetic down. Ogallala hypoallergenic down pillows are tested by allergy doctors and guaranteed to be allergy-free. The Pearl White Hypodown Pillow is a luxurious, high-quality hypoallergenic pillow that is sure to be a favorite, while the Hypodown Harvester Pillow is the most natural Hypodown pillow available.

Why should I buy Synthetic Down or Down Alternative Pillows?

Primaloft offers the only patented alternative to down pillows, and many people prefer Primaloft's synthetic down pillows over conventional down pillows. Primaloft's ultra-fine microfibers are softer and finer than silk. You'll sink right into this lightweight, hypoallergenic pillow, which stays soft and cool all night long and springs back into its normal shape in the morning. Primaloft anti-allergy pillows with synthetic down remain fluffy after frequent washings.

Why should I buy a Body Pillow?

Our Allergy Armor body pillows are designed not only to follow the natural motions and positions of your body all night long, but also protect against dust mites and other allergens that commonly infest pillows. This is because we construct these hypoallergenic pillowss from the Allergy Armor Ultra fabric, so the dust mite protection is built right in!

Snoozer pillows offer a unique "J" shape or candy cane design to better fit the contours of your body and provide support by promoting proper spinal alignment. These uniquely contoured pillows cradle the body, providing targeted support where you need it most - your joints. Filled with a non-allergenic synthetic down, these body pillows help relieve pain from arthritis and various knee, shoulder and back ailments, all while helping to maintain proper alignment while you sleep. Sleep better with improved spinal alignment, circulation, muscular relaxation, and reduced strain. While this line of anti-allergy pillows doesn't offer the dust mite protection you'll find with the Allergy Armor Ultra body pillow, it does come in three sizes.

The Snoozer full body pillow is standard for adults; the Snoozer upper body pillow has a short candy-cane shape that supports your upper body; the Snoozer Junior body pillow is a smaller, more petite pillow especially for kids. For the most support, the Comfort-U Maternity pillow is designed for full body support, ideal for the special sleep needs of expectant mothers.