Down mattress pads, or mattress toppers, have become a staple for many sleepers. With this trend comes the same allergy and asthma concerns that many people have with traditional bedding - dust mites, bed bugs and for many, down. For people with allergies or asthma, getting a restful night's sleep can be a challenge. With BedCare™ allergy mattress pads, you can get the feel of down without the allergic reaction. With our other natural rubber toppers, hypodown or down alternative mattress toppers, you have a variety of options to consider, even ones that are dust mite resistant. Regardless of your choice, all of these allergy mattress pads offer supreme comfort without allergic reactions.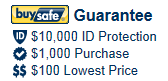 More Information On Mattress Pads
Down Alternative Mattress Pad

There are a variety of choices when it comes to a mattress pad that will provide a soft, comfortable feel without causing the problems associated with traditional down bedding. Of all of these options, the most popular, and economical, is going to be a Primaloft mattress pad. These two inch thick toppers provide the feel of down without the allergens. Instead of down, they use patented polyester fibers that are 1/10th the width of a human hair. The fibers in these down alternative mattress toppers so accurately mimic down that many people can't tell the difference.
Cotton, Organic Cotton or Natural Latex Mattress Pads
You can sleep in total luxury with the extra cushion and comfort you'll only get from a Royal-Pedic all cotton pillowtop pad. Available in three inch and five inch depths, these all cotton mattress pads are ideal for anyone seeking allergy relief without sacrificing comfort.

If you are sensitive to synthetic latex or chemically-treated fibers and fabrics, rest easy with the Fox fiber organic cotton construction of the Royal-Pedic Organic Cotton Pillowtop Pad. Using organic cotton, untreated wool, and natural latex, these mattress pads offer luxury and support in the most natural type of bedding available. Dust mites cannot live inside the natural latex core, plus lanolin, a natural substance in the wool, repels dust mites as well as bed bugs. Pure Rest also offers a line of natural latex mattress pads that provide supple, comforting support without the chemicals, additives, and residues found in modern latex products. The Pure Rest mattress toppers are also dust mite resistant and repel bed bugs.
Hypodown Mattress Pads
The last type of allergy mattress pads is Hypodown by Ogallala. On the surface, these mattress toppers appear to be very similar to a traditional down topper. They are luxurious and soft, but just under the surface is where the big difference lies. Unlike traditional down mattress pads, Ogallala uses the cleanest, purest down available. They then mix this with Syriaca clusters, a naturally occurring plant fiber that neutralizes down allergens. So by starting with the purest form of down available and blending it with natural Syriaca, Ogallala has created a mattress pad that is not only guaranteed NOT to cause an allergic reaction but is actually guaranteed for a full decade.
Regardless of which type you choose, each offers a soft, comfortable alternative to traditional down.