As the top of the line in home floor steam cleaners, the Ladybug vapor steam cleaner safely sanitizes and deep cleans any surface in your home. With no chemicals and equipped with their patented TANCS system (the only EPA certified, non-chemical disinfection process), Ladybug steam cleaners use only tap water to remove grime, allergens, germs and odors from even hard surfaces. The Ladybug is ideal for asthma, allergy and MCS sufferers or those who want to dump the chemical cleaners in place of a healthier, greener alternative. Hardworking and durable, the Ladybug steamer is simply the best steam cleaner on the market!

*We are very sorry, but we can no longer ship Ladybug steam cleaners to Canada. We regret this inconvenience.
Call or Chat Now with our Product Experts for Special Offers and Volume Pricing!
Filter Results
Price

Body Style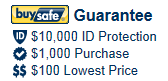 More Information On Ladybug Steam Cleaners
The Ladybug Steam Cleaner Difference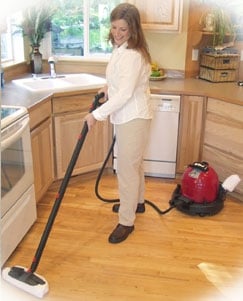 As awareness of the negative effects of using toxic household cleaners grows, more and more people are turning to "green" and chemical-free cleaning methods for their homes. It is in this regard that Ladybug steam cleaners make themselves and ideal home cleaning and sanitizing solution.
Ladybug vapor steam cleaners have long been the preferred choice of steam cleaning professionals and those who believe in investing in a product that is not only effective, but also durable. Each Lady Bug steamer features industry leading technology that allows you to clean your home or office NOT just for appearances, but for your health.
Ladybug home floor steam cleaners work extremely well in eliminating germs, bacteria (like salmonella), and viruses (like the influenza virus) from your home. The
Ladybug Tekno 2350
is a commercial strength model that comes standard with TANCS technology to help sanitize your home or business. As one of our two most popular Ladybug models, the Ladybug 2350 is the most advanced residential steam cleaner we offer.
As our second most popular model, the
Ladybug 2300 TANCS
is a TANCS equipped steam cleaner that offers nearly all of the same great features as the 2350 but with the added benefit of a "tool belt". This tool caddy wraps around the base of the steam cleaner and allows for easy storage of brushes, extension tubes, and other accessories.
In the middle the Ladybug vapor steam cleaner line rests the Ladybug 2200S, available with or without TANCS. As a "dry steam" cleaner, the Ladybug 2200S is the least expensive of the TANCS equipped steam cleaning systems. It features durable polycarbonate construction, a continuous fill system, and stainless steel boiler. Indicator lights let you know when the unit is ready, when it needs to be refilled, and what the current boiler temperature is.
As the most economical Ladybug steam cleaner, the Ladybug 2150 has features that would be considered premium with other steam cleaners, but with a Ladybug, they are simply standard. Like all Ladybug steamers, the 2150 features continuous fill into a stainless steel boiler. Casters allow for free movement across a variety of surfaces, and consistent steam pressure allows for even and thorough cleaning.
As an added bonus each Ladybug steam cleaner we offer comes with a free accessory kit worth $30. Unlike cheap steam cleaners you see on infomercials, each Ladybug is crafted in Italy and uses only quality components. Years after a $100 steam cleaner will be tossed to the curb, a Lady Bug steam cleaner will still be effectively cleaning and sanitizing throughout your home.
---
LadyBug Steam Cleaners - Cleaning for Your Health
Dust mites live throughout our homes and are responsible for a host of common allergic reactions. Traditionally, the best way to get rid of dust mites is washing items in very hot water or using additives or sprays. Ladybug steam cleaners give you another option in controlling dust mites.
In lieu of using powders or sprays, you can use a Ladybug vapor cleaner safely and effectively kills dust mites in your carpet, furniture, and even in your mattress. Vacuum after use to remove any debris you may have dislodged, and you're all set!
Bedbugs and fleas as well as their eggs and larvae are also killed by short-term exposure to high temperature (unlike chemicals, which have no effect on the eggs). Because Ladybug steam cleaners are versatile enough for use anywhere, you can use them to treat your dresser drawers, mattress, bed frame, carpet and any other space where bed bugs commonly hide during the day. Steam cleaning leaves behind no chemical or pesticide residue that could potentially harm children, pets, or contaminate your indoor environment.
A Ladybug steam cleaner with the TANCS option is your best bet in eliminating bacteria, viruses, germs and other pathogens in some of the most contaminated spaces in your home - the kitchen and bathroom. These versatile cleaning appliances use the patented TANCS technology, as well as high temperature steam to penetrate even the most resilient biofilms.
For those with MCS, home floor steam cleaners are simply the best cleaning tool available. No fragrances or toxic chemicals, and Lady Bug steam cleaners will actually remove chemical residues left by other cleaners. By using only heat and water, the are healthy cleaning in its purest form. So in all areas, whether reducing allergens and chemical residue or eliminating germs and pathogens, a Ladybug steam cleaner offers an all-in-one cleaning solution!