Allergy Armor pillows and bedding combines effective allergen control and luxurious comfort. Choose from protective anti-allergy bedding covers, pillows, blankets, and comforters to offer complete allergy relief for your entire bed! All our Allergy Armor Bedding is on Sale! Hurry! Product quantities are limited.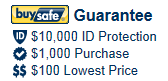 More Information On Allergy Armor
Made from our top-of-the-line Ultra bedding material, Allergy Armor pillows block out dust mites as well as smaller allergens like pet dander. They will keep allergens out of your pillow, out of your face, and out of your airway, and they do this without needing a separate pillow cover. With the dust mite barrier built right in, our Ultra pillows only need you to slip on your favorite pillowcase, and you're all set for a better night's sleep. An antimicrobial finish guards against mold and bacteria growth.
Allergy Armor Fleece Blankets - These lightweight fleece blankets feature hemmed edges for enhanced durability, and 100% polyester microfiber makes them soft and easily cared for. Each blanket is made, cut, and sewn in the USA. For a more natural blanket, try our Allergy Armor Organic Cotton Blankets. Made from USDA certified organic cotton, these blankets are free of the chemical, dye, fertilizer and pesticide residues that are common with all modern cotton textiles. Grown, woven and crafted here in the U.S., Allergy Armor Organic cotton blankets are the perfect year-round blanket and feature a luxury crepe weave.
Allergy Armor Comforters - Why bother with a duvet/comforter allergy cover when you can have a comforter with that protection built right in? The Allergy Armor comforter offers warmth, durability and the full allergen protection that comes with only our Allergy Armor Ultra barrier fabric. By constructing the shell of this comforter from our best anti-allergy bedding fabric, this comforter blocks dust mites, dander, pollen and other allergens without needing a separate allergy cover. With boxed construction and convenient ties & loops, the Allergy Armor comforter can be used with any decorative duvet cover.
Allergy Armor Ultra - Luxurious and breathable, Allergy Armor Ultra is our highest quality allergy relief bedding for those who demand the ultimate in comfort and protection from dust mites, mold, pet dander, and other allergens. A unique finishing process shrinks the fabric's pores to the smallest average size in the industry, effectively blocking out even the tiniest allergens like cat dander, without compromising comfort.
Allergy Armor Organic - These allergy covers are made from the only non-dyed, non-treated, lab tested organic dust mite barrier fabric in the United States. Like other Allergy Armor brand allergy bedding, Organic covers are crafted right here in our Atlanta, GA location. If you suffer from allergies as well as chemical sensitivities, Allergy Armor Organic is for you. It's completely free of polyester, urethanes, dyes, chemicals, and pesticide or fertilizer residues commonly found in modern bedding. With a unique covered zipper design, these covers represent the highest quality and finished look of any of the allergy covers we make.
Allergy Armor Cotton - A blend of 40% cotton and 60% polyester, this membrane-free barrier fabric zips up around mattresses and pillows to provide protection against dust mites, dust, mold, and other allergens. Allergy Armor Cotton blend does not make noise or retain heat like urethane membrane encasings. Rather, the fabric is woven so tightly that allergens cannot penetrate the barrier. Durable and effective, Allergy Armor Cotton is second only to Ultra when it comes to value and quality.
Allergy Armor Advanced - Strong as armor and soft as silk, this tightly woven, breathable microfiber fabric provides complete protection from dust mites and other allergens. Like Ultra, Advanced is 100% polyester and is a good choice for the price conscious consumer. Exclusive to AchooAllergy, Advanced allergy bedding is one of your best defenses for your pillows and mattress and an easy way to get a better night's sleep.
Allergy Armor Classic - This fabric is extremely effective at blocking out allergens. Its laminated urethane membrane lining stops even the smallest allergens. Allergy Armor Classic is water resistant and popular among parents who have young children with allergies and asthma.
Allergy Armor Bed Bug - With bite-proof, stretch knit polyester construction and a covered zipper, this certified bed bug proof fabric is extremely effective at blocking not only bed bugs but also common allergens. Thanks to its urethane lining, these mattress covers are also water-resistant and an affordable way to protect your mattress from bed bugs and you from allergens.
Allergy Armor Basic - Made from a heavy duty, nonwoven tri-laminate fabric, these box spring and mattress covers are breathable, yet naturally water resistant. They protect your box spring and at the same time block dust mites and other allergens.
Allergy Armor Vinyl - These durable box spring covers are made from hospital-grade, electronically sealed vinyl fabric. Effective and inexpensive, they are easy to install and easy to clean. Made from heavy gauge vinyl with super tear-resistant material, Allergy Armor Vinyl is a vital component to completely covering and encasing your bedding.