Our BedCare™ dust mite comforter covers and allergy duvet covers are crafted from four unique fabric blends. These zip up duvet covers are specifically designed dust mite covers that block out dust mites and other allergens. Dust mites live inside comforter material as easily as they live inside your mattress and pillow material. Comforter and duvet covers zip up tightly to silently and invisibly protect against dust mites, mold, pet dander, and other allergens.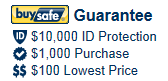 More Information On Duvet Covers
Why do you need dust mite covers?
If you wake up in the morning with a stuffy nose, itchy eyes, sore throat, or other allergy symptoms, you are probably allergic to dust mites. Dust mites are microscopic creatures which live in bedding. Unfortunately, their feces, waste materials and body fragments make many people allergic and cause morning congestion and restless nights. Mattress, pillow and other bedding covers will help alleviate your allergy symptoms, so you can wake up well-rested with less sniffling.
How do dust mite covers work?
Specially blended fabrics keep dust mites and dust mite allergens from penetrating the fabric so that even the smallest allergens cannot pass through. Dust mite allergen averages around 10 microns, but cat and dog dander may be as small as 3 microns. Your duvet, sheets, and pillow cases can be easily removed and washed keeping them free of allergens.
What does "membrane-free" mean?
Some bedding encasings have a urethane membrane backing or barrier. Our allergy comforter covers are membrane-free, relying on tightly woven fabric to block allergens. This makes them softer, more comfortable, and more breathable.
How do you use comforter and duvet covers?
Allergy duvet covers are extremely easy to put on. Simply slip your comforter into it, zip it up, and then put your normal decorative duvet cover over the encasing.
How do you care for dust mite covers?
Caring for dust mite encasings is simple. Just machine wash on warm or hot, and gently tumble dry. Do not use bleach. Do not iron. Dust mite comforter covers should be washed every couple of weeks. Other bedding should be washed in hot water every one to two weeks.
Why choose Allergy Armor Organic?
Allergy Armor Organic contains no dyes, no treatments, and no added chemicals of any kind. It's ideal for chemical sensitivities and sensitive skin. You'll love the all-natural, soft feel of Allergy Armor Organic. It has been tested for VOC emissions and it easily passed. When you sleep on BedCare Organic, you're sleeping on nature's best.