The Aprilaire dehumidifier is one of the easiest and quickest ways to reduce relative humidity in the basement, crawlspace or throughout the entire home. These dehumidifiers are constructed to be used as stand alone dehumidifiers or ducted directly into your HVAC system as a whole-home dehumidifier solution. They not only dry the air but also increase cooling efficiency and limit mold and dust mite growth. Each Aprilaire dehumidifier provides years of reliable, consistent service. Compare each of the newly redesigned Aprilaire dehumidifiers to find the unit that is the best solution for your indoor humidity problem.
Call or Chat Now with our Product Experts for Special Offers and Volume Pricing!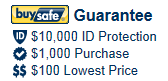 More Information On Aprilaire Dehumidifiers - Whole Home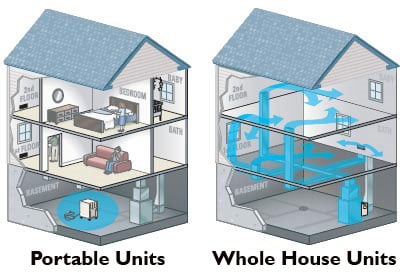 Aprilaire dehumidifiers are available in two distinct styles. The first is a portable unit, the Aprilaire 1850F.

Though a stand alone unit, this dehumidifier is unlike others on the market. Not only is the water removal capacity higher, but the 1850F is constructed of steel and built to offer years of service. The redesigned Aprilaire 1850F is the direct replacement for the ever popular 1710A, and is an ideal choice for basements or crawlspaces, so effective that it ranks near the top of our Top Five Basement and Top Five Crawlspace Dehumidifier lists.

When your excess humidity problem is not confined to the crawlspace or basement, you'll want a dehumidifier that can effectively remove moisture throughout the home. Air conditioning alone is rarely enough to keep relative humidity in check inside your home. Your air conditioning system is designed to control temperature, not humidity, but with an Aprilaire whole-home dehumidifier, you can use the existing HVAC system to keep moisture levels under control throughout your home.

For most homes, the Aprilaire 1850 will be enough to keep your relative humidity (rH) in the optimal range of 30%-50%. Easily tied into an existing HVAC, the 1850 is the direct replacement for the popular 1750A model but has a few noticeable upgrades. First it removes five more pints per day, 95 total. That's almost 12 gallons of water! Second, it's slimmer, lighter, and instead of the rotary dial humidistat, the 1850 features an LCD screen and digital humidistat.

New to our line of Aprilaire dehumidifiers is the Aprilaire 1830 small home dehumidifier. Like the 1850, it is built to be directly tied into your HVAC system via two 10" ducting collars (included). Because it removes only 70 pints per day and is built to dry roughly 3800 sq. ft., the 1830 is best used in smaller homes, townhouses or condos. Though it is slightly smaller in stature than the 1850 and removes less moisture, it is the only Aprilaire model that is Energy Star rated. This model is a direct replacement to the older Aprilaire 1730A.

For the most severe humidity conditions, the best Aprilaire dehumidifier is still the 1770A. Though it's not yet been redesigned, this model is identical to the 1750 with one notable exception. The Aprilaire 1770A dehumidifier can remove up to 150 pints per day (AHAM). Truly impressive, it is the most effective residential HVAC dehumidifier available today.

Regardless of which Aprilaire whole-home dehumidifier you choose, all are quiet, ductable and can be controlled via a wall-wired control (placed elsewhere in the house). All Aprilaire models we offer come with auto defrost and auto restart features, steel construction, a MERV 8 air filter, industry-best five year warranty, and each is proudly constructed right here in the U.S.A.

Aprilaire Advantages:
Aprilaire whole-home dehumidifiers can treat every room of your home.
Aprilaire home dehumidifiers are easy and economical to maintain. Simply replace the on-board air filter once every 12 months. There are no reservoirs or condensate buckets to empty.
Installed directly to your heating and cooling system, whole-house dehumidifiers are installed out-of-sight and away from living spaces. They are all extremely quiet and work without requiring constant monitoring or maintenance.
Every Aprilaire central indoor air quality solution is designed for maximum energy efficiency and is tested to last 15 years.
By using an Aprilaire dehumidifier to control your indoor relative humidity you are not only making your home feel more comfortable but you're also taking away one of the key factors in mold and dust mite growth - excess humidity. No matter the space, there is an Aprilaire dehumidifier to meet your moisture control needs.
---
Discontinued AprilAire Dehumidifiers
AprilAire 1710A Dehumidifier
AprilAire 1750A Dehumidifier
AprilAire 1770A Dehumidifier